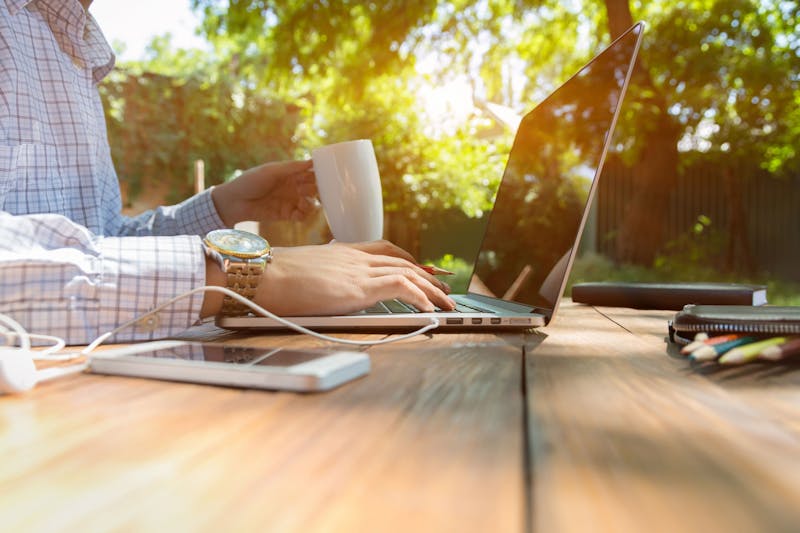 Working on the Road
Is it possible to travel and work at the same time? Absolutely! It may sound too good to be true - getting the best of both worlds - but as you explore in a Thor Motor Coach full-time, you don't have to sacrifice an income. There are plenty of money-making opportunities for those who wish to join the RV lifestyle.
Making money while traveling: The best of both worlds.
Working from your Class A motorhome is the pathway to the freedom that you crave and provides an income for sight-seeing, souvenir collecting and any other fun activities along the way, along with the bills, groceries and other necessities. With more companies than ever before offering remote work, there's never been a better time to pack up your belongings and begin the journey that you've always dreamed of - it is possible.
Benefits of working in an RV:
Working in your camper van allows you to have all of the creature comforts that you enjoy in a residential home and choose your view. There aren't any shared areas with those outside of your family, including the bathroom and kitchen. You can save money when you don't have a temptation to go out for lunch. You can follow the warm weather and work outside under your powered awning or come inside and change your temperature and lighting with your Rapid Camp+® multiplex system.
Tips for working in an RV:
Because you can wake up to an exciting new place every day, it's crucial to stay disciplined. Your ever-changing environment may distract you from the work that you signed up for, so it's essential to have a designated work area in your toy hauler (and no, not your bed - as relaxing as that sounds). If your travel schedule permits, it's also a good idea to have a set work time. Spontaneity is endorsed; however, so is routine when it comes to work, as it helps keep you centered. Lastly, if it's best to save the driving for your day off to ensure your deadlines will be met.
What kind of work can you do from an RV?
No matter your skill set, you're able to make money while from your Class C motorhome. Freelance online by writing, web design, editing and more. Work seasonally at parks, campgrounds or holiday retailers. Get a contract for nursing, consulting or construction. Sell your craft - whether it's music, photography, paintings or jewelry. These ideas are just scratching the surface; as mentioned previously, more companies are going entirely remote, which increases your chances of finding a job that will be fulfilling for you while you travel.
Make sure you have a WiFi connection.
If your job requires an internet connection, you'll want to have WiFi connectivity. No one wants to send their boss an untimely email regarding a critical project. Winegard® ConnecT™ 2.0, available in Thor Motor Coaches, works as your WiFi extender and 4G hotspot for those sparsely covered areas. Winegard secures your job and eliminates additional stress to your workday.
Keep your power up and running.
Consider your power needs before choosing a destination for your workweek. Whether you're dry camping, moochdocking or staying at an RV campsite, you will need a power source to keep your devices charged. You can't write your blog if your laptop needs charged, so either plug-in at the campgrounds, run off of your onboard generator or batteries, or rely on your solar panels, depending on your motorhome.
Career building from a motorhome.
Traditionally, careers grow in an office, but you don't have to be a retiree to succeed in your profession. You can have the ultimate work-life balance right from your motorhome. It's time to get in a Thor Motor Coach and make money from home - your motorhome.
Vegas Class A RUV
If you want to work in a peaceful Class A motorhome, then the Vegas is for you. Write your freelance blogs comfortably and on time, thanks to the Winegard® ConnecT™ 2.0 WiFi extender and 4G hotspot. Have your workspace at the passenger-side dash workstation with 110- and 12-volt outlets. Plenty of conveniently-located outlets and USB charging centers will keep all of your essential devices for work charged and ready to go for the next assignment.
Tellaro Class B RV
Class B motorhomes are perfect for those who have jobs that require taking the road less traveled. The Tellaro, equipped with the same WiFi extender and 4G hotspot, means that you can upload your travel vlogs to your website with ease. Thule® provided accessories, which means it'll be easy to bring along your bike for that bird's eye video. The compact van allows you to go anywhere to take one-of-a-kind photos and even stay there for a couple of days, with the standard 190-watt solar charging system.