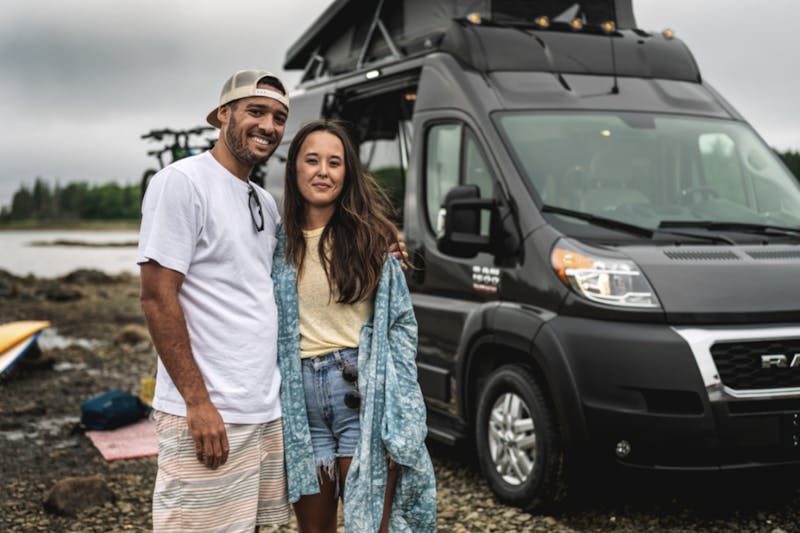 Is the RV Lifestyle Right For Me?
Is the RV lifestyle right for me? Am I like other RVers? Will I fit in at the campground? All of these are valid, common questions that run through the minds of new RVers. If you've never owned a motorhome before or don't know anyone else who owns one, it's intimidating to get into the lifestyle. But, don't worry; we're here to put all of those fears to rest.
You don't have to fit in a box.
Let's set the record straight right off the bat: RVing is for everyone! You don't have to fit into a box to become a Class C motorhome owner. If you've never camped before, you may watch a movie about the RV lifestyle and think that you have to be a certain "type" of person to enjoy it, but that's simply not true. One of the most beautiful things about RVing is that it appeals to people who come from all different walks of life.
You will definitely make friends.
Some may worry that van life is lonely, free of friends — another common misconception. As you go remote, you keep in touch with loved ones back home, but you also meet many people along the way. Don't be afraid to introduce yourself and participate in activities at the campsite or join a club. If you own a Class A Diesel, look into the Thor Diesel Club. You can also join our RVillage community and meet people that way. You may even meet a friend for life that you otherwise wouldn't have met. Don't let fear hold you back; you will definitely make friends.
The RV lifestyle is right for you if…
To sum it all up, the RV lifestyle is right for you if… You want to see the country but don't want to leave your pets behind. You're retired and ready to live out your dream. You're young and want to experience the world before settling down. You're any age and want to live on your schedule. You want more weekend getaways, more time with family, more time outdoors. We could go on and on. No matter what point you're at in your life or your passions, the RV lifestyle is right for you.
You feel confident about joining the RV lifestyle — Now what?
It feels good to put all of those fears to rest. But, now that you feel confident about your choice to join the RV lifestyle, what's next? Well, we're here to help. Our Coach Link® Sales Advisors are a team of experts ready to answer any questions you may have, help you find which RV is best for you, and check your local dealer's inventory.
Our recommendations for new RVers.
Tiburon Mercedes-Benz Sprinter RV
Tiburon has so many great features beloved by new RVers, starting with the Mercedes-Benz® RV safety package. The package includes active baking, attention and lane-keeping assist, wet wiper system and adaptive cruise control. A 10.25-inch dash radio comes with Bluetooth®, navigation, SiriusXM® and a backup system. Tiburon is available in three unique floor plans so that you can find the best fit for your family.
Windsport Class A Motorhome
Large families with pets will love Windsport's five floor plans. Each layout comes standard with a Pet-Link™ multi-purpose tie-down and a Bird's Eye™ window. There are floor plans that sleep up to nine family members, including a king-sized bed and a powered drop-down overhead bunk that come standard. Each Windsport Class A comes with a family-friendly living area with a Dream Dinette, sofa bed or theater seating and a TV.