Hollywood vs. Real Life
December 14, 2020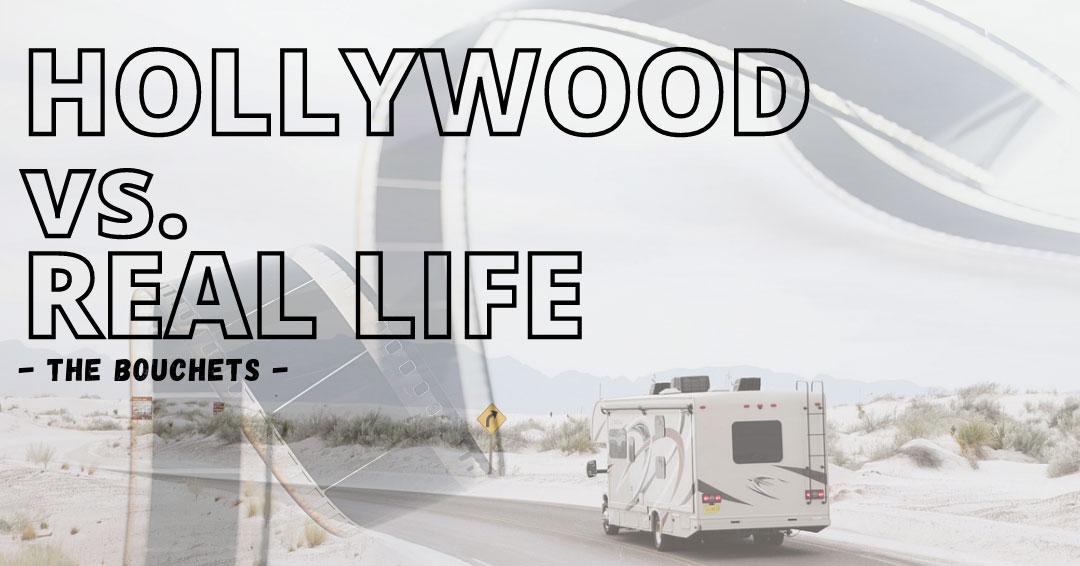 by Vanessa Bouchet
When I say the word "RV," what do you think? Cousin Eddy from "National Lampoon's Christmas Vacation," Robin Williams from "RV"? There are so many movies featuring RVs and the RV lifestyle. I would love to take an in-depth dive into the link between the real world of RVs and RV living and what Hollywood shows in the movies. Some of the films featured in this discussion have different reasons, all of which are fun to re-watch and pick apart. As the winter's in the northeast can get pretty chilly and snowy, this is the perfect time to re-watch some classics or experience a whole new world of entertainment.
Must-See Movies
"RV" (2006)
The movie "RV" (PG rating), starring Robin Williams, features a typical suburban family planning a vacation to Hawaii. Instead, their beautiful beach vacation is canceled when the father, Bob Munro (Robin Williams), rents a large Class A RV to drive across the country to the Colorado Rockies. "RV" is a typical Robin Williams movie, with lots of humor and hijinks along the way. There are so many classic stereotypes shown in this movie, but as a Class C RV owner, watching first-timers figure things out in this movie makes it a must-see family movie for one of those cold movie nights. 
I think my favorite part in the film is when the father first presents the idea of driving an RV across the country to the family, and the wife says: "Do you know what's at RV parks? RV people! We're not RV people!" That quote was so funny the first time we watched the movie because I had a very similar thought when we first discussed buying an RV. Just for the record, everybody can be an RV person. You have to have an open mind! The Munros meet a lovely full-timing family of five, which leads to funny encounters because of their preconceived ideas of RVers. The family learns many lessons along the way to Colorado, and it reminds us to take time to enjoy each other and less time focused on stuff.
"We're the Millers" (2013)
"We're the Millers" (Rated R), a newer movie featuring Jennifer Anniston and Jason Sudeikis. They work together with two teens to resolve a business dispute between David Clark (Jason Sudeikis) and his boss. The movie is a comedy, and there are plenty of hilarious parts in the film, which features The Millers driving a Class A RV into the United States from Mexico. Along the way, The Millers meet another RV family who tries to help them, and they are uncomfortable with the extra help. Some of the best parts of this movie, believe it or not, are the outtakes at the end of the film. This movie features a novice RVer trying to navigate a vast Class A RV, not paying attention to various limits a large RV has. At one point, they are not paying attention to the motorhome's weight limit and break down, which leads to so many more complications. It is a good adult comedy, but I would caution against younger kids due to adult content.
"Into the Wild" (2007) 
"Into The Wild" has a lot of parts in the movie that features RVs. This movie explains the life of a real person named Chris McCandless, AKA Alexander Supertramp (played by Emile Hirsch), who, at the age of 18, decided to skip college to see the real world - for better or worse - and find himself in the process. Supertramp crosses the country, hitchhikes, does odd jobs, and meets people of all walks of life. The film is an adaptation of the Jon Krakauer book of the same name and brilliantly captures the free spirit of Chris McCandless. 
Anyone who is a free spirit and embraces the road, for all of the good and bad that comes with it, we recommend watching this movie. It's an inspiration and it is heartbreaking that it's based on a true story. "The Magic Bus" from the film became a go-to destination for adventurers trekking to the Teklanika River in Alaska to experience Supertramp's living place. Just recently, in 2020, the Alaska Army National Guard relocated the Magic Bus to the Museum of The North at the University of Alaska. Its permanent exhibit limits travelers from attempting the dangerous visit to the Alaskan Bush, where the bus was initially located and visited by many. It shows the community mentality of full-time RV people, who accept everyone into their community.
"National Lampoon's Christmas Vacation" (1989) 
One of the most iconic movie scenes featuring an RV is in the 1989 movie "National Lampoon's Christmas Vacation" (PG13 rating). It's the moment when Chevy Chase's cousin Eddie (Randy Quaid) empties his RV's dump tank into the city sewer in his dirty bathrobe and slippers, drinking a beer. As the movie progresses, the raw wastewater ignites and causes a big explosion leading to big laughs. Clearly, as a comedy, this is not precisely a real-life expectation. RV owners should never empty the black water tank in anything other than an authorized dumpsite. This movie is by far one of the best classic holiday movies of all time. Chevy Chase is an amazing actor and even though it has some adult content is a classic comedy for the family.
Honorable mentions
"Paul" (2011)
The 2011 comedy "Paul" (R Rating) features Simon Pegg and Nick Frost, and the voice of Seth Rogan in this classic comedy of best friends crossing the United States in a Class A RV, only to meet Paul (voiced by Seth Rogan), who is looking for help. While this movie features an R rating, it is a great classic comedy for adults. This movie shows the ups and downs of traveling in an RV. Again, I would caution younger kids from watching this movie, as is adult content.
"31" (2016)
One of the last two movies that features an RV is the 2016 Rob Zombie movie "31" (R rating). This movie is a classic in the Rob Zombie universe, and many of the actors have played various roles in his other films. This horror movie has some intense violence (as is typical of Rob Zombie movies). Still, it shows a group of friends traveling in a Class B RV, getting caught up in a horrible situation. "31" is an adult movie due to violence. I would caution younger kids from watching it. 
"The Houses October Built" (2014)
Finally, "The Houses October Built," released in 2014 (not rated – but probably R), is another horror movie that shows a group of friends trying to find the country's best haunted house. This movie features a large Class A RV and demonstrates the ease of driving (even a large Class A) down one-lane dirt roads. This movie is only for adult audiences, as it is an intense horror movie that could cause issues for younger viewers.
Spend time over the holidays to watch some RV movies!
As a movie-addict and someone who can list a movie for every event you can think of, it is always fun to binge-watch our favorites during the holidays. My husband and I have favorite horror movies, but we love to watch all kinds of movies. The films listed above are some of our favorites to watch during the holidays, and they are a great way to spend some family time together watching some classic comedies. Movie hunters can find most of the movies listed on streaming sites for your viewing pleasure.


New to RVing? Check out our free RVing How-To Guide. 
Questions? Comments? Contact our Coach Link Sales Advisor.

Are you searching for local inventory? We offer a convenient Dealer Locator.