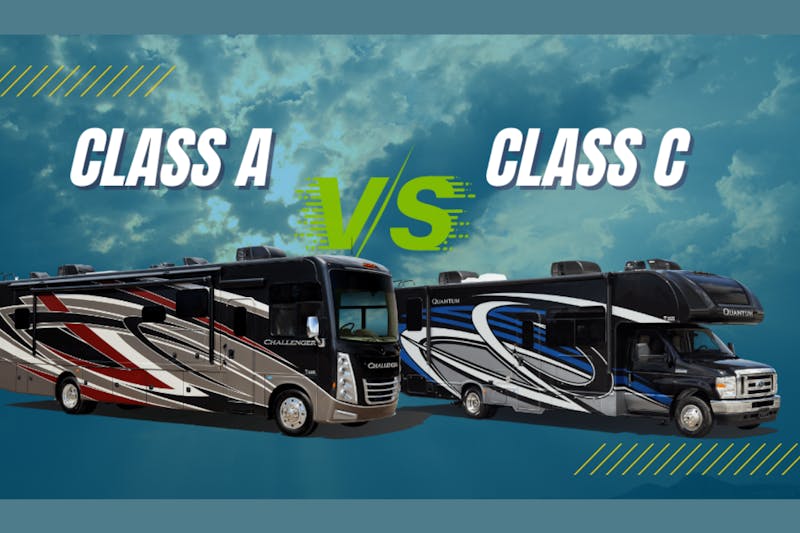 The Difference Between Class A and Class C Motorhomes
If you are exploring the wonderful world of motorized RVs, you've likely asked the question, "what's the difference between a Class A motorhome and a Class C motorhome?"
Class A vs. Class C Chassis and Construction
Class As and Class Cs start out with two very different kinds of chassis. Class ARVs are constructed on a similar platform as a bus or a big semi-truck. They are the widest, tallest, and heaviest type of motorhome. If it's a diesel motorhome, the engine is located in the rear of the coach (this design element is why some people call Class A motorhomes "pushers"); making it a quieter ride for passengers. An iconic feature of the Class A is the flat, front end with a humongous windshield. If the engine is located in the front, it is a Class A gas motorhome. 

Class C RVs are built on chassis similar to a pickup truck or a box truck. For the Class Cs, the engine is always in the front. Though they are often rear-wheel drive, you will see 4x4s, like the Omni Super C diesel. Most designs feature the signature cab-over design that provides storage or sleeping space.
When it comes to the exterior construction or the top box, Class A RVs are streamlined with a single-construction design so the cab flows seamlessly into the living area. On Class C models, the cab and the living area are constructed separately, giving these RVs their distinct boxy profile.
Motorhome Size and Living Area
When it comes to size, there is a fair amount of overlap between Class A and Class C motorhomes. Speaking strictly to length, both RVs cover similar territory. Class C RVs tend to be on the shorter side. Thor Motor Coach's current line-up of Class Cs span 25 to 35 feet whereas a big diesel Class A like the Tuscany 45BX is almost 45 feet long.
If we turn our attention to interior living space, this is where Class A and Class C RVs diverge. Class A motorhomes are generally taller and wider than Class C designs. Class As are often equipped with multiple slide-outs for maximum square footage. Class As tend to be more residential on the inside. Kitchens tend to be a little bigger. You might have room for a dinette and a sofa. Many of the bedrooms are large enough to fit a king mattress in which you can walk all the way around.
That's not to say you won't find these things on a Class C (the Quantum KW29 has all that and more), but Class As generally have more room to spread out, while Class Cs tend to be more space-conscious. You're more likely to find something like a murphy bed or a sofa sleeper in a Class C.
The smaller footprint of Class C designs isn't necessarily a negative. These RVs can fit in places that many Class As cannot. Shorter Class Cs can accommodate the length requirements of many state and national parks. Some might find cities and urban areas easier to traverse in a Class C, and when you need to make a pit stop on a travel day, they handle crowded parking much better than a Class A.
Which motorhome offers more storage?
If you think you'll need lots of storage for your RV adventure, look first to the Class As. They're tall and wide with large slide-outs. That means more space for cabinets, closets, pantries, and sometimes residential refrigerators. All that space between the wheels of a Class A motorhome means more room for under-bed storage as well. Often referred to as "basement" storage since it's positioned under the living area, the amount of exterior storage a Class A can offer is unmatched by anything else in the RV world.
Of course, Class C motorhomes are not without some notable storage options. The distinct cab-over design can be a great spot to store backpacks, sports equipment, or camping gear. Many have storage under the mattress in the bedroom area. The exterior storage can also be quite impressive. The Four Winds 31E boasts 108 cubic feet! Most Class Cs will have between 30 and 60 cu. ft., but some can give the average Class A a run for its money.
Which motorhome class for towing?
When it comes to towing power, again, Class A RVs have more to offer in that department, but many Class Cs are highly capable and tow-ready. It's not uncommon to see a tow vehicle or trailer behind either type of RV.
Conclusion Class A vs. Class C RV
Ultimately, when it comes down to Class A vs. Class C, it's not which is better; it's which is more suitable for you and your camping lifestyle. If you're planning to travel full-time and stick to big campgrounds with paved spots, you might look at a Class A RV with its residential feel and ample storage. Maybe you want the whole family to visit a national park or two each summer. In which case, a shorter Class C might be the better option. But, whatever your RV needs may be, Thor Motor Coach has a motorhome made to fit your family.