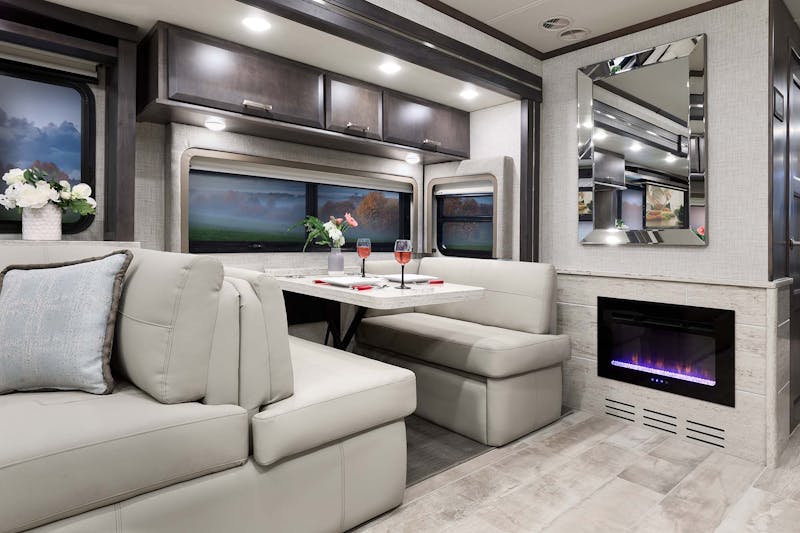 Creature Comfort Must-Haves
It's funny; when we talk about traveling full time, people immediately think we'll be backpacking with nothing but the clothes on our backs. This backpacking idea, of course, isn't going to happen. I don't think I'd be good at traditional camping in a tent. We tried this once when we went to Maine one summer and two days in I said, "Ok, so let's look into how much an RV costs because this is not for me."
What size RV do you need?
We discussed what kind of RV we should get from small (Class B, like Sequence) or medium (Class C, like Quantum) to large (Class A, like Venetian). We had to have an honest dialogue about "mandatory" things in the RV we need when discussing each option. Some were creature comforts that make travel more comfortable, and some were considerations for the future. Some of those include things that we'll need to continue our careers as we travel full time.
Do you need WiFi to work on the road?
The first and primary creature comfort we have to have is a good WiFi plan and router in the RV. Quantum has Winegard® ConnecT™ 2.0, a WiFi extender, 4G hotspot and TV antenna. On top of that, we opted for a cellular provider. This way, we have a secure network for a reasonable price. I'll be working as a mental health therapist with live online sessions, so I need good, secure internet for work.

Do you want to bring reminders of home?
Blankets and Pillows
Another creature comfort that has eased the transition from a residential home to a Quantum is bringing reminders of home. Some of the most important things to me are my fuzzy blankets and comfy pillows. Pillows and blankets may not sound like something too important, but you'd be surprised at how far having some nice bedding can go in terms of feeling comfortable and safe. We usually will have soft blankets and pillows for each person (and dog) to have that at-home feeling.
Food
Our favorite foods from home serve as another creature comfort. We usually make dinner at least a few nights a week while traveling, and we typically make a few that remind us of home. These don't have to be in-depth or complicated. These favorite meals keep us from getting homesick and missing our family too much. Also, making meals as a family in the RV keeps the family engaged and entertained. Thor Motor Coach even has some delicious Mobile Meal recipes to try.
When families add these creature comforts to RV travel, it will make it more fun and comfortable. As always, happy traveling!