20 Camping Gifts for $20 or Less
October 22, 2020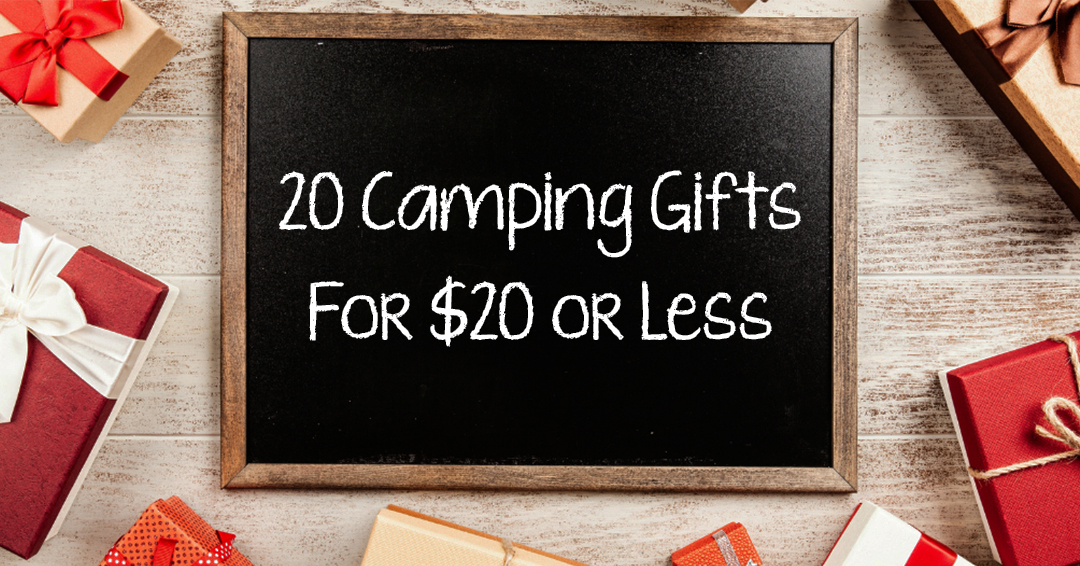 The holidays are right around the corner and it's almost that time to get your wanderlust-hearted family member a thoughtful, useful and inexpensive gift. With 20 camping gifts for $20 or less, the holidays won't sneak up on you this year - you'll be prepared! You're bound to find a gift for your travel-loving friend or treat yourself to a little something too!
Comfy Camper Socks in Pink or Blue from HotSox - $7
Socks are a classic gift, but getting your loved one a gift with their home away from home right on them adds a personal touch. These comfy camper socks from HotSox are available in pink and blue, so you can find the pair that your special someone will want to wear all the time in their Super C. Although this is the most inexpensive gift on our list, it will still pull on your friends' heartstrings. Remember, it's not the price of the present, but the thought behind it.

Personalized Motorhome Keychain from Drifting Ducks - $8.50
How cute is this custom motorhome key chain? This is a special gift for someone whose favorite thing to do is turn the keys to their Class C Motorhome and get on the open road. Drifting Ducks on Etsy turns a simple gift into a thoughtful one with the personalization. A little gift, like this one, will leave a significant impact on your loved one. Nothing means more than someone you love showing their support for a passion, including motorhome travel.
50 Cool Things to Do in the Car from Chronicle Books - $8.95
Whether your loved ones have a long or short road trip planned, they will appreciate 50 Cool Things To Do in the Car to keep them entertained on the road. Chronicle Books says these are great screen-free activities for the whole family. If your friend travels with little ones in a toy hauler, they will appreciate a gift that will have the entire car smiling rather than asking, "Are we there yet?" Plus, it's inexpensive and takes up less space than your average board game.
Collapsible Water Bottle from Semetor - $9.97
If your loved one recently joined the van life, then they will love this collapsible water bottle that complements their outdoorsy lifestyle. This water bottle by Semetor makes for easy packing and has a carabiner, so it easily clips on to a hiking backpack. Your friend who has the drive to explore will appreciate an eco-friendly gift, that's both useful and looks unique. Every time they get ready to hit the trail, they'll appreciate the thoughtful gift from you.
Home is Where you Park It Sticker from The Optimized Creative - $10
Your full-timer friends and weekend adventurers alike will love this "Home is Where you Park It" sticker. This saying rings true for all Thor Motor Coach owners. The beauty of RVing is being able to wake up with a new view every morning in your own home. This inexpensive gift looks great on the motorhome itself, a water bottle, phone or laptop case, or wherever else they would like to showcase this considerate present.
Mini Permanent Match Lighter from Lighter Parts Pro - $13.49
A permanent match lighter is a must-have for any active camper. Your companion can put it on a keyring next to their personalized keychain. They will enjoy the convenience and you can have peace of mind knowing that they easily have a way to keep warm. Sure, they could get an average match or lighter, but it won't light after heavy rain on a hike. No matter the weather conditions, a permanent lighter can prove itself useful.
This is Our Happy Place Outdoor Rug from Camping World - $14.99
What is something that makes your wanderlust-hearted friend happy? Travel, of course. A safe guess is that one of your friends' favorite things to do is to get in their Class A Diesel Motorhome, turn the keys, and begin another adventure that they will always remember. A simple outdoor rug that says, "This is Our Happy Place," will become a testament to your friend's motorhome.
Guided Travel Journal from Compendium - $15.95
The description on the cover of this guided travel journal from Compendium sums up this gift perfectly, "A guided journal for seeing, noticing and capturing everything." The unique prompts in this journal will allow your loved one to truly absorb all of the beautiful things they have taken in and even give them a new perspective of that place or themselves. A gift that supports a loved one's personal development cannot go overlooked, so check this one out.
7-in-1 Multi-Took Plier - $15.95
This is a useful gift, even if you aren't traveling in an RV full-time. By Stealth Angel, this 7-in-1 multi-tool plier is foldable and fits just about anywhere. Plus, it comes with a key chain and a case for your loved one's convenience. Tools included: a flashlight, pliers, compact woodcutter, Philips screwdriver, flat-head screwdriver and bottle opener combo, and a wirecutter. The best part is, it's likely to be on sale when you visit the website.
Road Trip Game Kit from Lifetime Inc. - $15.99
This gift is geared towards your family member that travels with young children often. Planning a road trip can take a lot of energy, especially with little ones. This Road Trip Kit from Lifetime Inc. set comes with countdown cards, which are entertaining and provide a great geography lesson for young children. Popular games, a scavenger hunt, dry erase markers and more are included to make the trip in your loved one's Sprinter all the more fun for the kids.

Boot Scrubber by Jobsite - $16.86
Of course, this gift may not be the most glamorous or eye-catching; however, it will come in handy every single day of your outdoor adventurer's RV travels. Jobsite's boot scrubber can sit right outside of a Class A motorhome to clean off hiker's boots and keep the RV interior clean. Although there is residential vinyl flooring that's easy to clean, it's always helpful to prevent mud tracking in a motorhome.

Portable Camping Hammock by Grassman - $16.99
Nature-lovers will adore this portable hammock by Grassman and is a fitting gift for those with a loved one who enjoys taking a moment to lay among the trees. With two adjustable straps, the tree is less likely to become damaged, while the hammock is suited comfortably between the two trees. Light-weight fabric and everything needed in one compact bag will make it fun and straightforward to operate.
Camp-Inspired Dog Bandana by DogCharms - $17 to $9
RVing's beauty is never having to leave pets behind, and they shouldn't be left out of holiday gifts either. If your family member has a pet that goes on all of the adventures, this camping bandana by DogCharms is a cute present for their four-legged friend. This campground-inspired pattern comes in all different sizes so every animal can look adorably festive and ready for the journey.

Stow-Away Backpack by FlameHorse - $17.50
Outdoor enthusiasts will love this stow-away backpack by FlameHorse. Perfect for cycling or hiking, this backpack makes for convenient storage when needed and doesn't take up too much space when not in use. Your friend will wake up in their Class B+ RV, ready to take on the day and fill the separate compartments with everything they need for their hike. This backpack is a thoughtful gift for the holidays.
Hanging Faux Succulent Car Charm by Natural Life - $18
Available in four different styles, this faux succulent car charm by Natural Life will liven up your friend's Class B motorhome. Each design also comes with a short quote to brighten the day of others, so check them all out. No matter which one you decide is right for your friend, they will think of you every time they see it hanging in their RV. Weekend warriors can remove it from their rearview mirror and put it on their desk, bookshelf, nightstand or anywhere in their home to warm their heart from your gift.
Road Trip Emergency Kit by Pinch Provisions - $18
We're all guilty of leaving something behind at one point or another, which is why this road trip kit by Pinch Provisions is the perfect all-in-one gift for a frequent traveler. 11 road trip necessities are packed into this little gift, including hand sanitizer and cleaner, dental floss, breath drops, bandaids, a pen, a waste bag, stain remover, tissues, a microfiber cloth and a license plate game.
National Parks Mug by Parks Project - $18
Endearing and thoughtful, this National Parks mug by Parks Project is the ultimate present for your favorite camper or your partner. This mug will remind your loved one of all of the memories of traveling to and from their favorite National Parks and will inspire them to travel to the ones they've yet to explore. Plus, this mug supports Youth Education, so not only will it make your loved one happy, but it will also help a kid visit a National Park. Really, this makes this particular present two gifts in one. 
Crush Solar Light by Goal Zero - $19.95
Night owls at the campsite and late-night hikers, if gifted this, will use it every day of their camping trip. This crush solar light by Goal Zero conveniently collapses when out of use for more comfortable transport and raises when in use for nearly 3.5 hours. Solar charging and USB charging capabilities prove this camp light to be a necessity for every wilderness explorer.
Water Filter Straw by LifeStraw - $19.95
According to LifeStraw, this portable water purifier can filter up to 264 gallons - a considerable benefit, especially when considering the convenient size of this straw. Trailblazers can walk right up to a water source for direct hydration or use it to filter while filling their collapsible water bottle. This water filter straw is a practical gift for any traveler.
Always Take the Scenic Route T-Shirt by StacysCellar - $20
Regardless of your family member's style, they will adore this "Always Take the Scenic Route" T-Shirt by Stacy's Cellar. This saying rings true for all Class C motorhome adventurers. When you're RVing, you're on your own schedule. This T-Shirt is a reminder for your loved one not to lose sight of what made them want to join the RV lifestyle in the first place: freedom and adventure.
Keep in mind…
When thinking about gifts and the upcoming holiday season, it's important to keep in mind that this list's suggestions aren't the only items that will make your loved ones feel appreciated and understood. In many cases, quality time is the best gift that you can give.
Inspired by our Camping Lover's Gift Guide?
Check out our gift guide and feeling inspired? We have a great line up of 2021 motorhomes for you to browse. If you have any questions, please contact our Coach Link Sales Advisor. Already have your eyes on a Thor Motor Coach? Use our Dealer Locator to find the dealer nearest you. If you like our gift recommendations, you'll love our featured motorhomes:

Outlaw Class C Toy Hauler RV
This Class C motorhome with a garage is ideal for those who want to bring their favorite toy along for the journey, whether that be a motorcycle, golf cart, dirt bike, etc. Outlaw is filled with amenities to make your life easier on the road, including Winegard Connect working as your WiFi extender and 4G hotspot. Feel free to soak up the sun on the patio off of the garage or under the powered awning with LED lighting.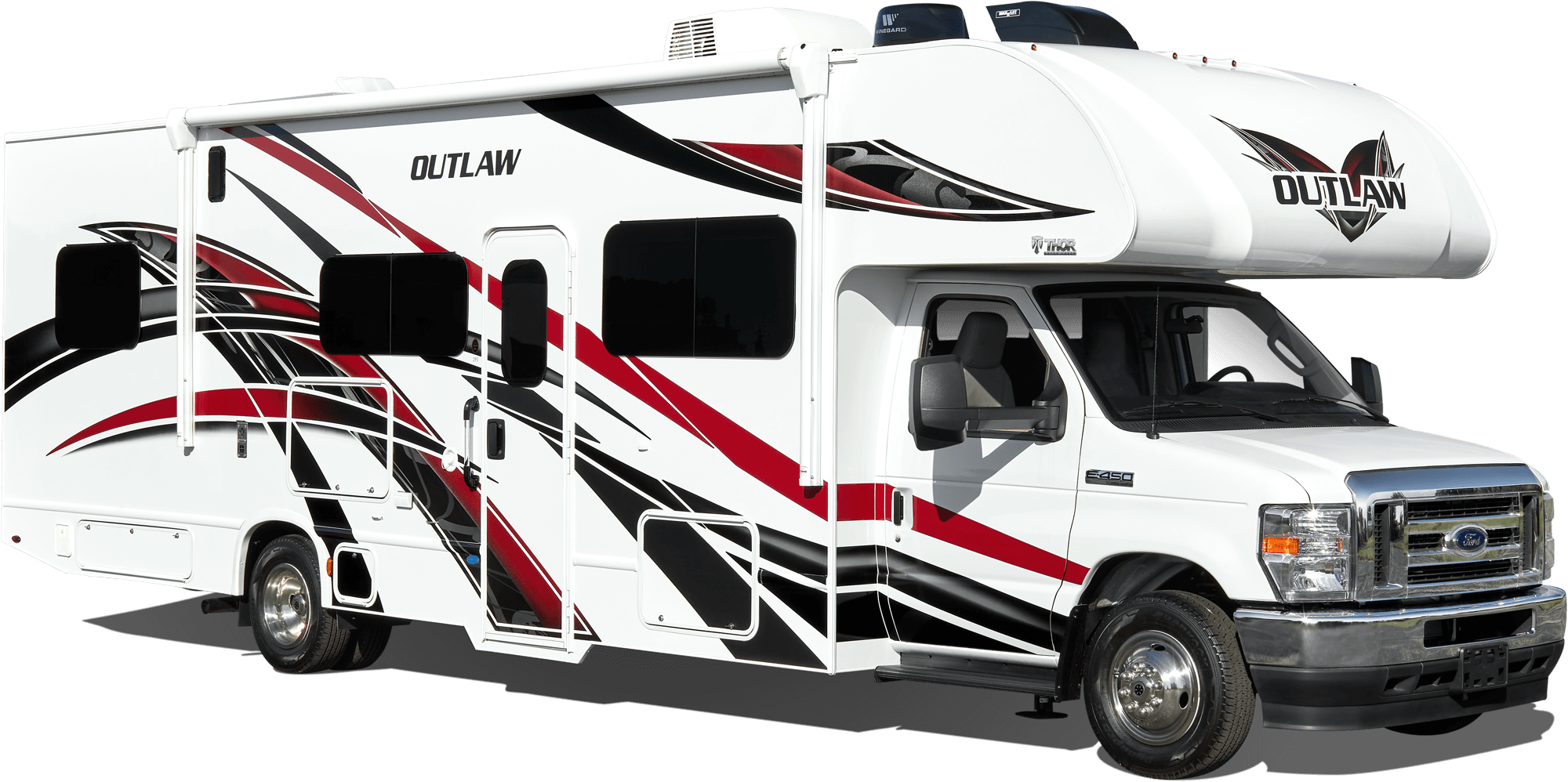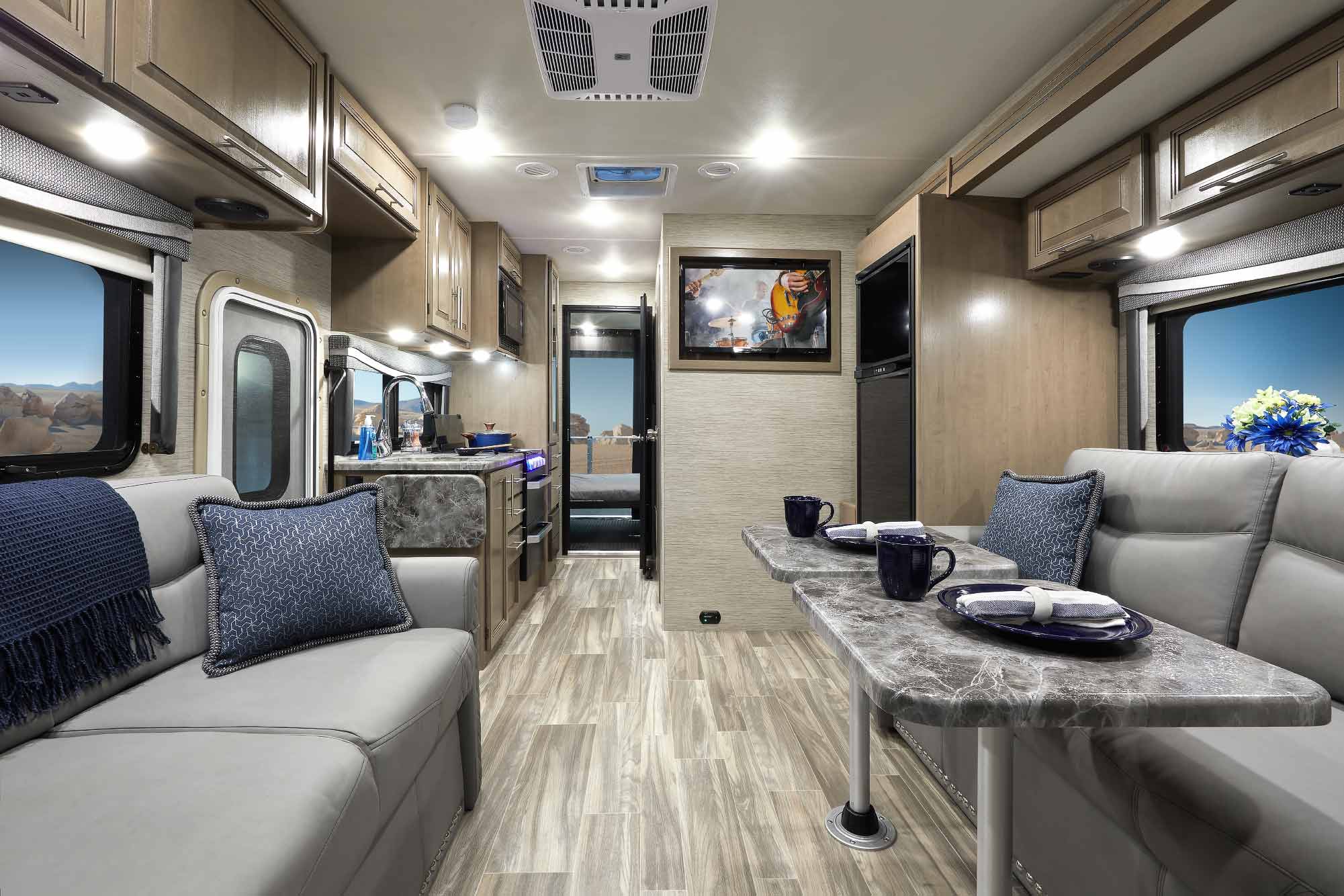 Outlaw | Nitro Red Exterior | Color Options                      29J Floor Plan | Street Blues Interior | Gallery
Magnitude Class C Diesel Motorhome
If you're a diesel lover, you're in for a treat with Magnitude. This Super C RV has SYNC 3, 8-inch touchscreen dash radio with voice recognition for hands-free control of the radio and navigation system. Setting up camp has never been easier thanks to the Rapid Camp+ multiplex system that works as your all-in-one control center for slides, awnings, lights and more. Your boondocking viability prolongs with the standard 100-watt solar charging system, so get ready to get off the beaten path.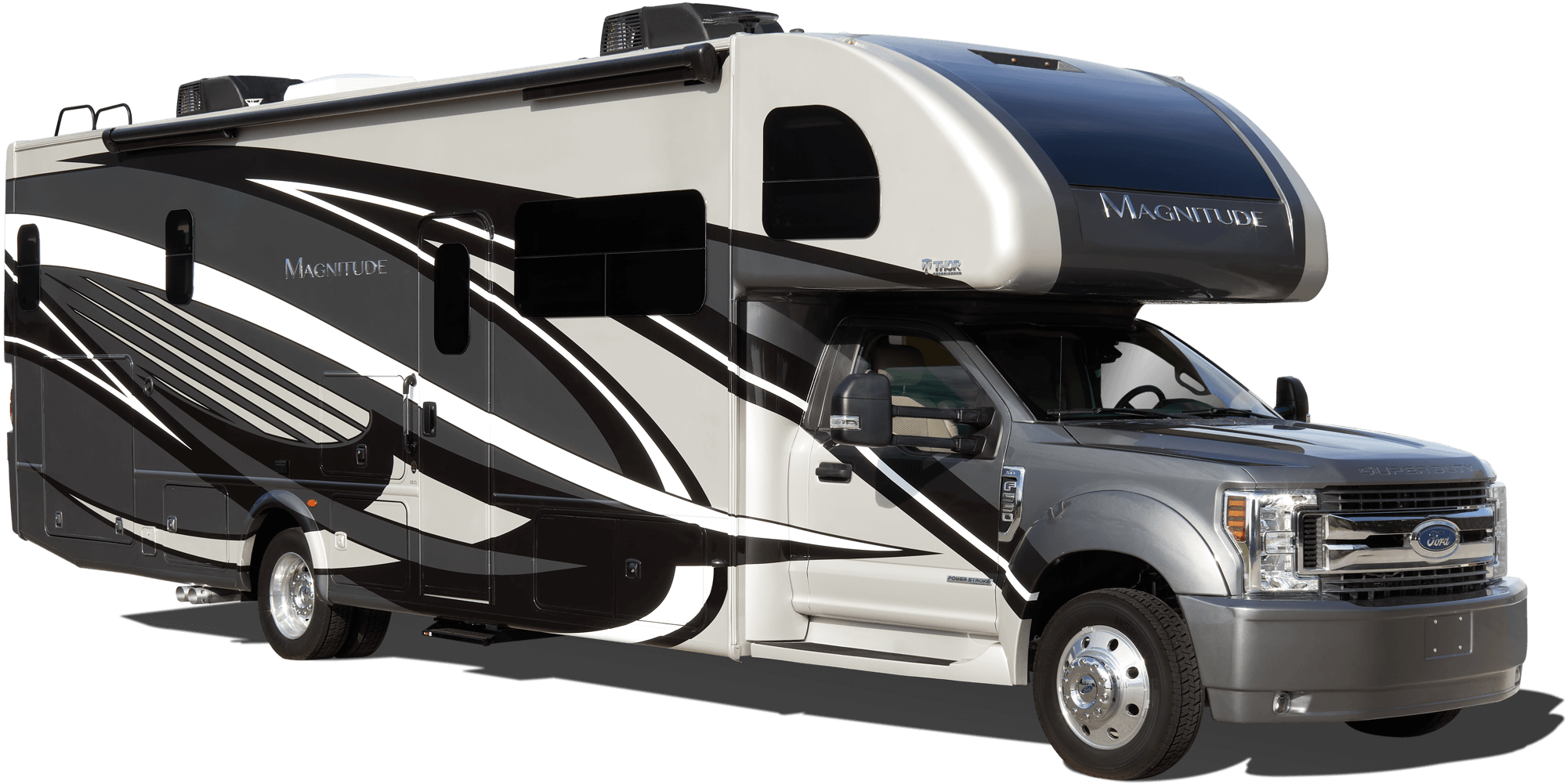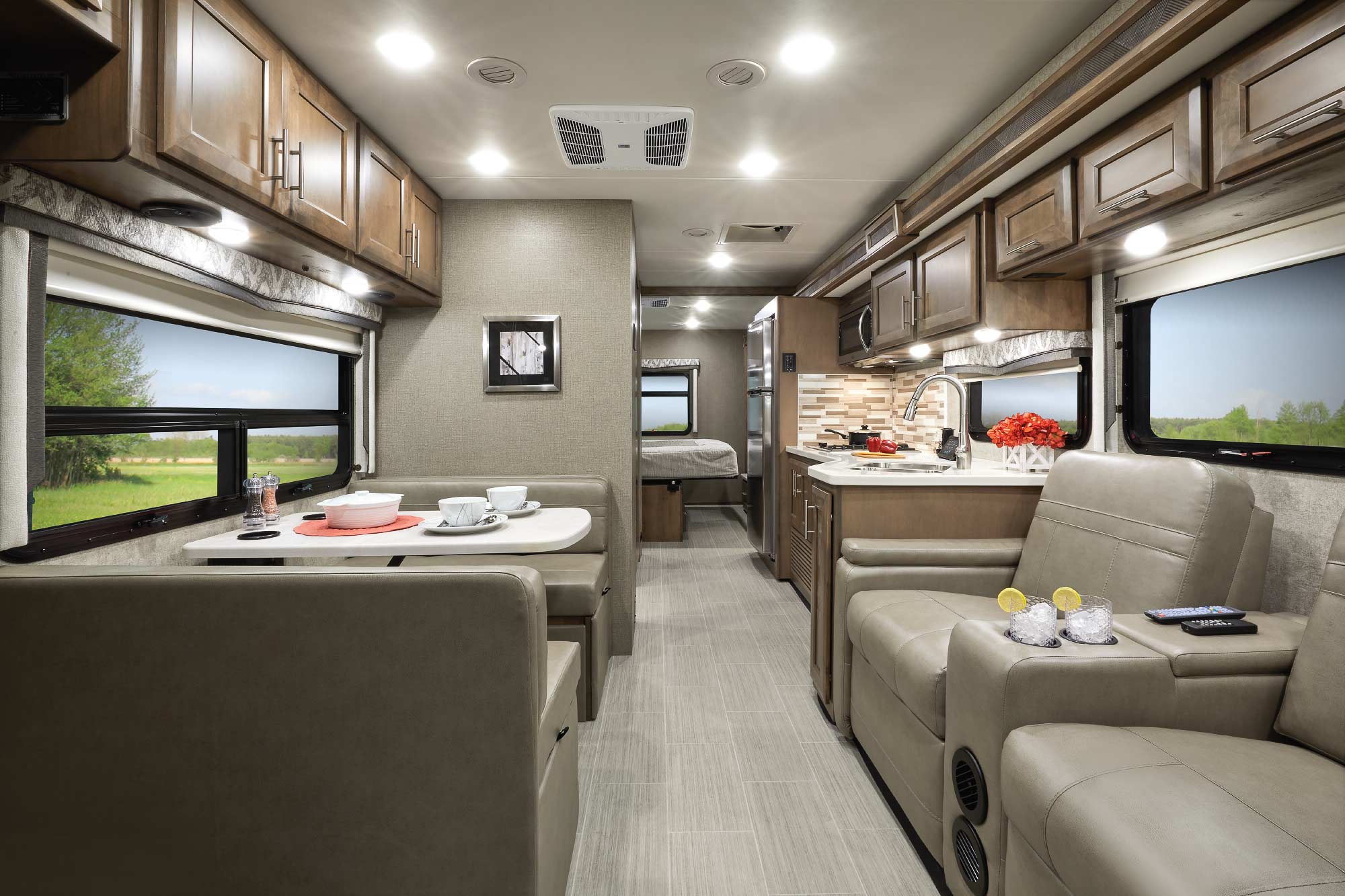 Magnitude | Silver Springs Exterior | Color Options        SV34 Floor Plan | Stargazer Interior | Gallery

New to RVing? Check out our free RVing How-To Guide. 
Questions? Comments? Contact our Coach Link Sales Advisor.

Are you searching for local inventory? We offer a convenient Dealer Locator.