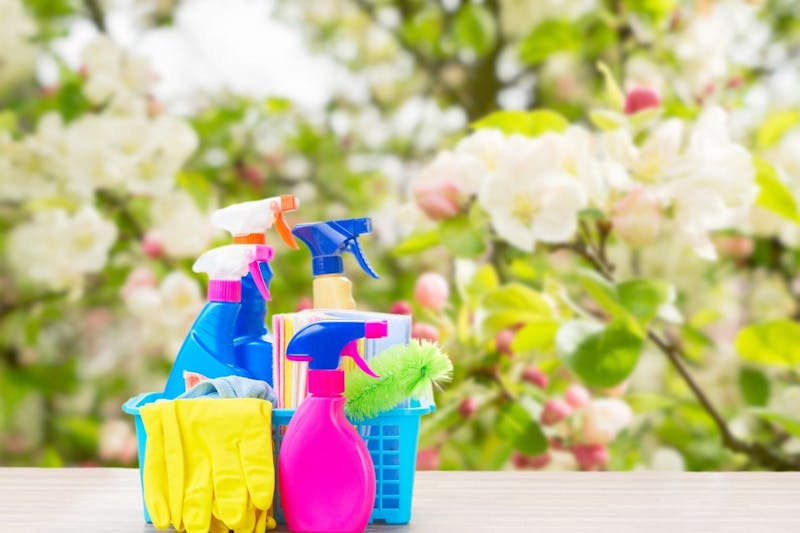 5 Steps for Spring Cleaning and De-Winterizing an RV
For many of us in the Thor Motor Coach family, this is the best time of the year. Let camping season begin! But first, let's de-winterize and get some spring cleaning done. Continue reading for our best tips on getting your motorhome ready for that long-anticipated adventure.
1.   RV Interior
After the winter months, you want to make sure your diesel pusher is vacation-ready for the summer months, which begins with cleaning its interior. First, open the windows to air it out. Be sure to check the seams around the windows for leaks. After a few months in storage, you should vacuum the carpets, wipe inside the cabinets and under the dinette seats. Clean the inside of your appliances and make sure they are working correctly before heading out. For more tips on cleaning your RV's interior, read this in-depth blog.
2.   RV Exterior
It doesn't matter if you stored your Class C RV outside with a cover or inside a facility; it still needs a bath and an inspection. Read this blog on how to clean and maintain your RV's exterior before washing the coach. You'll want to inspect your awnings, slide-outs, roof, and tires. See if your license plate is intact and tightly in place. Check all of your filters: for the A/C, engine, and fuel system.
3.   Mechanical
Ensure that your toy hauler's moving parts are in good shape before planning your first trip of the season. Inspect your engine, check your oil and battery fluid levels and test your powertrain and generator. Feel free to schedule an appointment with your local service center if you encounter a roadblock. Don't forget to fill your propane tank and check on your LP gas system so you can fire up the grill once you reach the destination.
4.   Electrical and Plumbing
You'll need to de-winterize your water system and fill tanks. Luckily, our Post-Winter Storage video on YouTube breaks down this process below; just go to the 2:09 minute mark. Check on your waste tank valves, close them and make sure there aren't any leaks in your holding tanks. Inspect your dump hoses and ensure the water pump is functioning properly. Test your carbon monoxide and smoke detectors.
Post Winter Storage Checklist For Your Motor Home
5.   Miscellaneous
Grab your necessities right away, so you don't leave your home base without them. You'll want to have a first aid kit, flashlight, and batteries. Remember to look at the expiration date of the fire extinguisher, just in case of an emergency. Stock up on trash bags, toilet paper, and paper towels once, along with refilling your supply of fresh towels and linens. Check out our Master Planning blog and get ready for a great camping season!
Begin Camping Season with a New RV
Vegas Class A RUV™
Spring has sprung and you need something to get you to all of your bucket list destinations for the upcoming camping season. Vegas isn't your typical Class A RV because it's a Recreational Utility Vehicle (RUV), which feels similar to driving an SUV. A 10-inch dash radio that's SiriusXM® ready doubles as your back-up monitor, so you can keep an eye on your car attached to the 8,000-pound trailer hitch. An upgraded living area speaker connects to your dash for listening pleasure at the campground.
Quantum Class C RV
You're bound to fall in love with Quantum because when you have seven floor plans to choose from, you'll find the perfect fit for your family. This is the type of Class C RV that will make you want to live in an RV full-time, rather than taking it out of storage every spring. You can work and homeschool on the road with Winegard® ConnecT™ 2.0, working as your WiFi extender and 4G hotspot. At the end of the day, you can relax under your powered patio awning with LED lighting and fire up the grill.