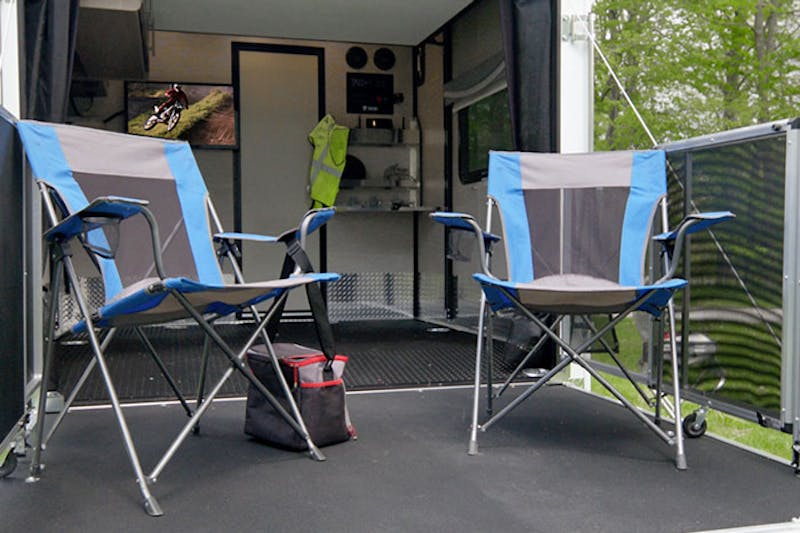 Work and Play Toy Haulers
Toy haulers have everything you want out of a motorhome, with an extra element of fun. With a garage to fit all of your passions, you can't go wrong with a toy hauler from Thor Motor Coach. But is a Class A toy hauler or Class C toy hauler right for you? Continue reading to find your perfect match.
Class A Toy Hauler vs. Class C Toy Hauler Size
Size is an important factor when considering a motorhome for the family. The Class A Outlaw toy hauler is almost 40-feet in length, while the Class C Outlaw is about 32-feet. The Class A's two floor plans are built on the Ford® F-53 chassis. The Ford® E-Series chassis provides a solid foundation for the Class C toy hauler. Although they're different sizes, each model comes with a fully-equipped kitchen, bathroom and sleeping areas.
Class A Toy Hauler vs. Class C Toy Hauler Sleeping Capacity
Large families will benefit from the Class A Outlaw floor plans, with a higher sleeping capacity. The Class A Outlaw's 38KB floor plan has enough space for 8-9, including a master bedroom with a King-size Tilt-a-View bed. In the 38MB Class A floor plan, there's space for 7-8 to sleep, including two Queen-size beds. Outlaw Class C's 29J floor plan sleeps up to 6 family members, with versatile sofa beds and a drop-down Queen-size bed in the garage.
Work and Play Toy Hauler Features
Regardless of whether the Class A or Class C was made to fit your family, you'll have that extra element of fun: a garage. Class A Outlaw's garages are 8-feet by 10-feet and 2-inches. The garage in the Class C Outlaw is 8-feet by 8-feet. First, let's break down Outlaw Class A's garage features.
Outlaw Class A Toy Hauler Garage
In the 38KB and 38MB floor plans, the garage features tread plate non-slip flooring, tie-down rings, a work shelf storage cabinet and a 39-inch TV with a side-swing bracket. The spacious garage has plenty of room to store a motorcycle or work on DIY projects. There's also a dash workstation with outlets if you need more space for work. Opt-in for the two opposing jack-knife sofas in the garage to relax after a long day. The garage has a drop-down Zero-G® ramp door, snap-in patio system, a powered patio awning and three-seasons patio doors. This is the perfect Class A motorhome for work, relaxation and, of course, play on whichever toy you choose to bring.
Outlaw Class C Toy Hauler Garage
Outlaw's Class C 29J floor plan's garage features tread plate non-stop flooring, tie-down rings, a stainless steel storage cabinet, a removable interior and exterior table, a 32-inch TV with a Bluetooth® soundbar and radio and a Bluetooth coach radio system with speakers. Here, in the garage, is the best place to get work done while jamming to your favorite tunes. You can easily get your toy out, explore the destination, and come back to enjoy the views from the back patio. Drop down the patio deck from the rear of the garage, keep bugs out of the workspace with the screen curtain, and relax after a day of work and play.
Thor Motor Coach Toy Hauler Full-Time RVing Amenities
We mentioned that every Outlaw toy hauler comes with a fully-equipped kitchen and bathroom. These features are necessary to those considering joining the full-time RV lifestyle, but that's not all. Our toy haulers come with extra amenities that make full-time RVing in an Outlaw easy and convenient.
Toy Hauler WiFi
In this day in age, there isn't a lot of work and play without WiFi connectivity. Winegard® ConnecT™ 2.0 works as a WiFi extender, 4G hotspot and TV antenna. This system makes working on the road, getting in touch with loved ones and watching the game easier. We even created a video explaining how to use Winegard on our YouTube channel.
Toy Hauler Solar System
Solar systems are the best way to play by your own rules. When you're full-timing, you'll eventually want to leave the campgrounds and get away from the crowds. You can take the road less traveled, boondock among the trees and explore the unknown with your toy of choice. Standard on the Class A Outlaw and optional on the Class C, a 100-watt solar panel and power controller charge your house batteries without damaging them.
Finding the Toy Hauler Made to Fit™ You
All of our toy haulers have a garage to fit all of your passions, which is why it can be challenging to find the right one for you, even after reading more about them. Our Coach Link® Sales Advisors can help find the floor plan made to fit your family, needs and lifestyle. If after reading this blog you know which one's for you, use our Dealer Locator to find an Outlaw near you.