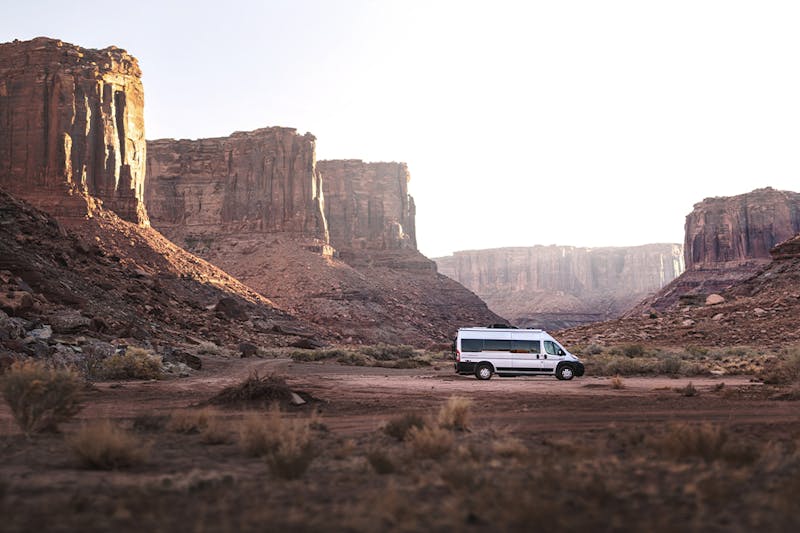 Boondocking for Beginners
There are so many unknowns as Covid-19 continues, but here's one thing we know to be true: boondocking is the ultimate social distancing. It's time to surround yourself with trees instead of people. We're here to help begin this journey, from what boondocking means to getting you prepared with all of the tools you'll need.
What is boondocking?
It goes by many different titles, namely boondocking and dry camping, but they all mean the same thing: camping without electrical or water hook-ups. It may sound intimidating, but the best part is that anyone can do it. It doesn't matter if you have a large and in-charge Class A diesel pusher, a small and compact Class B van , or anything in between.
Boondocking preparation.
Boondocking preparation comes down to three main things: water, power, and location. To maximize your dry camping experience, make sure to fill your fresh water and empty your grey and black water tanks. To conserve water for bathing, cleaning, and cooking purposes, stock up on bottled water to stay hydrated and get as many long-lasting foods as you can. If you're looking to stay far away from civilization for as long as possible, limit your water use when doing those daily tasks so you can stay among the trees.
Boondocking necessities.
Every Thor Motor Coach comes with an onboard generator, so make sure your tank is filled with fuel and you'll be ready to camp. It wouldn't be a bad idea to bring some extra fuel along too, just in case. If your goal is to elongate your time of isolation, plenty of our motorhomes are prepped for solar, so you'll have an additional source of power while out in the "boonies."
Is boondocking legal?
Now, let's talk about getting there safely. Boondocking is entirely legal, as long as you're in an area that allows for this type of camping. As you may have guessed, boondocking doesn't occur at a traditional campground area, meaning you get to park for free. There are a plethora of apps and websites that can help you find the perfect location to camp, dump your tanks and more, but a popular choice by RVers is simply checking with the Bureau of Land Management (BLM).
Boondocking locations.
Geographic location is important, but so is the strategic placement of your motorhome when you get there. For example, if it's summertime you'll want to look for a shady area instead of out where the sun can beat down on your RV. Always share your location with a trusted friend or family member via word of mouth or location app on your favorite device - just because you want to get away doesn't mean you don't want to be reached if needed.
Thor Motor Coaches are perfect for boondocking.
Let's cover some perks that you might not think to look for in an RV if you want to be a master boondocker. Something as simple as LED lights are perfect because they use less electricity, so you can reduce your daily energy usage. Vents on the roof are essential for your comfort on those warmer days or when you just want some fresh air in your motorhome. A tankless water heater will be a huge help for not wasting water because you don't have to wait for it to heat up in your morning shower. Luckily, our Gemini Class C checks all of these boxes and makes for an exceptional dry camping experience.
Class B RVs allow you to really maneuver into prime boondocking locations because of their compact size, yet still provide amenities that are helpful while going off the grid. Our Class B motorhomes are built on a RAM ProMaster® "window van" chassis, which means large opening windows and a screen door at the entry for plenty of fresh air. Our Tellaro offers a 20AT floor plan with a cassette toilet that isn't a traditional holding tank, meaning you can avoid searching for dump stations to get rid of your waste. This camper van also comes with a GoPower!® Solar panel and an optional Re(Li)able® battery system, which will help your sustainability while boondocking.
Now that you have your boondocking basics, it's time for you to get out among the trees, mountains, plains, or really, wherever your heart desires. Dry camping is perfect for getting to more diverse and scenic areas. You can even practice in your driveway to get experience before you set out for your destination. Don't forget to send us your Happy Camper photos at 574-584-2074 when you get there!
Searching for local inventory? We offer a convenient Dealer Locator.
Questions? Comments? Send a message to our Coach Link Sales Advisor.