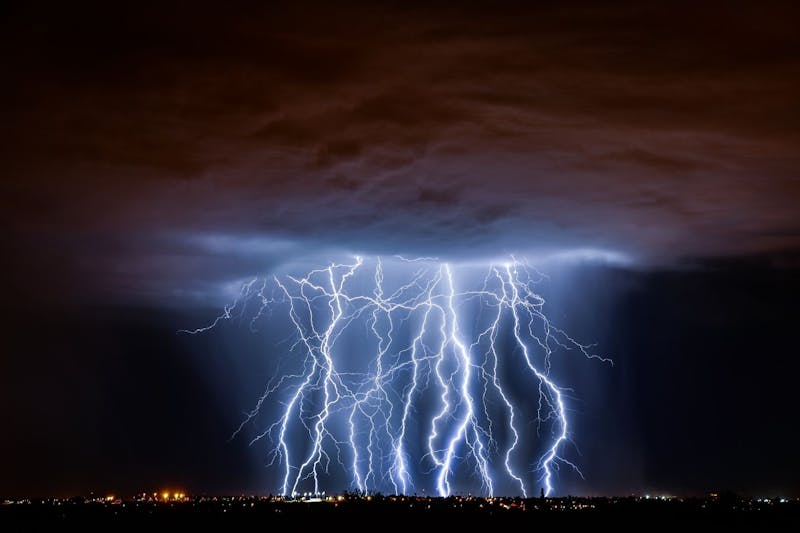 Weathering the Storm
Nearby are palm trees and sandy beaches. You have your water bottle in hand and sunscreen by your side. It may not seem like it on these sun-soaked days, but it's the peak of hurricane season. No matter what your radar is broadcasting, it's essential to prepare for the worst scenarios, especially in a motorhome. Continue for our best tips for weathering the storm.
Check the forecasts often.
First things first, it's best to avoid areas that are vulnerable during the hurricane season if you can. Plus, some areas are more susceptible to floods. As we know, life happens and you may find yourself there during a storm. Check the forecasts often. It may seem obvious, but as we've experienced, sometimes it looks like inclement weather comes from nowhere. It's always good to have more than one app on your phone, just in case one isn't as accurate.
Plan an evacuation route.
When a hurricane is on the way, it's best not to wait to leave the area. Severe tropical storms are enough to get your nerves going, so have an evacuation plan and route ready to go, so you don't stress at the moment. If you can't leave the area for some reason, don't hesitate to seek shelter at the campground, a friend's house close by or at least move your Class A motorhome to the side of a large building to help avoid some high-speed wind.
Check your RV insurance coverage.
As you head to an at-risk area, call your RV insurance provider to see if your motorhome has coverage for hurricane damage. When you arrive, take photos and videos of the interior and exterior to document your possible claim. This way, you stay on top of things, rather than lose on a payout.
Before the storm preparation...
Once you check the forecasts and know a storm's a-brewing, there are some things you need to do before its arrival to your area. Fill all of your tanks and test your generator; this will prepare you not to have power and adds weight. Get excess water, non-perishable food items and toilet paper as soon as you can, because some shops close in preparation. Have a go-bag ready with emergency cash and relevant documents with waterproof holders. As always, preventative maintenance is vital for your Class B motorhome's wellness.
Prepare for the storm's impact.
Now that you know you'll be in town for the storm, it's time to prepare for its impact. Bring in your outdoor decor, activities, water and electrical cords; in high winds, even a child's small plastic ball causes damage. If you can, purchase a cover for your Super C motorhome's exterior. You'll want to have a battery- or solar-powered charger, lamp and flashlight, radio and fan. Because you may have to stay put, it's never a bad idea to have things to keep you occupied, including puzzles, board games or books.
Remember: Do what's best for your family.
We must reiterate that it's best to avoid vulnerable areas and have an evacuation route if you know there's a storm on the way. When it comes to your loved ones, it's best not to risk any potential harm. It isn't always ideal to have your vacation cut short, but there's nothing more important than your health and safety.

Looking for a new motorhome to keep you safe?

Quantum Class C RV
The 2021 Quantum now comes with a 100-watt solar panel and the Onan® QC 4000 Gas generator, to prolong your viability if you lose power. The quick patio awning allows you to break down your campsite with ease. Plus, whether you have a connection to the generator or not, you can enjoy a hot shower thanks to the tankless water heater. Also, your ingredients won't perish because your double-door refrigerator has gas and electric connectivity.
Outlaw Class A Motorhome Toy Hauler
The 2021 Outlaw has the RapidCamp+® multiplex system, which allows you to have all-in-one control at the 7-inch touch screen or your favorite device, to get your slides in, control your generator, control water functions and more. The basement pass-through and rotocast storage compartments mean plenty of room to store all of your outdoor belongings before the storm. Don't forget to get in touch with your family members to let them know you're safe with Winegard® ConnecT™ 2.0 WiFi extender and 4G hotspot.