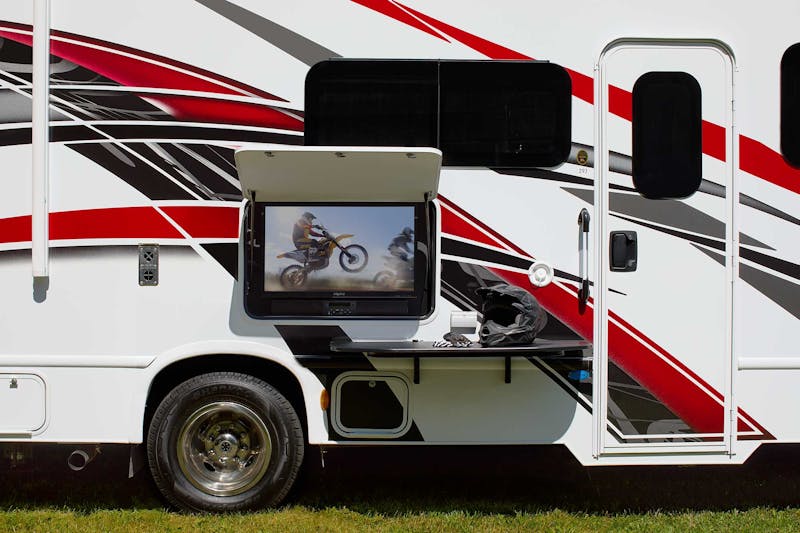 TV and Entertainment on the Road
When we think of camping and adventures, the first thing that comes to my mind is outdoors; hiking, swimming, and other outside things to enjoy the weather. But, let's face it. The weather doesn't always cooperate when we plan vacations. For the times when the weather isn't cooperative, being inside your RV with the family can be stressful and, sometimes, a feeling of panic, "Now what are we going to do?!"
Have no fear! This blog explores ways to enjoy your Class A RV without being outdoors. When traveling, families visit local attractions like museums, indoor water parks, and local attractions with or without nice weather. Although I don't recommend that your entire vacation be inside - you would be missing the country's fantastic beauty.
Put Your Phone Away
Most people have cell phones, which are a distraction when driving, but once you arrive at your destination, put your phone down! Try to have some old-school fun with the family on those rainy days in your Class C RV. Rainy day activities could include card games or board games that adults played as kids or new games that the family can invent.
What We Bring on the Road for Entertainment
The standard entertainment items for us include hundreds of movies, a PlayStation, cards, chess and checkers, Yahtzee and, unfortunately, phones for our family. As noted, these things are usually the last resort on days when the weather is not very nice to go outside.
One important piece to note is that we don't travel with children, so the only people we need to keep entertained are two adults, and usually, it comes down to watching movies and playing cards in our Quantum. I encourage families to spend time with each other and enjoy the time rather than pack in as many activities as possible.
Old School Games
Some of the most fun we've had in our travels are the times we spend being silly and playing old-school video games. When I say old school, I mean 2D, CAPCOM games from the early to mid-80s. There's nothing better than playing old video games in the RV on a rainy day. It allows us to have that bit of nostalgia from when we were kids, and the CAPCOM games were top of the line. Compared to today's video games, they don't stand up to the graphics and style, but they're still fun.
The moral of the story is to have fun outside and enjoy the beauty of the country, but if you have to stay inside your Class B RV, enjoy time with family playing board games or playing cards. The time you will have together will be what you cherish at the end of your journey.