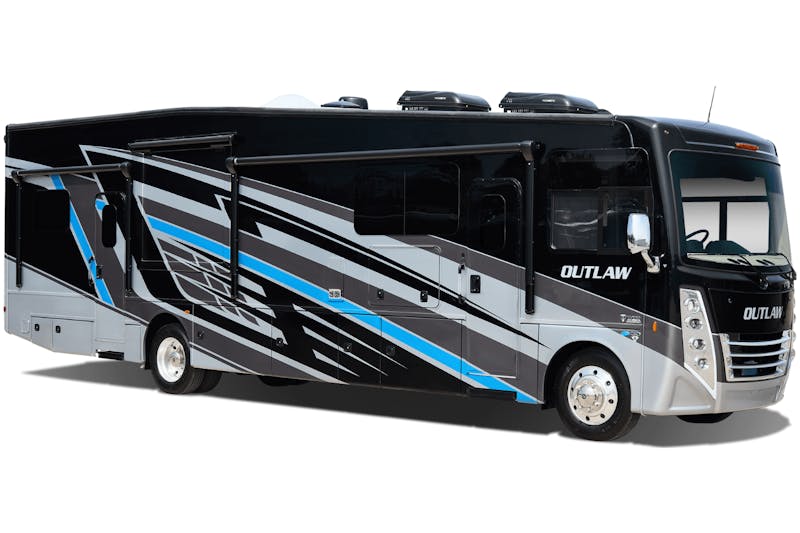 Thor Motor Coach Unveils 2024 Class A RV and Toy Hauler Upgrades
Ignite your sense of adventure as we unveil the latest upgrades to their 2024 Class A motorhomes and toy haulers. From luxurious features to impressive design elements, these motorhomes aim to take your travel experience to new heights. Join us as we explore the exciting enhancements in the Challenger®, Aria®, Resonate®, A.C.E.®, Luminate™, Indigo™, and Outlaw® models. Buckle up and get ready for the ultimate journey of a lifetime.
Indigo™ and Luminate™ – Luxury on Wheels
Step into the lap of luxury with the 2024 Indigo™ and Luminate™ Class A motorhomes. These motorhomes introduce the new DD35 floor plan, bringing forth stunning features. Safety takes center stage with blind spot detection, providing peace of mind on the open road. Stay entertained while traveling with SMART TVs in the living area so you never miss your favorite shows or movies. There is also subway tile pattern printed shower surrounds for an added touch of elegance. Let's not forget the spacious 19 cu-ft side-by-side door residential refrigerator, keeping your food fresh throughout your journey. Indulge in the epitome of comfort and luxury as you traverse the roads.
A.C.E.® and Resonate® – Designed to Impress
Prepare to be captivated by the upgraded A.C.E.® and Resonate® Class A RVs. These models are designed to impress with their new furniture styling, stunning countertops, premium floor coverings, and plush carpets. The addition of exquisite gold hardware and a sunlit décor theme adds a touch of elegance to the interior. Embrace the freedom of solar power with the inclusion of a 100-watt solar panel, ensuring you can power up and go off-grid. The A.C.E.® boasts two beautiful new HD-MAX® exteriors, while the Resonate® features new interior décors and cabinetry options. Turn heads wherever you go with these stylish and refined motorhomes.
Aria®, Challenger®, and Outlaw® – Redefining RV Travel
Experience the pinnacle of luxury and performance with the Aria® diesel pusher. Featuring new furniture styling, captivating countertop colors, and customizable cabinetry options, the Aria® delivers an opulent travel experience. Enjoy your favorite shows or movies on the go with SMART TVs in the living area. The Challenger® Class A motorhome and Outlaw® Class A toy hauler raise the bar with the inclusion of a Project 2000 cockpit bunk for versatility and comfort. With blind spot detection, safety is always a priority. These RVs redefine what it means to hit the road in style.
Outlaw® Class C Toy Hauler – Where Comfort Meets Style
For adventure seekers and thrill enthusiasts, the Outlaw® Class C toy hauler is your ticket to unforgettable journeys. Combining functionality with style, this motorhome features a 10-inch dash stereo and a convenient 12-volt refrigerator with an auto generator start. Make a bold statement at any campsite with the sterling fiberglass exterior adorned with eye-catching new graphics. Fuel your wanderlust and embark on epic adventures with the Outlaw® Class C toy hauler.
2024 Motorhomes – Something For Everyone
Our 2024 Class A motorhome and toy hauler upgrades are set to revolutionize the way you travel. Whether you crave luxury, versatility, or style, this lineup has something for everyone. With enhanced safety features, luxurious interiors, and impressive design elements, these motorhomes are the perfect companions for your next adventure.
Explore them today by visiting thormotorcoach.com/motorhomes.
About Thor Motor Coach
Thor Motor Coach® is the only Made to Fit® motorhome brand in North America. Thor Motor Coach's diverse product lineup includes many of the world's most recognized Class A, Class B, and Class C motorhome brands. As an industry leader in innovative design, Thor Motor Coach builds various unique styles, sizes, and floor plans that feel custom-made – at a truly competitive price. For more information, visit ThorMotorCoach.com or call 800-860-5658. Thor Motor Coach and all related model names, slogans, logos, trade dress, and trademarks are owned or used under license by Thor Motor Coach, Inc. All other trademarks are owned by their respective owners.