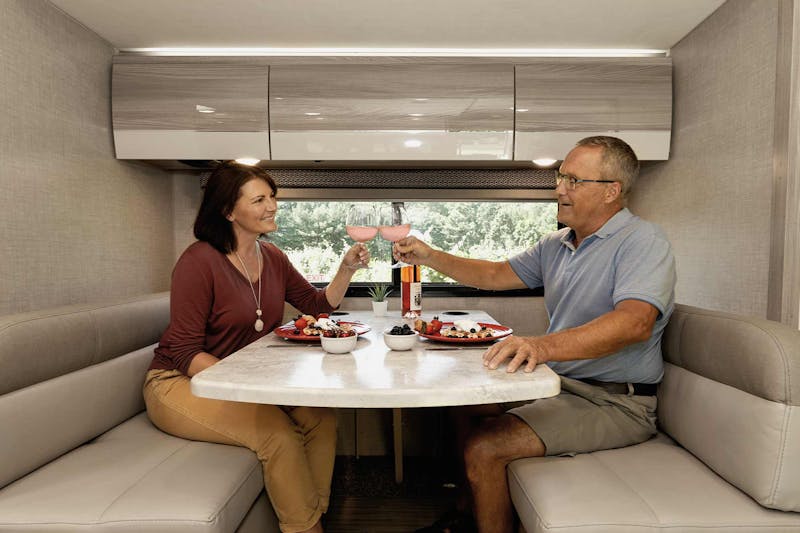 The Ins and Outs of Camping
You're cruising down the interstate in your Thor Motor Coach, listening to your favorite podcast, and suddenly it hits you - you forgot something. We've all been there. You're too far to turn around, but you don't have something you need for the campground. We're here to prevent that from happening with all of the ins and outs of camping.
Travel Destinations
Where you'll be going will dictate the camping supplies, clothes and activities that you'll need to bring to boost your travel experience. For example, if you plan to hit the slopes, you'll need your snow pants, gloves, skis and poles and more, but if you want to relax on a sandy beach, you'll bring your bathing suit, umbrella, cooler, etc. If you're longing for a new experience, we have a couple of ideas in mind. Reference our previous blogs for travel ideas for everything from unique museums, winery and brewery tours, candy factories to drive-in movie theatres.
Camping Ideas
Once you know where you're heading, you'll need to have an idea of what kind of camping you'll be doing to plan accordingly. There is everything from high-end RV resorts to fun-filled campgrounds, so it's all about finding a place that has the amenities on your wish list within your budget. You can choose to get off the beaten path, go to public lands, set up your Class C RV at a campsite or try boondocking.
Camping Activities
The possibilities for camping activities are endless when you travel in a Class A motorhome. You have enough room to pack for your favorite hobbies, whether that's fishing, hiking, snowboarding or cycling. Plus, there's always time for family games, stargazing and simply relaxing in the nice weather together. The end of a long day is the perfect opportunity to bring the family together for a meal, laugh and stories.
Camping Food
Who doesn't crave a delicious meal at the end of the day? Whether you're learning how to use your Class B RV's appliances or are a seasoned RVer, you can benefit from our Mobile Meals playlist on our YouTube channel. We have it all: tailgating food, appetizers, desserts, dinners and lunches. It doesn't matter if you have a sweet tooth or want a healthy, balanced meal because we have you covered. Don't forget that your Sprinter's kitchen has enough storage for the to-go snacks for your hiking trip.
RV Kitchen Necessities
Although your Super C RV drives smoothly in all four seasons, it's essential to have shatter-resistant melamine dinnerware. Accidents happen, and if a glass plate breaks, it creates two problems: broken glass everywhere and you don't have anything to eat from - so it's best to play it safe. You may want to maximize your storage space, so you can purchase collapsible mixing bowls, strainers and measuring cups. Reusable ice cubes, dish rack and water filters are other items that will make your life easier.
RV Bedroom Must-Haves
If you're new to the lifestyle, you may not know some of RV living's nuances versus residential home living. For example, your toy hauler's queen-size mattress might not be the same size as a traditional queen-size mattress, which means you'll have to purchase new sheets. ClinchFit sheets are a great alternative because they have drawstrings that allow you to mold the sheets to your mattress.
RV Bathroom Essentials
One thing you may not have thought about but is essential to protect your Class B+ RV's sewage system is motorhome-safe toilet paper. Unlike traditional toilet paper, RV toilet paper dissolves quickly, which helps avoid clogging and other blank tank issues. Some tried-and-true RV toilet paper brands are Thetford AquaSoft Toilet Tissue and Scott's Rapid-Dissolving Toilet Paper.

Find an RV that's Made to Fit™
Windsport Class A Motorhome
When you're in a Windsport, it doesn't matter if your travel destination is Colorado's slopes or California's beaches. This Class A motorhome has plenty of storage inside and out. The exterior rotocast storage compartments and basement pass-through storage makes packing simple. Whether you choose to camp at a resort or dry camp on public lands, you can enjoy the great outdoors under your patio awning, the game on the 32-inch TV and your favorite camping meal on the grill.
Chateau Class C Motorhome
You'll quickly call your Chateau home away from home. From the residential interior look and features, this Class C motorhome has everything you need to make the most of your camping trip. The high-sheen cabinetry not only looks good, but it has plenty of storage space for your RV's kitchen necessities. With 14 different floor plans to choose from, you can find the perfect fit for your family. You can select a floor plan with king-size, queen-size or twin-size beds with king conversion, and still find sheets that fit perfectly. The little things make an RV feel like home, and the Chateau certainly checks those boxes.