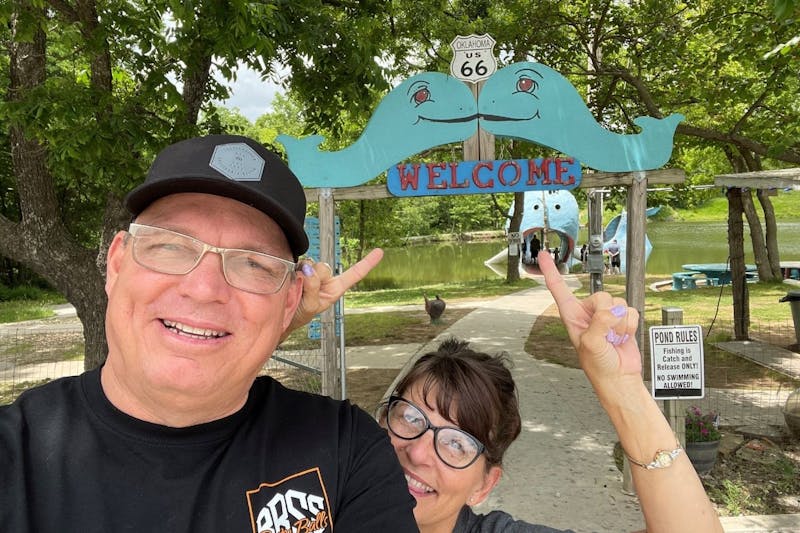 The Detour is the Destination
by Todd and Elizabeth Neuens.

We've packed up the RV and are ready to go. The slides are in. The fridge is filled. And, the GPS is loaded with directions to our next perfect destination. We're rolling down the highway with visions of the adventure of a lifetime dancing in our heads. What could go wrong? Plenty! Often our expectation doesn't meet reality, and when Todd and I started embracing the fact that there is a clear-cut difference between what we envision and the state of things as they are, we became much happier campers. 
RV Mishaps and Mother Nature
We have had plenty of mishaps and a few near disasters in our travels between human error and Mother Nature. We have been delayed, detoured, and derailed by weather, road closures, and mechanical problems, to name a few. Over the past year of full-time RV travel, we have learned that setbacks will happen, and having high expectations can cause significant stress. They can also diminish our enjoyment of the "here and now."
High Expectations vs. Reality
If you spend any time scrolling through social media travel posts or travel blogs, you may think that being a nomad is easy and carefree. Unfortunately, sometimes that portrayal can set the course for real-life disappointment.
"Expectation feeds frustration. It is an unhealthy attachment to people, things, and outcomes we wish we could control, but don't." - Dr. Steve Maraboli, Best-selling Author, Speaker, and Behavioral Science Academic.
Studies show that having high expectations can, at times, cause emotional anxiety and distress. And who needs that? The fact is that living full-time in an RV will have the same obstacles and stresses as any other lifestyle. Learning to be flexible and have open-ended expectations can vastly improve your experience and increase your capacity to enjoy the journey.  
Helpful People on the Road
Because nothing has gone as planned, we have met many generous, helpful people who were put in our path exactly when we needed them. Early in our travels, we stopped for fuel in a little town in Oklahoma. Our rig uses diesel, and in Texas (where our journey started), diesel pumps have a green handle, but in Oklahoma, the diesel handle is yellow (the gas handle is green). As my husband got ready to start pumping fuel, a man walked up to him to ask about our rig. My husband was distracted and began fueling the rig with gas. He smelled it immediately-but the damage was done, or so we thought. Long story short, we made some calls and connected with a distant relative of my husband, who just happened to be a diesel mechanic. He came and pumped out the gas, cleaned out the lines, and filled us up with diesel. We were thrilled that we didn't have any lasting damage, and we met a family member who is now a new friend. 
Be Open-minded through Your Journeys
We have learned that if we don't idealize the outcome, we open ourselves to unexpected experiences that we might have missed. We had a front-row RV spot at the most spectacular Independence Day fireworks show we have ever seen (Scotts Bluff, Nebraska, who knew?). We discovered the Halloween capital of the world (Anoka, Minnesota) and the best Halloween parade ever, by the way! We continue to see unusual and unexpected towns, historical sites, diners, dive bars, and off-beat roadside attractions that we never knew existed in our journeys.  
A few tips for managing mishaps as they unfold:
Lesson number 1: Be open-minded about outcomes. Lighten your load and learn to adjust to every situation. You cannot prepare for everything.  
Lesson number 2: You are going to make dumb mistakes. Take time and allow the situation to play out. Do not rush. There is a solution if you are open to it.
Lesson number 3: Don't expect perfection. Don't play the blame game. Forgive yourself, your co-pilot, and your rig. 
Finally, remember that setbacks on the road are only temporary. Allow yourself to relax and have fun because perhaps the detour IS the destination!