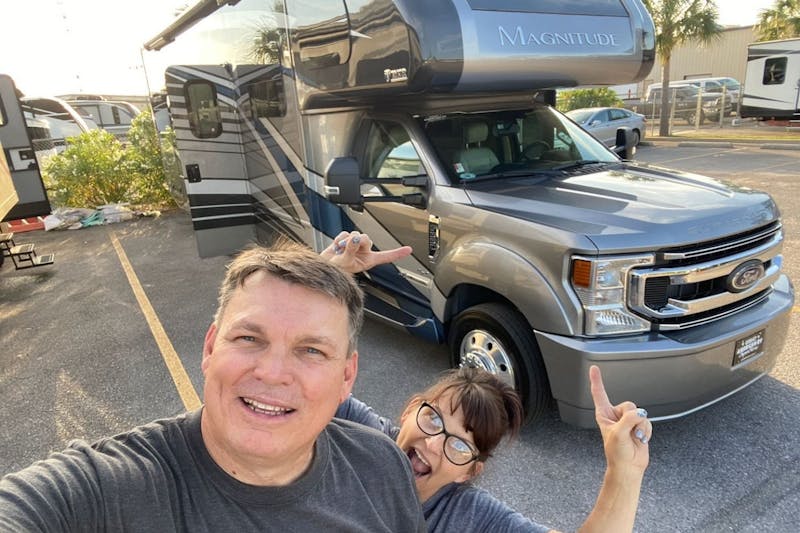 Meet the Neuens
by Todd and Elizabeth Neuens.

The first thing you need to know about us is that we are not retired, independently wealthy, or crazy. Well, maybe a little crazy. Hi! We are Todd and Elizabeth Neuens, living the New American Dream.
Maybe it was COVID or a midlife crisis. Still, after spending the last 35 years working hard, raising kids, paying mortgages, car notes, and going through all the ups and downs of traditional American life, we felt discontented. It was time to make our dream a reality.
We have talked about traveling full time for years, and, of course, we were waiting for life to slow down, kids to grow up, and to be financially free to pull that trigger. But the more we waited, the more complicated our lives had become with aging parents, minor health problems, and an ever-increasing load of possessions and toys to maintain. We had a beautiful home on 10 acres in East Texas, but it was a lot of work and upkeep and left little time or energy for adventure.
Making "Someday" a Travel Reality
We have always loved to travel and have taken many road trips all over the county. Usually, to visit our parents, kids, and grandkids for different occasions. Sometimes just a quick getaway. We both enjoy road trips, so we hop in our truck and set out for our destination with an agenda and a timeline. As we passed by historic sites, scenic byways, or other points of interest, we always said, "Someday, we will come back and visit when we have more time." The reference to "Someday" is not a day of the week. That has always stuck with us. There is no magic time to live your someday; there is only today.
"Someday" is a disease that will take your dreams to the grave with you." – Timothy Ferriss.
It was not easy to sell everything we had worked and sacrificed so hard for over the years. It was painful. Many times we questioned ourselves, our sanity and had second thoughts. One thing kept us on track: realizing that all we have is now because life would never get less busy, complicated, or stressful.  
So here we are! A few months into our magnificent journey in our beautiful 2022 Thor Magnitude RB34! This is the third RV we have owned and, by far, the best for our travel style. Trading in our stationary sticks and bricks life for the freedom and adventure of being a nomad is not without challenges. We have already had a few mishaps and setbacks. We also have no regrets. Nothing beats boondocking on a bison farm in South Dakota, taking a wrong turn in Alabama, and ending up on Natchez Trace Parkway, which is stunning—or even stumbling onto Minnesota's Largest Candy Store and filling every cubby in the RV. We even discovered where the first Icee was invented in Coffeyville, Kansas.  
For the most part, we don't give ourselves a timeline or agenda. We try to live by the compass, not the clock. We say we have ADD (Attention Destination Disorder). We never seem to end up exactly where we thought we'd be when the day started because we permit ourselves to take a left (or right) if we see a sign, marker, or just a road that looks more interesting. For the most part, we have stuck to the one rule we made many years ago on our previous road trips: NO major highways. We have found many hidden treasures when you allow yourself to live life off the beaten path.
In the upcoming months, we hope to share our journey with you and answer common questions you may have about full-time RV life. Here are a few topics we plan to cover: 
-How we make it work financially BEFORE retirement.
-How we maintain family relationships and traditions while cultivating new relationships and creating new traditions.
-And (the question we get asked the most) how we have learned to handle conflict, crisis, and clashes in close quarters.

Now that you know our story, we invite you to come along as we navigate through the New American Dream of RV Full-time living.