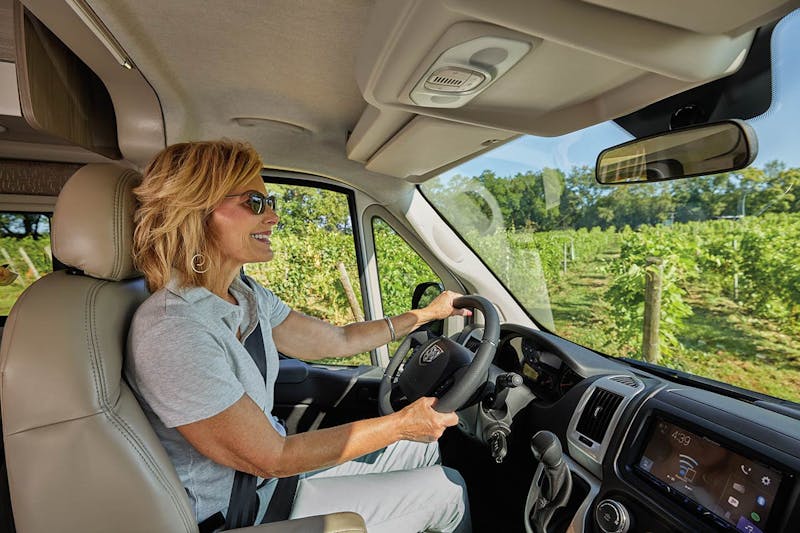 Let's Head to RV School!
You can get the most out of your RV when you understand all of its features and how best to operate them. One way to do that is to take an RV driving course. While it is not required in most states, it can help even the most seasoned RVer make travel easier and is a great way to get to know your new motorhome.
Some states require a non-commercial Class B license to operate a motorhome over 26,000 lbs. or over 40 feet long. Those states are California, Maryland, Michigan, North Carolina, Nevada, New York, Pennsylvania, South Carolina, Texas and Wyoming. In Arkansas, Connecticut, Hawaii, Kansas, New Mexico, Washington D.C. and Wisconsin a commercial driver's license is required if your RV is over 26,000 pounds.
A great way to practice for your licensing requirement is to take a course through an RV school, which is sometimes called RV boot camp or RV basic training. You can work directly with an instructor at a campground or other meeting spot or take an online course.
Most schools tailor their training to the specific student or state requirement so there is usually not a one-size-fits-all lesson plan; however, you can expect most of these topics covered:
How to maintain your motorhome
How to weigh your motorhome
How to park and back up your motorhome
How to operate the key features of your motorhome
Here are some features of the Tellaro™ Sprinter that you should know how to operate before your first road trip:
Solar charge controller with 190W solar panel
Onan® RV QG gas generator
Auto shoreline to generator transfer switch
Click here for more about Tellaro Sprinter.
The Compass® RUV™ is light enough that no special licensing will be required in any state, but it is still a great idea to take a few lessons on how to operate these high-tech, yet user-friendly features so you don't waste any time on your vacation!
RapidCamp+® Multiplex lighting and systems control
Emergency engine start switch offered on select models
Black tank flush system
Click here for more about Compass RUV.
In certain states, the Outlaw® Class A Toy hauler would require you to obtain a special license to operate because of the weight class. While you are taking your RV driver's ed, it is a good time to ask the instructor for more information on how to handle the Outlaw's best features, such as:
Auto leveling jacks with touchpad controls
Garage drop-down Zero-G® ramp door, snap-in patio
Remote fuel filling station with auxiliary fuel tank, pump and nozzle
Click here for more about Outlaw Class A.
Don't forget to let your insurance agent know that you have completed an RV driving course, because many companies will offer insurance discounts. For information on advanced training on how to operate and maintain your RV, ask your nearest Thor Motor Coach dealer or reach out to us on social media!