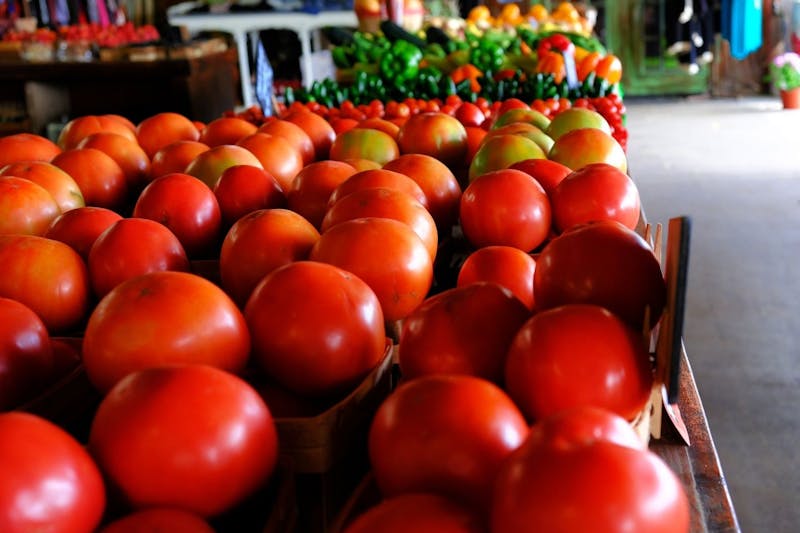 Farmers Markets Worth the RV Trip
If your family is looking for a way to have some organic summer fun, visit a farmers market! Visiting a farmers market has its perks, including supporting family farmers and getting locally-grown, healthy and fresh foods at very affordable prices. This week, we explore five of the best farmers markets in the United States for you to visit.
1.   Portland Farmers Market - Portland, Oregon
Portland Farmers Market, a nonprofit organization, operates in five locations throughout the area, allowing more than 200 local vendors to sell their goods. Having grown tremendously since its inception in 1992, the markets attract hundreds of thousands of shoppers each year - and for a good reason. The variety of goods sold ranges from cheeses, wines, bakeries, meat and seafood and more. Plus, some locations offer live music performances, chef demonstrations and cooking classes. So go ahead, drive your Class C motorhome to the City of Roses and enjoy some freshly cut flowers and fruits with the family.
2.   Eastern Market - Washington, D.C.
In the heart of the country's capital, you'll find the Eastern Market. Washington D.C.'s Capitol Hill neighborhood hosts the market, which considers itself a "community hub" and a tourist attraction. Merchants provide shoppers with a vast array of goods, including meats, fruits, veggies and over 100 unique shops for antiques and handmade goods, including jewelry, crafts, art and more. There's even an event space where you may attend a local dance class, wedding, meeting and other events. The Eastern Market building is even designated as a National Historic Landmark with continuous operation since 1873 - a perfect place for locavores and history buffs to visit in their toy hauler.
3.   Pike Place Market - Seattle, Washington
Heading back to the west coast, travelers will love visiting the Pike Place Market in Seattle, Washington. Ever since the public market's opening day in 1907, it has become the community's favorite neighborhood marketplace. Aside from shopping produce from over 80 local vendors, there are also foraged and seasonal products, including mushrooms and berries and crafts, like handmade soaps and candles. Also, visitors can watch a cooking demonstration from chefs in the city known for its delicious cuisine. All around, this is a great destination to visit in your Super C RV.
4.   Union Square Greenmarket - New York, New York
It may be a surprise that such an urban area has one of the most famous farmers markets in the country. The Union Square Greenmarket has brought color to the concrete jungle since 1976, with fresh breads, cheeses, produce, jams and more. The market now hosts about 140 regional merchants during the peak of the season. Best of all, there are so many activities for your family to enjoy. Spring through fall, sign up for a cooking demonstration, tastings, interactive displays and adult tours. Some days there are even book signings and pop-up shops. Luckily, you'll find a space to park your camper van and participate in as many activities as possible.
5.   Davis Farmers Market - Davis, California
Rain or shine, your family can visit the Davis Farmers Market in Davis, California. Whether you're looking for fresh meats, fruits, vegetables or sweet treats, like doughnuts, cookies and other baked goods, you're in good hands at this market. In 1976, farmers, college students, and others created the Davis market to benefit the community. Even today, the Village Feast, which commences the market's closing day, donates the funds that support fresh farm foods in their school system. What a great way to benefit local farmers and local students. This is a farmers market worth the Class A RV trip!
Check out your local farmers market, too!
Of course, the five farmers markets mentioned in this blog aren't the only ones - they're located throughout the country! They're definitely worth the RV trip, but you can find one near you and create delicious Mobile Meals with the freshest ingredients. So, send us photos at your favorite farmers market with your Thor Motor Coach to our Happy Camper line, 574-584-2074.
Have Organic Fun in a Thor Motor Coach!
Chateau Class C Motorhome
It's time to get behind the wheel of a Chateau and travel to the best farmers markets in the country. In Chateau's kitchen, you'll have plenty of room to store your farmers market finds. There's a double-door refrigerator and high-sheen cabinetry with nickel-finish hardware. When you're ready to get cooking, this Class C RV has a gas cooktop, large stainless steel sink and, depending on the floor plan, a microwave or convection microwave oven. There are endless possibilities for Mobile Meals when you have fresh foods and a home-on-wheels!
Delano Mercedes Sprinter RV
In the Delano, the finder things come standard, including top safety features. This Sprinter RV comes with the Mercedes Benz safety package, featuring brake, attention and lane-keeping assistance, adaptive cruise control and a wet wiper system. Find your way to all of our farmers market picks with ease, thanks to the 10-inch dash radio with Bluetooth, navigation and SiriusXM. You'll feel safe visiting those big cities and going across the country with the safe and convenient keyless entry system. Now, it's time to hit the road in the Delano floor plan that is made to fit you.