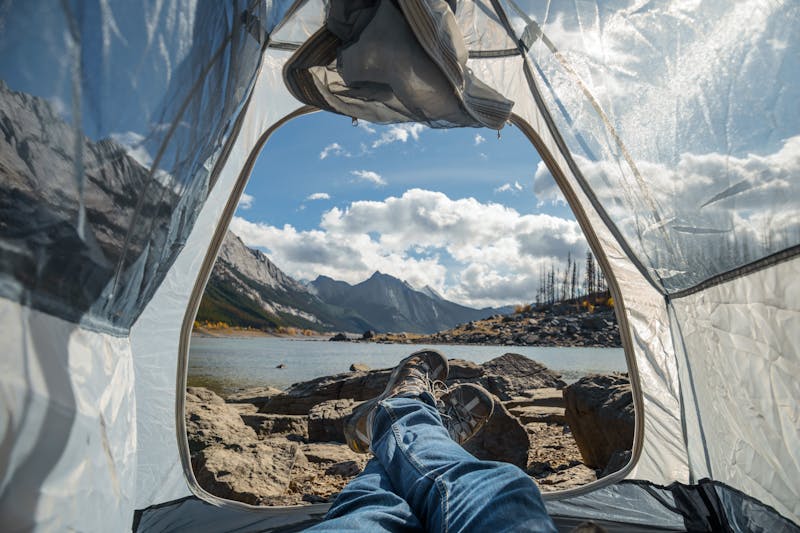 Do's and Don'ts of Camping in National Parks
Picture yourself outdoors. The smell of fresh air, a light breeze across your face, the sound of birds chirping. Sunlight hitting your skin. You're surrounded by lush trees as far as the eye can see. You are relaxed, one with the world, peaceful.
Does this sound like something you'd enjoy? Try camping at a National Park near you!
Experienced camper or first-timer? Everyone makes mistakes when camping, but we're here to help you avoid them. So, before you get your supplies ready, here are some things you should know first.
According to Outdoorsy, these are the biggest do's and don'ts of camping in national parks:
Some people want to leave their mark, but that can't be the case here. The most common forms of vandalism in national parks include names and initials carved on rocks and trees or spray paint on trees. Regardless of the damage, it's all destructive to the environment and unacceptable. Think about the planet before making vandalism a habit!
DO confirm the campground's pet policy.
Unfortunately, some national parks may not be safe for our furry friends, no matter how much we wish we could bring them along. That's why it's essential to contact the campground and ask or check out the park's website beforehand, so your trip goes smoothly.
DON'T leave any trash behind.
Aside from being disrespectful to the park, random junk can make animals sick if ingested or injure animals by trapping them. Plus, it makes the national park look dirty and less appealing to future visitors. So, please dispose of all waste properly.
DO arrive before nightfall.
No one wants to set up camp in the dark, even seasoned campers. It's best to take your time to prepare while there's still daylight. You can explore your immediate surroundings and prepare without added stress. Doing this also minimizes mistakes due to lack of vision.
Human food isn't good for animals, and it can cause serious health problems. It also makes animals less afraid of humans. Though that might sound nice, it can actually prove harmful to critters and humans alike.
Aside from protecting our national parks, park rangers also protect everyone who visits the parks. Park rangers are also very knowledgeable, so don't hesitate to reach out to them if you have any questions. They could very well save your life in a moment of need!
DON'T get too close to animals.
Maintain a safe distance. Animals need personal space too. Sometimes animals can be unpredictable when they feel threatened and become a menace to themselves and us. You or the animal could end up seriously injured, so be careful!
DO leave behind a copy of your itinerary.
According to Travel Channel, "People can only help in the event of an emergency – if they know your whereabouts. Leave behind a detailed copy of your travel plans, so friends or family can follow up with you to ensure you get home on time." It's always best to be safe than sorry.
DON'T veer off the trails.
The saying, "Forests grow by the inch and die by the foot," is no joke. There are thousands of miles of marked hiking trails in national parks, so there is no reason to go off-trail. It is hazardous not only to the individual hiker but also to the environment. There are tons of protected plants and other species in national parks. If we stomp around wherever we want, we will damage the natural resources we're desperately trying to preserve.
Trip essentials include water, appropriate footwear, map and compass/GPS, extra food, rain gear, extra clothing, light, whistle, first aid kit, knife or multi-purpose tool, sunscreen, sunglasses, and a backpack. Make sure you have a checklist ready when buying and bringing any essentials, so you don't forget anything. It's important to stay safe!
It is crucial that we protect the environment from the toxicity of cigarette waste. According to the Truth Initiative, "Nearly all cigarettes —98 percent— have plastic non-biodegradable filters, in addition to toxins that can leach into waters and poison fish. When animals eat cigarette butts, they can die from choking or toxic exposure." Also, most people come to national parks for fresh air, not to inhale secondhand smoke. More importantly, smoking outdoors is a fire hazard. Sadly, humans are the cause of many wildfires. So, in the words of Smokey the Bear, "Only you can prevent forest fires!"
No matter how much you plan, unexpected things are bound to happen, especially when dealing with the outdoors. For example, the weather. It is out of our control, and it can change at any minute. So, be ready to adapt despite how much planning you do. Keep a light attitude and remember to have fun!
You're packed and ready to head to the nearest national park, but how will you get there? We suggest looking into the following RVs to ensure maximum comfort and ease during your camping trip!
The Sanctuary Mercedes-Benz® Sprinter van feels like a breath of fresh air. Cook the most delicious meals from the kitchen which includes a refrigerator, dual-burner gas cooktop, convection microwave oven, stainless steel sink with a cover, solid surface countertops, and a fold-out exterior table. Home-cooked meals are a perfect way to save money on the road, so you have more to explore each National Park!
Outlaw® Class A Toy Hauler
This Class A Toy Hauler motorhome has all the room you need for memorable camping trips! The Outlaw is an excellent home-on-wheels that includes a Queen-size bed in the 38MB floor plan, with a luxurious bedspread and pillow shams, while a King-size Tilt-A-View® bed with an inclining mechanism is outfitted in the 38KB floor plan. Why sleep outside when you can sleep like a rock in the Outlaw?
Now, go out and create your national park adventure!