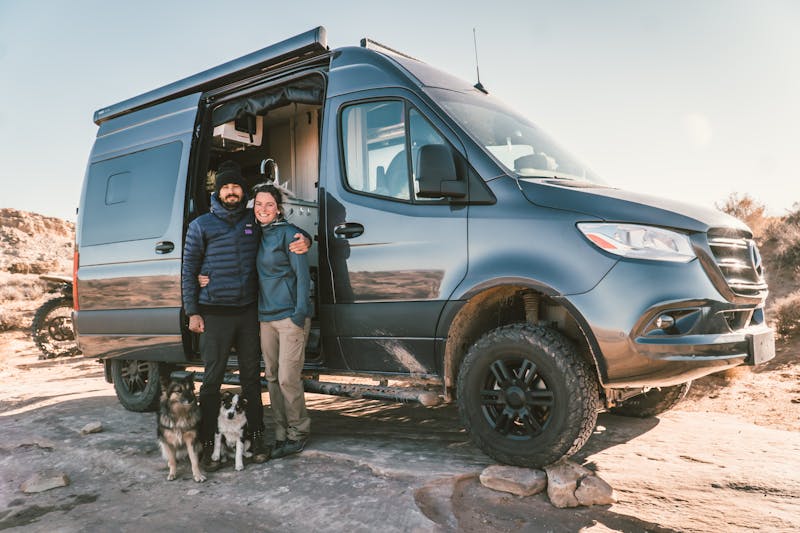 5 Things to Love about Sprinter Vans
Thor Motor Coach recently introduced two new Class B product lines, Sanctuary® and Tranquility®. But, these aren't your ordinary Class B RVs. Sanctuary and Tranquility are Sprinter vans, meaning they're built on a Mercedes-Benz® chassis. Interested in learning more? You're in luck! This week, we're sharing five things to love about them.
 1.   Maneuverability
Sanctuary and Tranquility emanate the adventurous lifestyle with off-road capabilities. The Mercedes Benz Sprinter® 2500 passenger van with a 4x4 platform and optional all-terrain tires improves road adhesion and handling to any destination. A top-mounted LED light bar and adaptive cruise control guide you down any path with ease.
2.   Versatility
Available in two floor plans, 19P and 19L, these explorer vans come with everything needed for a solo trip or couples' adventure. Both layouts include a kitchen, wet bath and sleeping area, outfitted with a modern interior design. The 19P comes with a comfortable conversation area in the rear, that converts into a sleeping area. 19L comes with a similar back-end sleeping area, with additional bench-style seating.
3.   Entertainment
Sanctuary and Tranquility are an outdoor enthusiast's dream, but they also come with comforts for rainy days. A 24-inch TV in the living area comes cable TV-ready and satellite-ready. Winegard® ConnecT™ 2.0 works as a WiFi extender, 4G hotspot and digital TV antenna for your convenience. There's an electronics station and USB charging ports throughout. Plus, a JBL® Flip speaker, that can be wall-mounted or taken on the go, comes standard.
4.   Lifestyle
These Sprinter vans come with top features for nature lovers. A 190-watt solar panel and an optional Re(Li)able® electrical system charges the batteries for power without plugging in, allowing you to camp away from the crowds. Thule® accessories, including a roof ladder and rack system, powered patio awning with LED lighting and a bike rack that fits two adult-sized bicycles, take outdoor living to the next level. While relaxing under the patio awning, an exterior table conveniently makes the perfect spot for a chilled beverage.
5.   Pet-Friendly
For pet parents, going on vacation with your fur babies is huge. Unlike a hotel, there are no hidden fees, uncomfortable crates or anxious flights for your pets. Sanctuary and Tranquility allow you to bring Fido along for the ride, adventures and cuddles, of course. Ultimately, not leaving your four-legged friend behind will create a better environment for all.
Thor Sprinter Vans You'll Love: Sanctuary and Tranquility
Sanctuary and Tranquility make a great home away from home for anyone looking to join van life. If you have any questions or need help choosing the right floor plan for you, contact our Coach Link® Sales Team. Fall in love already? Use our Dealer Locator to find one near you.