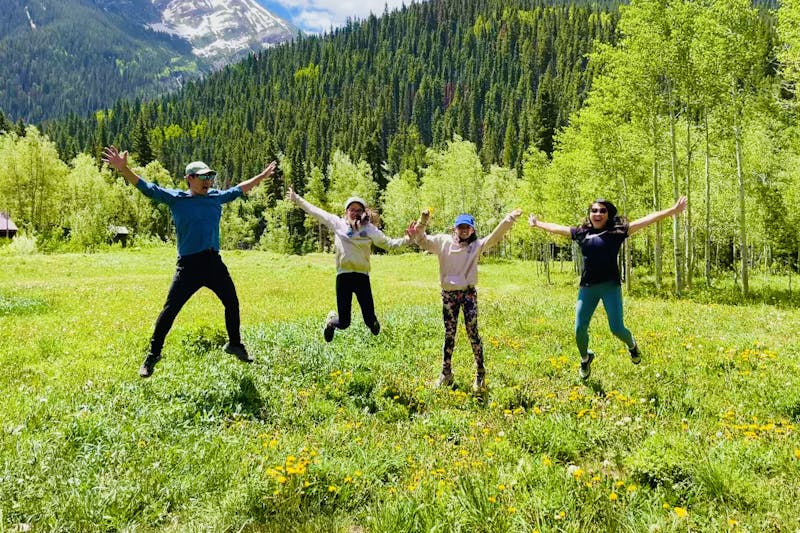 Colorful Colorado & RV Life
by Brenda Huynh and Tiger Doan
This summer, we traveled to Colorful Colorado to meet another RV family we befriended a few years ago and reconnected with a childhood friend. Our first stop was Colorado National Monument in Grand Junction! We especially enjoyed driving our Vegas through two tunnels high up in the mountains. The red sandstone reminded us of Utah, which we had just visited during Spring break. (Check out our Be-Utah-ful Sights blog post to learn more about that trip!)
Carbondale was our next destination, where we stayed at the Gateway River RV Park. Our first day in Carbondale was spent on a Jeep tour of the famous Crystal Mills. We met the friendly and warm owner of Crystal River Jeep Tour, who let us park our RV in front of her office so Bear, our puppy, could stay inside the Vegas while we did the 2-hour tour.
The Jeep ride was part Indiana Jones and part Jurassic World with all the greenery, mountains, and water around us. Adults and kids enjoyed the fun ride alike. We loved learning about the history, interesting stories, and getting bumped around in the Jeep.
We wrapped up the day by enjoying a BBQ lunch at Slow Groovin BBQ and walked around the city of Marble, admiring the various marble slabs. It was interesting to learn that many marbles worldwide come from Marble, Colorado.
The hikes at Maroon Bells the following day were the most scenic and breathtaking of our excursions in Colorado. Some hiking trails were dog-friendly, so Bear was able to join us. We were grateful that our friend secured an 8 a.m. parking reservation ahead of time. We arrived bright and early to get the best parking spot. (Arriving after 8 a.m. requires you to park further away and take the shuttle to the entrance.) Luckily, our shorter Class A RV allows us to have more mobility when traveling.
After our hikes, we made lunch in the RV to share with friends. That night, we sat around the campfire and enjoyed my friend's famous homemade meatballs. Dessert consisted of crepes made by Amelia, my oldest daughter!
Glenwood Springs & Breckenridge
Before heading to Breckenridge, our final destination in Colorado, we wanted to fit in some relaxation time for the adults and fun activities for the kids. We visited Glenwood Springs, and we highly recommend it to anyone with kids! For $39 per adult and $25 per child, you have access to three hot springs, pools, and a lazy river. Honestly, this was probably the most relaxing day of our trip.
Afterward, we drove to Breckenridge, where we enjoyed the magnificent canyons. It was one of the most beautiful drives on the trip! We checked into Tiger Run RV Resort, named after my husband. Just kidding! It was a charming and clean resort with many amenities like a swimming pool, game room, and laundry facility.
The following day, we rented a Pontoon boat at Frisco Bay Marina on Dillon Reservoir for everyone to enjoy. We quickly learned that Colorado could drop in temperature rapidly, so we ended the day with a brewery tasting. The breweries and coffee shops were among the many things we enjoyed in Colorado.
On our last day in Colorado, we went back to Frisco Bay Marina to go kayaking. It was very peaceful and relaxing. The two outdoor activities we enjoy the most with our kids when camping are biking and kayaking. We love exercising lower and upper body muscle groups while enjoying beautiful nature. All our camping trips have made our kids greatly appreciate outdoor adventures, exercise, teamwork, responsibility, and quality family time.
Afterward, we walked to Frisco BBQ Challenge and stopped for German beer, pretzels, and sausages. We biked to town later in the afternoon and stopped by Breckenridge Ski Resort. We enjoyed the Gondola ride, Alpine sled, and Continental Divide. Known for its majestic snowcap mountains, Breckenridge is a beautiful town and a must-visit in Colorado. It's very popular amongst ski enthusiasts in the winter and mountain biking enthusiasts in the summer. We'd love to bring the girls back to ski one day!
Though we had the best time in Colorado, our trip was not without problems! While returning to California, our RV shook vigorously around the front driver's side. Unfortunately, our AAA RV roadside assistance sent us to a shop in Utah that didn't service RVs. It was late on Saturday, and we had no choice but to drive slowly and nervously to Las Vegas in triple digits weather to check in at Oasis RV Resort.
Tiger troubleshot with a few mobile repair services the next day and discovered that our front driver tire had started bulging out, deteriorating from wear and tear. We were lucky to have friends come to our rescue! They brought us dinner and lent us their car so that I could take Bear and our girls home on Sunday. Tiger stayed behind to take care of the tire replacement in Las Vegas on Monday since many shops were closed on Sunday.
We received phone calls and support from the Thor Motor Coach team. Ted Wiens Complete Auto Service in Las Vegas replaced all six new tires, and Tiger was able to drive home safely that Monday. We were thankful to have such a great support system and services from reputable businesses that allowed us to stay calm and problem-solve this RV issue.
We're glad our meaningful RV adventures had a safe and happy ending for the whole family.
My husband, Tiger, promised we'd renew our vows for our 10th wedding anniversary. Instead of doing so and upgrading my wedding ring, we decided to make long-lasting memories as a family by purchasing our first Thor Motor Coach RV. It was the best investment ever, and we haven't looked back since!
When people discover we are part-time RVers, they often ask questions like:
-          "Why would you work so hard to live like a homeless person?" 
-          "Why not fly or drive and stay in hotels like everyone else?"
-          "You pay so much to stay in a tenement camp!" 
The answer comes back to quality family time, a closer bond with our kids, and our love of the outdoors.
Lessons & Life-Time Memories
RVing has its challenges, but the pros far outweigh the cons. RVing requires a lot of teamwork which has helped Tiger and I become stronger partners over the years. Not only has it brought our family closer, but it's taught our kids to appreciate Mother Nature and care for her. Our kids are independent and self-sufficient. They do not fall into the trap of boredom because they're constantly making up games, exploring, and learning.
Our oldest, Amelia, often helps Tiger outside the RV whenever we check in and set up the rig. She's become quite handy, resourceful, and helpful over the years. Our younger daughter, Antonia, helps me unpack and set up inside the RV. Everyone in the family has a job, and we've become quite efficient. Camping in an RV has allowed us to bond as a family.
One of the many advantages of RVing is that our kids wake up to nature and play outside while we prepare breakfast. That's something we couldn't do if we stayed in a hotel. Successful RV trips require everyone to pitch in, so we believe that RVing promotes team building and camaraderie. We also love having our kitchen, bathroom, and bedroom with us everywhere!
RV life is an investment that will leave you with life-long memories and lessons. We know it's not always easy, but we wouldn't trade it for anything!