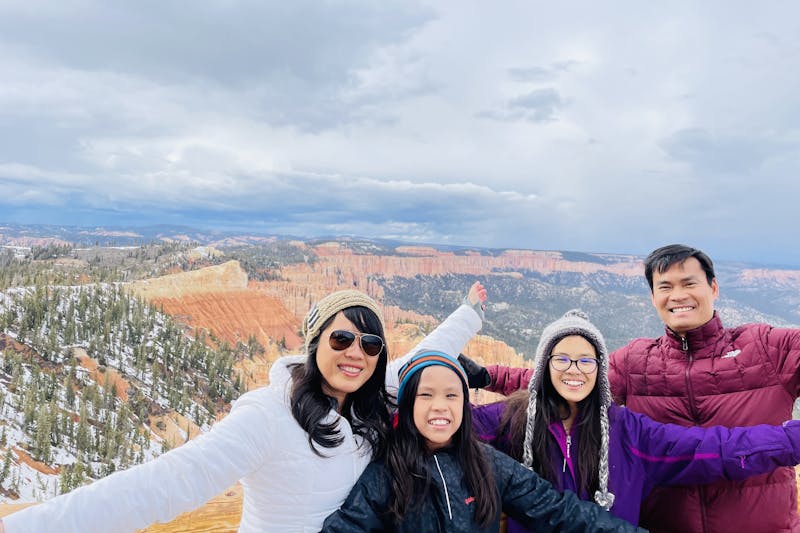 Be-Utah-ful Sights!
by Brenda Huynh and Tiger Doan
Utah Mighty 5 (Minus Zion) & State Park Trip
We have been hesitant to bring our puppy, Bear, to a National Park since dogs are not allowed on most trails. This past spring, we decided to go to Utah while the weather was cooler, that way, we could leave Bear in the RV while we hiked and explored. We made sure he was comfortable, safe, and not left alone for too long.
Comfort is essential to us when traveling, especially during this trip, as we only had nine days to visit four national parks and a state park. We love the outdoors and going on new adventures as a family. So, having a puppy has not stopped us from finding ways to RV! Luckily, our Thor Vegas has made it easier to travel, drive, and find parking since it's only 25 feet long. Explore Utah with us and learn about the incredible parks it has to offer!
Capitol Reef National Park
Our first stop was Capitol Reef National Park, where we dry camped at the peaceful Fruita Campground. It's located inside the park and surrounded by beautiful cliffs with fruit trees. The Fremont River runs through the campground, which contrasts the red cliffs. During harvest season, you can pick fruits like apples, pears, apricots, cherries, and plums for a fee. We were pleasantly surprised by the quietness of the campground. It was very peaceful. We highly recommend the 20-mile scenic drive!
We headed to Grand Wash and Cassidy Arch, where we found ample space for our Vegas outside the parking lot. Bear slept comfortably while we ventured high above Grand Wash to Cassidy Arch, named after Butch Cassidy, the outlaw and train robber who reportedly hid there. The hike is a three-mile round trip with a strenuous 600-foot elevation gain.
Our next stop was the Capitol Dome. Early settlers noted the white dome of the Navajo Sandstone resembled the crown of the Capitol building in Washington, D.C. Lastly, we trekked a short distance to Hickman Bridge Trail Head to round out our trip at Capitol Reef.
Canyonlands National Park
With rain in the forecast, we checked out of Capitol Reef early in the morning after two nights and headed to Canyonlands. Our first destination was Island in the Sky, carved by the Green and Colorado Rivers from both sides. We lucked out with magnificent front-row RV parking to wait out the rain. We love having a house on wheels because we can quickly whip up lunch and stay warm and dry in less-than-ideal situations.
After the rain subsided, we explored Canyonlands on foot and were blown away by its unique landscape. It was as if we were on another planet! We saw people off-roading with their 4x4s and added it to our bucket list for the next trip. Time and weather limited the hike, but we drove several scenic roads and loved every minute. Thankfully, the vast windshield of the Vegas motorhome allowed for fantastic panoramic views and photography without having to leave the RV.
Dead Horse Point State Park
Dead Horse Point State Park's campground is well kept and has magnificent sunsets and views. We were forewarned that there is no water refill anywhere at the campground. There's electricity, but you must bring your own water. We discovered Maverick's gas station in Moab to be the best resource, as it's conveniently located in town and has a free dump station and water refill. Dead Horse Point State Park was not only beautiful but allowed dogs! Bear was ecstatic to roam the park trails on a leash. He met other dogs, and people loved greeting him since he's so friendly. This was a refreshing change for all of us!
Arches National Park was the final of Moab's three destinations. Excitement woke us up early that morning, and we drove into Arches while the sun was rising. From Courthouse Towers to Balanced Rock, salmon-colored entrada sandstone formations of all sizes and shapes surrounded us. Starting with the Devils Garden area, we found a great RV parking spot close to the trailhead entrance.
We hiked through the magnificent Sandstone Fins to see Landscape Arch. My husband, Tiger, and the kids climbed up the steep rock to explore Partition Arch. We jumped for joy in front of Pine Tree Arch and took an obligatory family selfie with Tunnel Arch in the background. After a refreshing lunch break back at the RV, we had enough time to explore the iconic Delicate Arch. Again, we found plentiful RV parking by the trailhead, and Bear guarded our Thor Motor Coach Vegas while we explored.
Bryce Canyon National Park
We were pleasantly surprised by the golf ball-sized hail and snowfall on our way to Bryce Canyon. This was quite a treat for Southern California kids who don't get this experience. Our first stop was Rainbow Point, with its 9,000-foot elevation. The gleaming white snow on top of the reddish-orange hoodoos was mesmerizing.
Ruby's Inn RV Park and Campground is located outside the park entrance. We enjoyed the convenience and amenities, such as Wi-Fi, full hook-ups, and shuttle stops. The Bryce Canyon shuttle stopped every 15 minutes, traveling one way through the park. We highly recommend mapping out stops to maximize your time inside the park!
Our final day presented many challenges, but that didn't stop us from having fun! Despite the weather, we took a shuttle to the Amphitheater area and hiked from Sunset Point to the Navajo Loop and Queen's Garden. The hoodoos were unique, especially Thor's Hammer. Queen's Garden was fascinating with its paler pink sandstone and irregular shapes. Overall, Bryce Canyon was the perfect end to our family trip! We loved it so much that we plan to come back to explore additional hiking trails and experience their horseback riding excursions.
This summer, our next trip to Colorado will include a return stop at Arches National Park. We are very excited to be able to check it out a second time! It will also be Bear's most extended trip.
Enjoy your National Park RV adventures and follow ours on Instagram @RV_Lifestyle_AsianFamily!