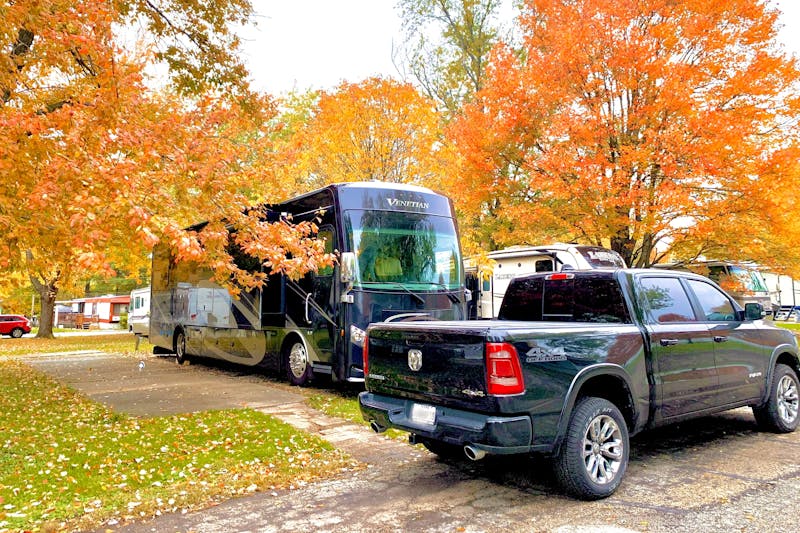 Camping Ideas and Tips
As I grew up, camping was a staple. If it was just my dad, my mom, and us kids, we always camped in a tent (there was one year that was an exception to that rule - my dad thought he would be the coolest dad to rent a pop up for our family vacation). If we went with my mom's family, it meant that someone was bringing their motorhome.
Every year went pretty similarly. Weekends were spent at the campground. We weren't always in our tent, as sometimes it was just for a day visit, but my childhood memories are scattered with kick the can, swimming on the beach, and being told kids weren't supposed to be in the motorhomes (apparently, we opened and closed the doors too much - haha).
Now, based on the patterns we are seeing, the love of camping has re-emerged in much of the country. As we drive by RV dealerships, we notice less and less stock on hand. When we try to make reservations for campgrounds, it's becoming a little more difficult to get the dates that we want. Sometimes I think we should start sharing all of the bad stories to keep people from coming out so we can have it all to ourselves, but that's just selfish.
So, what do we do when the campgrounds are fully booked?
Camping Tip: Make reservations early.
The first thing to do is plan ahead. If you can reserve your campsite in advance, you don't have to worry about booking the weekend you want to be there. We have found that weekends during the summer and holidays are the busiest. Some places will allow reservations as far as a year in advance. Planning is also vital if your dates are inflexible or trying to go as a group and have sites next to each other. Also, campgrounds or resorts such as Disney World or national and state parks require as much planning as possible due to popularity.
Camping Tip: Try to be flexible.
If you can be flexible, sometimes all you need to do is change your date. Often times, the campground or resort may be full on the day you would like to come in but have availability on the next day. If you can rearrange your trip a little bit, you may not need to make too many concessions to your vacation! We've also found that sometimes you may catch a streak of luck if you call while you are there to extend. Not everyone can fill their reservation as life surprises can happen, but you may be able to add on a few days to the end of your reservation. It never hurts to ask!
Now to be completely honest with y'all, we do not plan well. We tend to be more last-minute type folks and that hasn't always worked in our favor. Before this year though, we've been able to find something whenever we needed it. So we've started getting back up plans in place just in case.
Camping Idea: Harvest Hosts
If we are just driving through for a night or two, our favorite backup has been Harvest Hosts. In fact, this has become almost our first plan whenever possible. Harvest Hosts is a membership program that allows you free overnight stays to wineries, breweries, museums, farms, and even golf courses! We have found that we are surrounded by lovely people, great conversations, and even a nice taste of local flair at each location we've stayed. We utilized this option with our last trip as we drove through Iowa and stayed at Buzzed Bee Meadery. They were one of our first Harvest Hosts and now continue to be one of our favorite stops. Since then, we have made friendships and memories at other fun stops across the United States.

Camping Idea: Commercial properties.
Another option for a quick overnight stay may be staying at a local Walmart, Cabela's, Bass Pro Shop, or even casino parking lot. There are local ordinances that may prohibit overnight parking, but this could be a quick refresher point and back on the road if there isn't. We have not personally used this route but have had many full-time friends use and love these quick stops. If you're unsure if this is an option, you could call ahead, and the establishment would be able to tell you. Some Cabela's and Bass Pro Shops even have a dump station on-site for a small fee.
Camping Idea: Expand your search criteria.
Sometimes all you may need to do is expand your search criteria. Suppose you were hoping for full hookups (water, electricity, and sewer) but can't find a campground available with these amenities. In that case, you may be able to find one with just water and electricity. These campgrounds are still great and typically have a dump station in the park for you to utilize. A few campgrounds we've stayed in without sewer hookups did offer a honey-wagon service, in which they will empty your tanks using a portable container for you.

We also expand our search in terms of miles to find additional campgrounds. You may need to drive a little further to get to a destination, but we've found some lovely campgrounds we wouldn't have stayed at otherwise. While expanding your searches, we've found that mobile home and RV parks intended for long term stays sometimes also offer daily or weekly rates for those needing a place. We've used this option while in Illinois during the winter, as they were still open long after the seasonal campgrounds were closed.
Camping Idea: Moochdocking
There is always the tried and true method of using a family member or friend's driveway. Lovingly known as mooch-docking in the full-time RV world, we have utilized this on more than one occasion. Because we have family in the northern states, we've had some difficulties finding places to camp after October. Thankfully, we have a few family members with driveways that are plenty long enough to hold us and don't mind us taking up their entire driveway. If you don't fit on their driveway, we've even stayed on the curbside of our friends' houses. There were no problems with city ordinances or HOAs for us, but you'll want to double-check before you set up.
Camping Idea: Public and Private lands
If you'd prefer to stay out of the city, there's always the option of utilizing the Bureau of Land Management. This government agency allows people to camp on public lands. These will often be off the beaten path and require boondocking or dry-camping but can offer a unique camping experience. Boondockers Welcome is another way to find unique stays. They provide a service for connecting RVers with private property owners that allow you to stay on their land.

Camping Idea: Campground Apps
If you have your heart set on a campground, we have found that sometimes Google isn't the best place to go for information. Some of our favorite ways to look up campgrounds in the area are through applications on our phones. We use AllStays, The Dyrt, and Campendium to find local campgrounds and reviews.
Regardless of how you camp, when, or where, you're bound to make memories! Life's an adventure, so enjoy the ride.