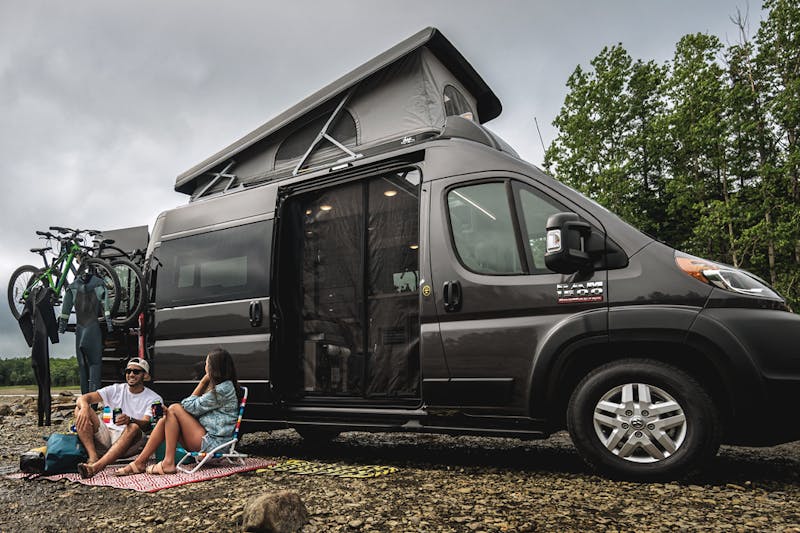 Best Class B RVs
Are you looking for the best Class B motorhome for your family? You're in luck because Thor Motor Coach creates some of the best camper vans in the market. This week, we're going to highlight three of our favorites.
Scope Explorer Van
When you're ready to change your perspective, you know what to do. Reach new heights with Scope.
Automotive Features
Scope is small but mighty. The Class B RV is built on a RAM®Promaster 1500XT chassis with a 3.6-liter Pentastar V6 gas engine. At just under 18-feet, Scope is Thor Motor Coach's shortest motorhome, making it easy to park or store at home. There's a 7-inch touchscreen dash radio featuring Apple CarPlay®and Android Auto™, which can be controlled with audio buttons on the steering wheel. Learn more about Scope's specs.
Floor Plans
Scope is available in two floor plans,18T and 18M. These layouts vary in their versatility. 18T, with an incredible amount of storage and an optional pop-top, is perfect for those who are ready to ditch the tent for a comfortable place to sleep during a weekend road trip. 18M, though still compact in size, is best suited for a solo traveler or adventurous couple who are ready to hit the road for a week at a time. Take a virtual tour of Scope's 18T floor plan.
Highlights
You'll want to try all new cuisines in Scope's conversion van kitchen. There's a conveniently placed tablet holder so you can follow along with our Mobile Meals recipes with ease. The stainless steel sink comes with a cover for more counter space on the road, while your dinner cooks to perfection in the overhead microwave oven. Other highlights include a 2-burner gas cooktop, electric refrigerator, and a pop-up outlet in the 18T floor plan. Learn more about Scope's features.
Sequence Camper Van
You can count on one of the most fuel-efficient options in the market to take you farther. See it all in a Sequence.
Automotive Features
Sequence comes with a luxurious cabin brimming with technology and comfort for your travels. This camper van is constructed on a RAM Promaster 3500 XT window van chassis and powered by a fuel-efficient V-6 engine. The front-wheel-drive platform is easy to drive, even while driving with a trailer attached to the 3,500-pound hitch. Plus, there's no stress while pulling out of the driveway with the backup monitor displayed on the 7-inch touchscreen dash. Check out the rest of Sequence's specs.
Floor Plans
This Class B motorhome is available in three floor plans, 20L, 20A and 20K. All three are intended for weekend warriors or lengthy trip takers — including your four-legged friend! The layouts include a pull-out food and water bowl for mess-free meals. Check them out for yourself below and see the unique versatile living areas, bathrooms, and kitchens. The 20A floor plan, in particular, comes with a highly sought-after optional pop-top. Explore the 20A and other Sequence floor plans with our 360° tours. 
Highlights
If you've ever considered leaving the office behind and touring the country while making money, you'll love Sequence's connectivity features. Winegard®ConnecT™2.0 works as a WiFi extender, 4G hotspot and TV antenna for those hard-to-reach areas. There's an electronics cabinet and USB charging ports throughout the Class B RV to keep everything you need ready to go for the day. Learn more about the living amenities that Sequence has to offer.
Tranquility Sprinter Van
Tranquility: the name captures the essence of the journey. With this camper van, the drive is just as relaxing as the destination.
Automotive Features
A Mercedes-Benz®2500 passenger van chassis with a 4x4 platform and V6 diesel engine bring Tranquility to life. This Sprinter Van is an off-road enthusiast's dream, complete with optional all-terrain tires and a top-mounted LED light bar. The luxurious MBUX®multimedia screen makes cross-country trips effortless with voice control, navigation, Apple CarPlay, Android Auto, and more. Safety features include keyless entry, audio control integrated into the steering wheel, adaptive cruise control, and more.
Floor Plans
Tranquility is available in two floor plans, 19P and 19L. Perfect for work and play, the layouts feature comfortable rear sleeping areas and are filled with entertainment. A 24-inch TV in the living area comes cable and satellite ready, with Winegard — just like in Sequence — working as a TV antenna, WiFi extender, and 4G hotspot. If you'd rather jam than watch a film, you'll love the standard JBL®Flip speaker that's mounted on the wall in both floor plans. 
Highlights
A huge highlight for Tranquility is the standard Re(Li)able® Lithium Battery Package, which includes a lithium battery, pure sine inverter, and alternator. The 190-watt solar panel with a power controller charges the long-lasting charge lithium batteries to stay off the grid longer, compared to other campers. The power controller monitors the battery levels, to keep it charged without overcharging or damaging them. However, there's so much more to love about this luxury camper van. Check out the full list of Tranquility's features.