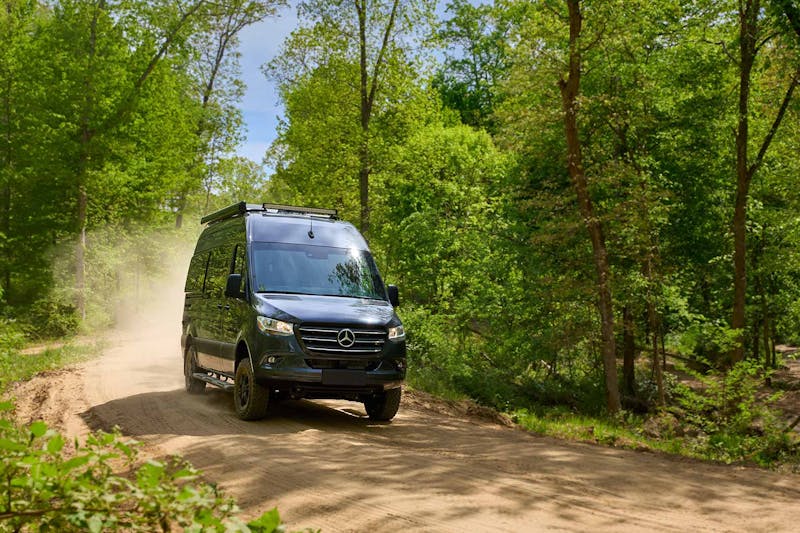 Best 4x4 Motorhomes
Tranquility 4x4 Sprinter Van
Tranquility® - the name captures the essence of your journey. Because with this camper van, the drive is just as relaxing as the destination.
Drivability
This isn't your average Class B motorhome; this is a Sprinter Van. Tranquility has an added touch of luxury, a Mercedes Benz® 2500 passenger van chassis with a 4x4 chassis and optional all-terrain tires. When chosen, this pairing improves road adhesion and handling to any destination, perfect for those who enjoy off-roading to a remote location. A top-mounted LED light bar guides you there, easing your mind behind the wheel.
Floor Plans
Tranquility is available in two floor plans, 19L and 19P. 19L features a Froli® sleep system in the rear of the explorer van, large pull-out storage trays and dual lap seatbelts at the dinette. 19P comes with bench-style seating in the coach's back, with two 3-point seatbelts and a lap belt, which converts into a sleeping area by night. Both floor plans come with a kitchen, bathroom, and entertainment.
Top Features
To complement the drivetrain, Tranquility comes with plenty of features for off-road exploration. Starting with Thule® accessories – a bike rack for two adult-sized bicycles, roof and ladder system, and powered patio awning – that excellently suit the van lifestyle. If you're an off-road enthusiast looking to get away from the crowds, you'll want to opt-in for the Re(Li)able® lithium battery system to charge the standard 190-watt solar panel.
Omni 4x4 Super C Motorhome
Omni® delivers everything you need for a perfect getaway with a smooth ride, convenience at your fingertips, and top-tech on board.
Drivability
Unlike our other Class C motorhomes, Omni® comes with a diesel-powered V8 PowerStroke® engine. Depending on your floor plan, the Ford® F-550 or F-600 platform provides a smooth ride to any trip on your bucket list. Heated remote mirrors, side view and backup monitors and safety systems – including keyless entry, auto headlights, auto braking and collision warning – round out the stress-free Super C driving experience.
Floor Plans
With six total floor plans (two are dealer inventory only), you'll find an Omni that fits you and your family. Layouts vary, from queen- to king-sized beds, theater seating or sofa beds, bath and a half or bunkhouse models. Every floor plan comes with a Dream Dinette®, spacious kitchen, and bathroom with storage. There's even a TV in the bedroom and living room, so large families can watch their favorite shows on rainy days.
Top Features
Omni is a top family-friendly motorhome with a sleeping capacity for up to eight people. Compared to our 4x4 Sprinter Vans, Omni's Super C construction allows plenty of exterior storage. Families enjoy the full-time living features, including washer/dryer prep on select floor plans, Winegard® ConnecT™ WiFi and a FordPass™ modem, and a double-door refrigerator. Some floor plans also come with an exterior kitchen.
FAQs about Four Wheel Drive
Where can I buy a 4x4 motorhome?
Find your closest 4x4 motorhome with our easy-to-use Dealer Locator. If you're unsure which model is suitable for you, our Coach Link® Sales Team can answer any questions you have.
What is four-wheel drive?
Four-wheel drive is a drivetrain that provides torque to all four tires at the same time.
What's the difference between AWD and 4WD?
Although AWD and 4WD have torque supplied to all wheels, 4WD has a specific set of components and functions, often well-suited for off-roading. In comparison, AWD is ideal for all-weather conditions and light off-roading, while 4WD favors more rugged terrain and heavier workloads.
Questions? Comments? Contact our Coach Link Sales Advisor.

Are you searching for local inventory? We offer a convenient Dealer Locator.