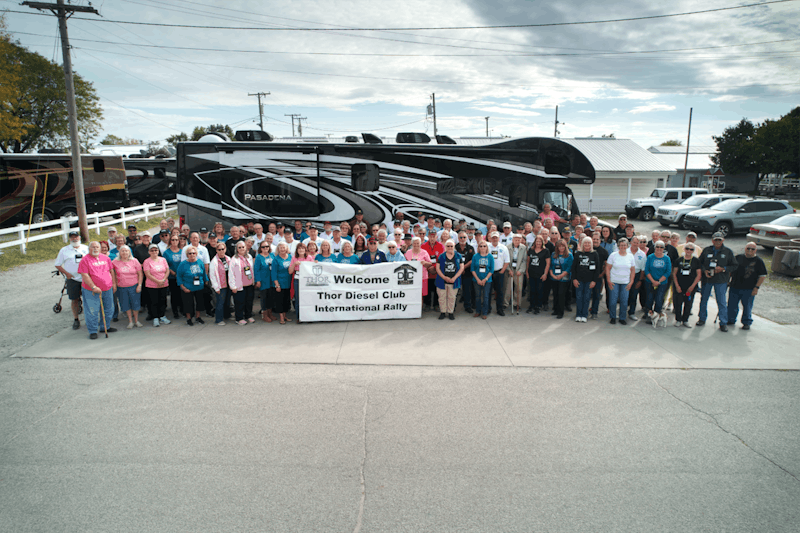 2022 Thor Diesel Club International Rally
Thor Diesel Club International Rally
The 2022 Thor Diesel Club International Rally took place at the Elkhart County 4-H Fairgrounds in Goshen, Indiana, from October 2 to October 7.
All owners of diesel motorhomes from Thor Motor Coach, Damon Motor Coach, Four Winds International, and Mandalay Luxury Coach were invited to attend.
This year's theme was rock and roll. Many rallygoers arrived in costumes from the mid-50s to 60s. There was no shortage of poodle skirts and greasers!
The week was filled with fun activities such as a magic show, charity bingo, beanbag baseball, and a sock hop.  
The rally is a time of the year that club members look forward to the most because it allows Thor diesel RV owners to get together and bond over their motorhomes.
Thor Diesel Club members Ann and David Bok said, "The rally is our favorite part of being in the club and the friends you meet from all over the country. We probably wouldn't meet any other way!"
Many other members shared this sentiment throughout the week.
There were multiple classes offered throughout the week on RV safety and education. Industry professionals from Cummins® and other companies were also there to share their tips and tricks.
The biggest perk of the rally was the variety of vendors that were there to provide their services to members, such as:
·          Coach Washing
·          Coach Weighting
Thor Motor Coach Customer Service was also on-site doing minor repair work on club members' coaches regardless of warranty status.
First-year members Cody and Jackie Welch stated, "Our favorite part of the week was everything we got done to our RV and everything we learned. It was absolutely awesome! Thor was another favorite for us. Their presence here is just fantastic!"
Overall, the rally was a success, enabling members to discover new places and friends who share their sense of adventure.
Five-year member Rich Walter suggested, "Don't stay at the curb. Get on the highway, and get involved with the club."
Do you own a Thor Diesel RV? Join the Thor Diesel Club and be part of the fun!
Use #tmchappycamper when posting photos of you and your loved ones with your Thor Motor Coach RV, or send them to our happy camper line at 574-584-2074 for the chance to be featured on our social media pages!