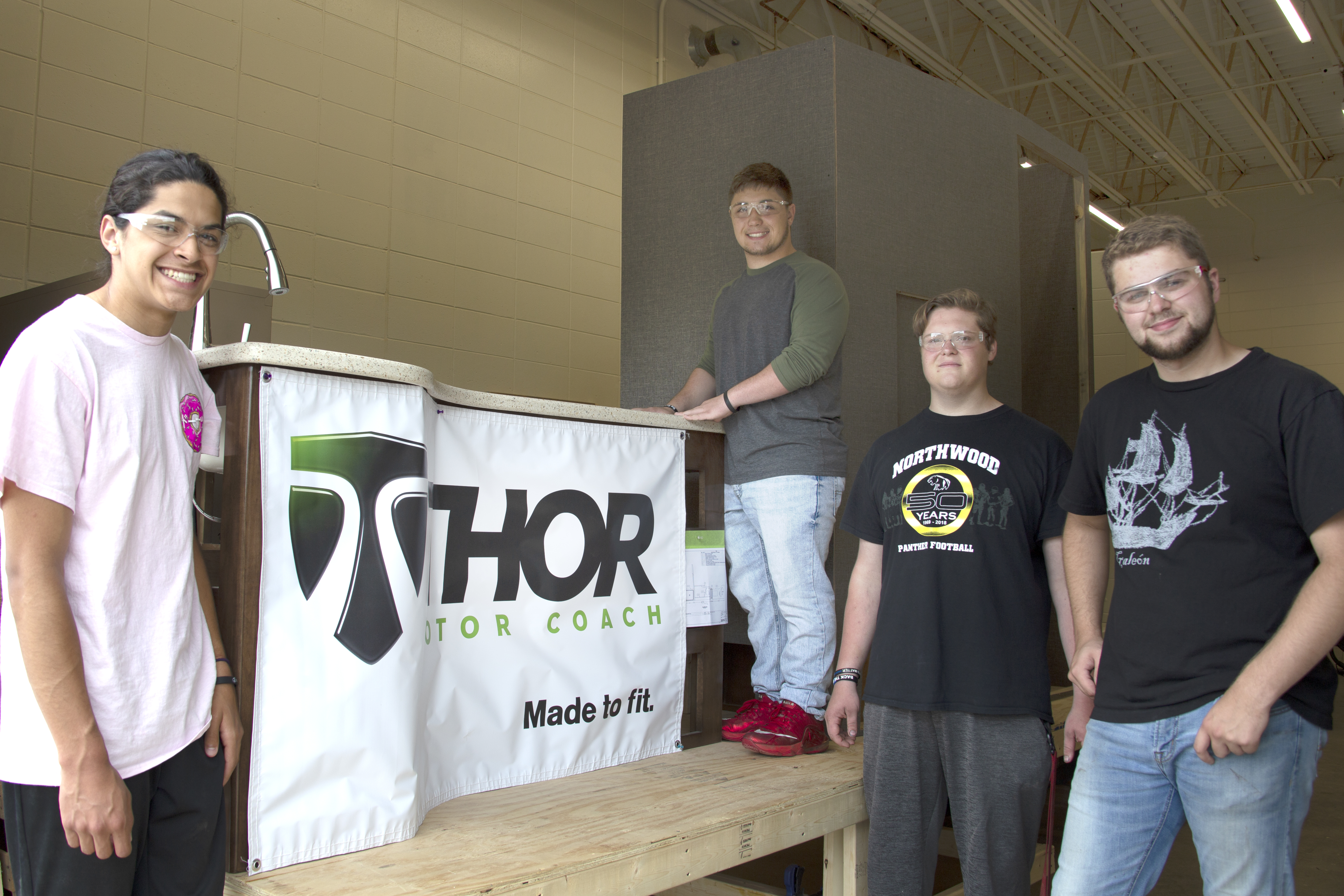 Nappanee, Ind. – For the past five months, Thor Motor Coach participated in Northwood High School's RV Construction graduation pathway program.
According to a press release, the new RV Construction graduation pathway program was approved in December 2018 by the Indiana State Board of Education as one of the state's new "locally created pathways." The program familiarizes students with different power tools, electrical wiring, and plumbing, all skills used in building a recreational vehicle.
The specialized course, Building and Facility Management, was taught by industrial arts teacher Damon Hummel. Hummel worked with Stan Murphy, purchasing manager at Thor Motor Coach, to teach students how to run plumbing lines through a mock-up built onsite at the school. Everyone became invested– local vendors donated building materials, and Thor Motor Coach employees Andrey Maryuschchenko, diesel engineer, and Robert Querry, plant manager, were closely involved as well. Next year Hummel has plans to introduce electrical wiring. The program's first year featured seven students, and with word of its success, 17 students already enrolled for the next school year.
Participating in educational programs has always been part of Thor Motor Coach's culture. Thor Motor Coach has been a key player in The Crossing, a job training program for high school aged students since 2015, and has an onsite classroom in Wakarusa to provide extra convenience for the students.
For more information on this program or The Crossing, please contact the Marketing department at 1-800-860-5658.
About Thor Motor Coach
Thor Motor Coach (TMC) is the only Made to Fit® motorhome brand in North America. TMC's diverse product lineup includes many of the world's most recognized Class A and Class C motorhome brands. As an industry leader in innovative design, TMC builds a variety of unique styles, sizes, and floor plans that feel custom-made – at a truly competitive price. For more information, visit ThorMotorCoach.com or call 800-860-5658.
###
Photo Caption (Pictured left to right): Northwood High School seniors Xavier, Noah, Nolen, and Jacob, stand near their final motorhome mock-up during this past year's successful partnership with Thor Motor Coach.