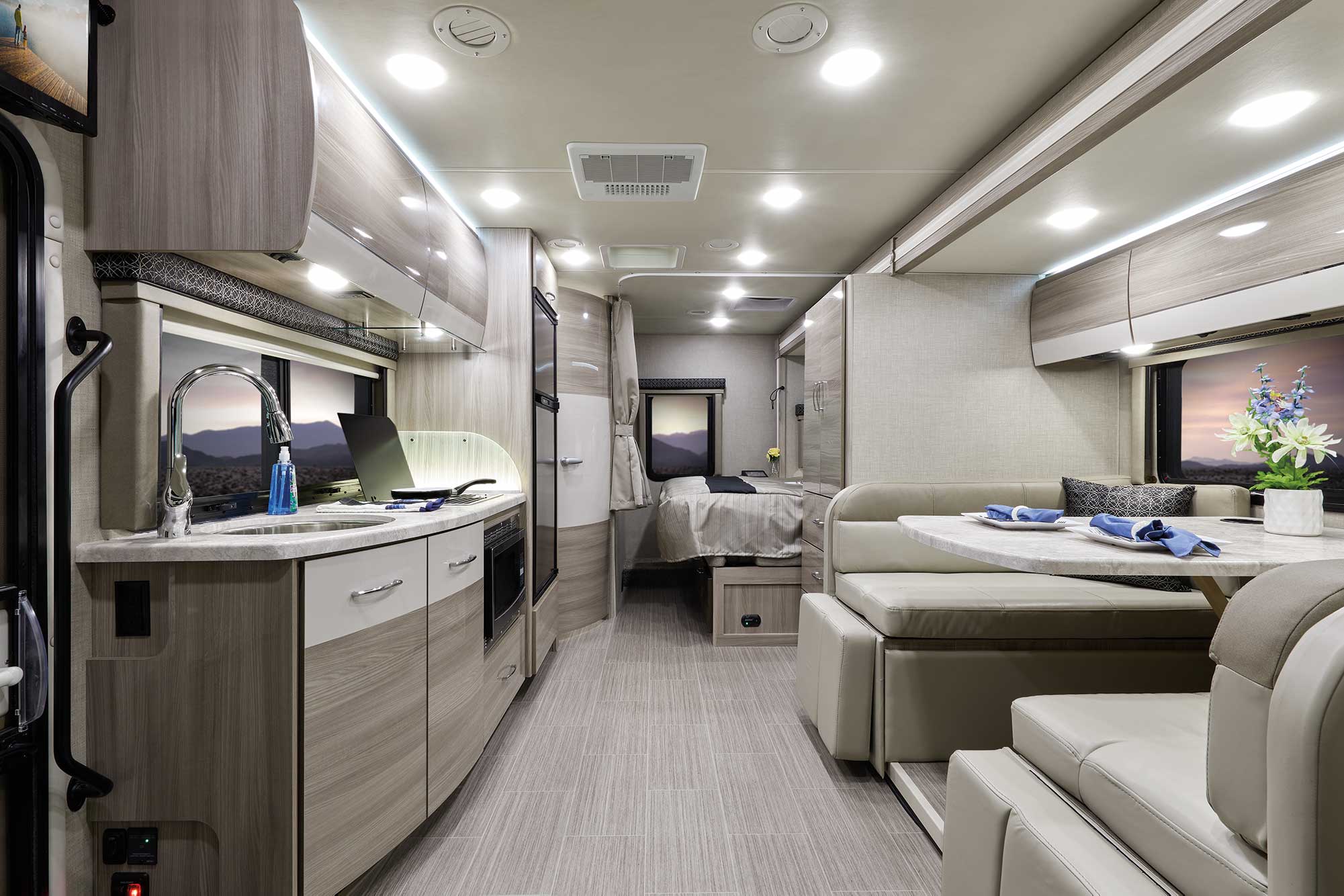 Elkhart, Ind. – Thor Motor Coach® revealed the new Tiburon™ diesel motorhome built on a Mercedes-Benz® Sprinter® chassis to their email subscribers over the weekend.
Tiburon Sprinter motorhomes feel more like modern studio apartments with soothing hints of gray and tan interior fabrics and subtle curves in its cabinetry. The cabinetry is crafted by TecnoForm S.p.A., an Italian company whose designs complement many European yachts and caravans. A massive moonroof in the cab-over bunk highlights the bold exterior graphics package not typically seen in today's RV designs.
The Tiburon rides on the new Mercedes-Benz Sprinter diesel chassis and features an extraordinary safety system similar to those found in the company's high-end luxury cars. Standard safety features include:
Active Distance Assist Distronic - when cruise control is enabled, the system keeps your RV a selective car length distance between itself and the automobile in front of it.
Attention Assist - develops a driver profile and compares it to a number of environmental and driving behaviors to detect signs of tiredness and recommends it's time to pull over for a rest.
Active Brake Assist - helps prevent accidents by detecting a vehicle in front of the chassis and automatically brakes.
Active Lane Keeping Assist - detects accidental lane drifts with the assistance of the camera in the windshield and brings the Sprinter chassis back on track.
Crosswind Assist - detects crosswinds or sudden gusts and automatically compensates so the chassis remains in its lane.
Emergency Call - able to notify rescue services either automatically after a severe crash or by the driver pressing the corresponding button.
Traffic Sign Assist - draws additional attention to speed limits
Wet Wiper System - a rain sensor that ensures optimum visibility even when wiping the windshield.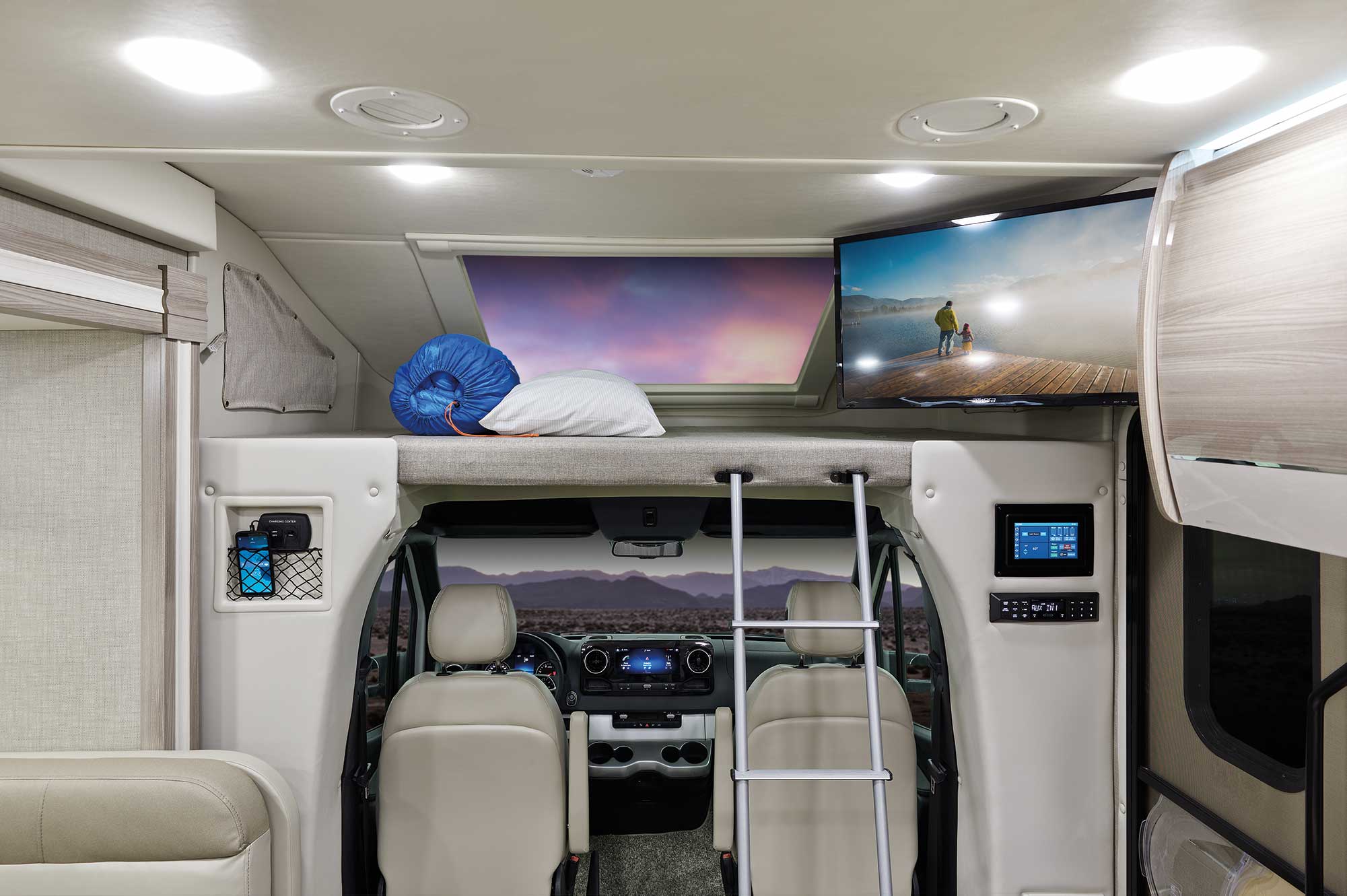 The new Tiburon is the gold standard of Mercedes-Benz RVs with its brilliant safety package, modern decor and new infotainment system that can be used with steering wheel controls, the touchscreen, or a voice control system. For more information on the Tiburon Sprinter, visit https://www.thormotorcoach.com/tiburon-sprinter.
About Thor Motor Coach
Thor Motor Coach® (TMC) is the only Made to Fit® motorhome brand in North America. TMC's diverse product lineup includes many of the world's most recognized Class A and Class C motorhome brands. As an industry leader in innovative design, TMC builds a variety of unique styles, sizes, and floor plans that feel custom-made – at a truly competitive price. For more information, visit ThorMotorCoach.com or call 800-860-5658. Thor Motor Coach and all related model names, slogans, logos, trade dress, and trademarks are owned or used under license by Thor Motor Coach, Inc. Mercedes-Benz and Sprinter are registered trademarks of Daimler AG. All other trademarks are owned by their respective owners.
###