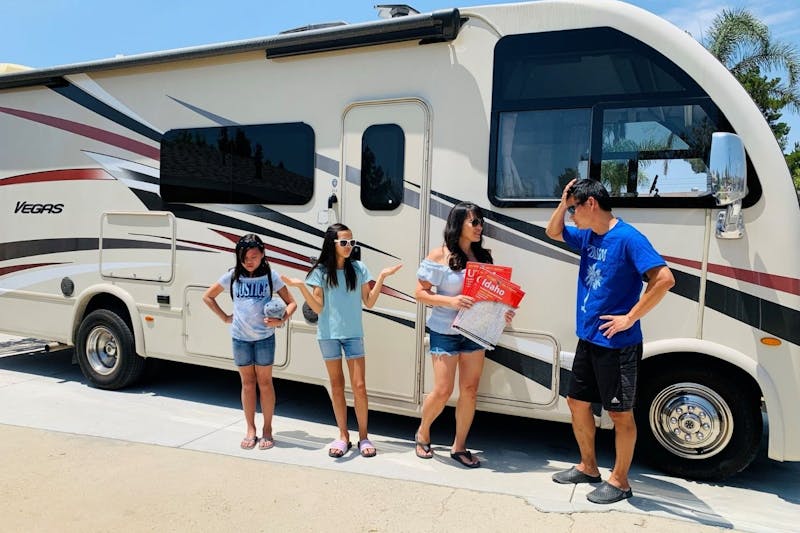 "What happens in our Vegas will not stay in our Vegas!"
by Brenda Huynh and Tiger Doan.
The Journey Begins: Meet the Huynh-Doan Family
When Tiger and I met 17 years ago, we felt an instant connection in our love of the outdoors and camping. We went from two to three-day tent camping trips to trekking across several states in an RV. Our transition has spanned nearly two decades. What started as the two of us now includes our kids Amelia, Antonia, and our golden doodle Bear, who is probably half-human.

Over the years, we have learned how to camp in the most efficient and enjoyable way possible, which led to our absolute passion for exploring and RVing. Basically, we like to say we fell in love playing house anywhere we wanted!
We took a break from the outdoors to have our babies, but as soon as they could walk and talk, we jumped back into camping. Once the children were along for the ride, staying warm and dry became a priority, so a new motorhome was an obvious answer. That's how we started making memories visiting as many National Parks as possible a short five years ago. 
A Thor Motor Coach Siesta Class C was our first home on wheels. We upgraded to a Thor Motor Coach Vegas Class A RUV for its massive windshield and roomy interior a year and a half later. It was the perfect combination of size, strength, and style. So far, we have taken our Vegas to Yosemite, Sequoia, Grand Canyon, Zion, Death Valley, Yellowstone, and Grand Teton National Parks. Our Vegas has allowed us to hit the road for adventure, exploring unique new places, some multiple times, in luxurious comfort. 
Asian RVers Facebook Group
After falling in love with RVing, we wanted to share it with others, and we began to lead a Facebook group for Asian RVers. Sharing our passion for the outdoors, especially with a demographic that traditionally shies away from this activity, is a priority. We provide advice, tips, inspirational posts, and motorhome meetups. More than 1,000 like-minded Asian Americans from all over the United States share these experiences and support one another regarding RVing and the outdoors.

The Covid-19 Pandemic brought an onslaught of new and inexperienced RVers looking for help, which dramatically increased our following size. We realize we have specific expertise that only years of experience and a real passion for the outdoors and RVing can provide.  Topics ranging from how to pack, entertaining kids on long drives, meal prep, and campground reviews help us connect to our fellow campers.
Our family logs an average of 15 trips every year, which is surprising to many people. That is more than the average RVer, but we aren't full-timers, still working full-time and schooling our kids. How do we do it? We attribute that to teamwork, efficiency, organization, and our family's love of the outdoors.

The moderate climate in Southern California provides us access to camp year-round at beaches, lakes, rivers, mountains, or deserts, all within a few hour's drive. We have even camped at Mammoth Mountain to ski during spring break! Our Vegas also serves as our "weekend beach house" at our local beaches for half of the year. Our other favorite places are Lake Tahoe, Mammoth Lakes, Santa Cruz Redwoods, Sedona, and Valley of Fire State Park.  
Come along with us on our next journey to the Utah Mighty 5 (minus Zion) as we embark on our next RV adventure in our Thor Motor Coach Vegas, our home away from home!