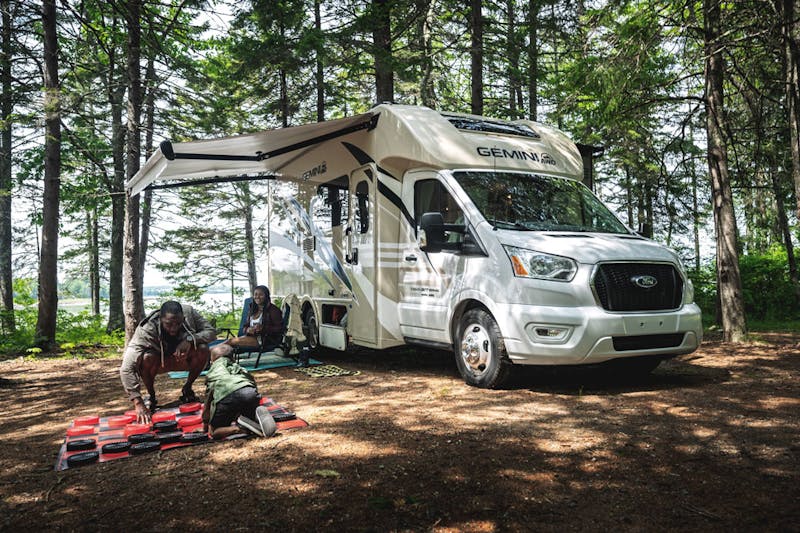 Using, Maintaining and Enjoying an RV
Even if you're a solo-traveling weekend warrior, you're not alone when you're in a Thor Motor Coach. We have plenty of resources for using, maintaining and enjoying your RV, and this week, we're going to break them down for you.
Using an RV

How-To and Troubleshooting
Anytime you buy a new car or new home, there are a few things to learn. Both of those elements combined in your home-on-wheels can make learning about your Class A RV overwhelming. Your friends here at Thor Motor Coach created in-depth how to use your RV videos on YouTube to alleviate any feelings of stress before you hit the road. If you're having trouble with an individual component, check out our how-to and troubleshooting videos.
Owners' Resources
You must sign up for our web-based Owners' Resource if you have a 2010 or newer model. You'll have access to important information on your specific motorhome, including factory-installed components and equipment, owner's manuals and more - from wherever the open road leads you. You won't want to miss out on this convenient perk to learn more about your Class C RV.
Customer Care
If you checked out our videos and your owners' packet and still have questions, you can always contact our Customer Care team. There are three different ways you can reach them: 1. Fill out the Customer Service Request form on our website. 2. Give them a call by using the toll-free phone line at 877-855-2867. 3. Using the Live Chat feature on the bottom right corner of the Owners page on our website. With all of these resources for using your Class B RV, you know we've got your back.
Maintaining an RV
The resources we mentioned above will play a crucial role in helping you maintain your toy hauler. How-to and troubleshooting playlists on YouTube have tips that will preserve your investment, from how to tow with your RV to post-winter checklists. Throughout your owners' resources, you'll find information on maintaining the components that make up your motorhome. Did you know you can also search our blogs by topic or keyword? Search by "Tips" or type in what you'd like to learn more about, including cleaning your RV's interior or exterior, weathering the storm and more.
Enjoying an RV
This one may seem like the easy part, but if you ever need some inspiration on where to go, what to do and even what to cook, we have a few ideas. Search our blogs by RV life, RV family, or what to see when you RV to learn more about our top recommendations. Our blogs feature stories from fellow Thor Motor Coach owners and unique tours, top wellness podcasts and even tips for navigating relationships. We even have Mobile Meal videos to help you create delicious treats, dinners and cocktails on the road, right from your Class B+ RV's kitchen.

Easy-to-Use and Easy-to-Love Motorhomes

Axis Class A motorhome
This isn't your average Class A motorhome; this is a Recreational Utility Vehicle (RUV™). Because of its smaller size at 25 to 29 feet, depending on your floor plan, Axis' Ford E-Series chassis makes it easy to drive. The 10-inch touchscreen dash radio doubles as a backup monitor to keep an eye on whatever you're towing on the 8,000-pound trailer hitch, now that you've watched our how-to tow video.
Magnitude Super C RV
When you're traveling to a destination that was recommended in a previous blog, you'll want to do it in a Magnitude. At the end of a long day, you can come home to create a delicious Mobile Meal. You'll have a stainless steel residential refrigerator with an icemaker, convection microwave and a two-burner gas range top with a single induction cooktop. Every floor plan of this Super C RV has a Dream Dinette®, so your loved ones can gather and reminisce on the memories you've made together.