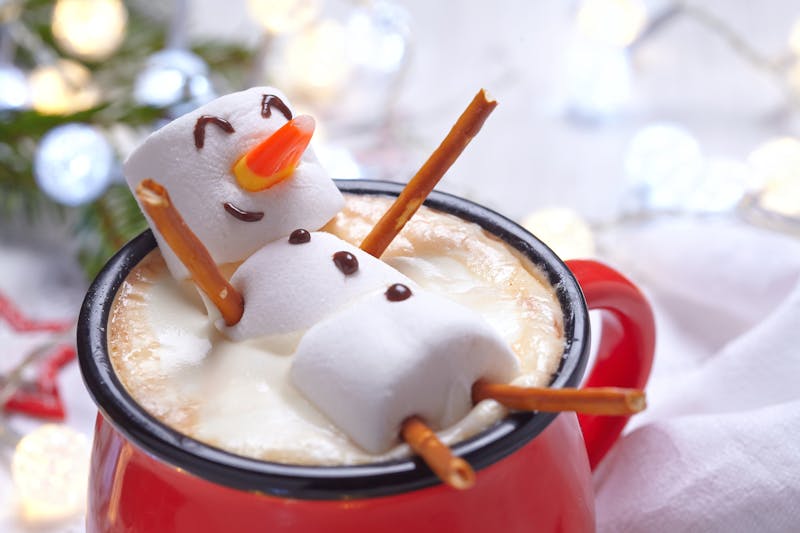 Unique Hot Chocolate Recipes
The holiday season is approaching, and you know what that means. HOT CHOCOLATE!
Whether on the couch, by the fireplace, or watching your favorite holiday movie, we know you've indulged in a cup of hot chocolate or two. Yet, what are other ways you can enjoy this holiday staple?
Unique & Festive Hot Chocolate Recipes
There are plenty of simple and yummy recipes to spice things up this year. That's why we've compiled a list of unique hot chocolate recipes that will make you feel merry and bright.
According to Food Network and Country Living, these are the best hot chocolate recipes:
Perfect for the holidays, this hot chocolate recipe is refreshing and tasty. It'll have you feeling like you're at the North Pole! Serve it with a candy cane to really get into the Christmas spirit. What better way to up your hot chocolate game this season?
Switch things up with this delicious hot chocolate recipe! It might look different, but it tastes just as amazing as the original. Keep in mind that white chocolate tends to be sweeter and richer than traditional chocolate. If you're looking for a decadent drink, then look no further.
Gingerbread Hot Chocolate
Let the Christmas spirit ring with this fantastic holiday hot chocolate recipe! Gingerbread is a staple this time of year, but mix it with another Christmas classic like hot chocolate, and you get magic. If you want warm spiciness with a hint of sweetness, this drink is for you!
Mexican Hot Chocolate: Champurrado
Perfect for a cold winter night, champurrado is a Mexican hot chocolate drink that's typically served during the holidays. The secret to this recipe is masa harina, otherwise known as dried corn dough or corn flour. It's thicker than traditional hot chocolate but still incredibly good.
Spicy Maple Cinnamon Hot Chocolate
Enjoy the sweetness of maple and cinnamon combined with the spiciness of cayenne and chili powder in this drink. It's simple to make and great for keeping warm! This hot chocolate will definitely have your relatives asking you for the recipe at your holiday get-togethers.
Cookies & Cream Hot Chocolate
Who said you couldn't have your cookies and eat them too? This hot chocolate is the ultimate gift that keeps on giving, and it tastes as amazing as it looks! We recommend Oreo® cookies for this recipe. Cuddle up on the couch with loved ones, grab a mug, and enjoy!
Peanut Butter Hot Chocolate
Though the weather outside is typically frightful, we guarantee this hot chocolate will be delightful. This creamy drink is great and easy to make all winter long! Peanut butter lovers and everyone alike will love this recipe because it's the perfect sweet treat.
Baileys Irish Cream® Hot Chocolate
You'll love this drink if you're 21 or older! This hot chocolate recipe is excellent for anyone looking to get a bit tipsy this holiday season. It's a must-have for all your Christmas parties and holiday gatherings. You can also replace it with another liqueur if you prefer.
Sanctuary® Ford Transit® Camper Van
Recreate these delicious hot chocolate recipes right from Sanctuary's kitchen. This camper van has everything you need: a refrigerator, dual-burner gas cooktop, convection microwave oven, stainless steel sink with a cover, solid surface countertops, and a fold-out exterior table. Home-cooked meals are a perfect way to save money on the road, so you have more for gifts this holiday season.
A.C.E.® Class A Gas Motorhome
A.C.E. kitchens are fully equipped and ready to handle all of your meal prep needs this Christmas. Solid surface countertops provide plenty of space. Create tasty holiday treats with the three-burner gas cooktop and microwave oven. Clean-up is quick, thanks to the double bowl sink with a pull-down sprayer. You can spend more time with loved ones and less worrying about messes.
Which hot chocolate recipe will you try? Let us know!
Share photos of you and your loved ones enjoying your Thor Motor Coach RV to be featured on our social media pages! Text them to our happy camper line at 574-584-2074 or email them to web@tmcrv.com.