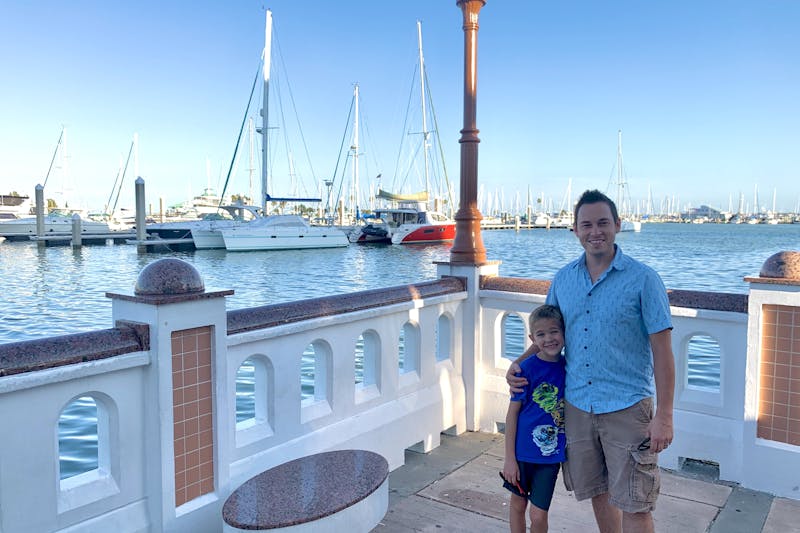 Travel Destinations with the Hagens
Just like many other families, our plans for this year look nothing like what we had imagined. We are only one-month shy of our first anniversary of living in our Venetian. There were many different reasons that we had made the switch from our travel trailer to the motorhome, but one of the major reasons was because it allows us more capabilities on moving days and expanded our abilities to stay in different types of overnight spots.
Ready for my next travel destination.
For many months this year, we stayed pretty firmly placed. Between Travis' job being hesitant to send anyone out of state due to the many stay-in-place orders and the local stay-in-place orders we were also following, it felt like we would never move. I started getting anxious to move and not too long ago even whined about the fact that we were all set up to move but were on hold. The cabin fever had sunk in. I'm not a stranger to winter cabin fever, but this wasn't it. I wanted the wheels to move. I wanted to kick off the cobwebs and just go.
Well, be careful what you wish for, right? Over the last couple of months, we have put on about 3,800 miles. The dust is kicked off and the bus just keeps on rolling!
First Travel Destination: Corpus Christi, Texas
Our first stop was in the Corpus Christi area. It was not at all what we had anticipated. The area that we were trying to stay had many campgrounds with 55 or older age restrictions. Some of them were willing to work with adults but didn't have amenities for children. After finding a campground with a space meant for a tight squeeze, we made it and set up. We were right on the bay and the sunsets were gorgeous. Unfortunately, the bugs seemed a little unrelenting. Between giant mosquitos outside and ants trying to make a home in the water bay, it was far from glamorous. But still, our wheels were moving.
Second Travel Destination: Rockport, Texas
We aren't strangers to the area, so it was exciting to head towards the coast for my birthday. Rockport, Texas, has always been a fun stop for us as it's right on the gulf. It's a small town but has a unique charm to it. We were amazed as we pulled into town at just how quiet it was. There were no cars on the street and people weren't buzzing from shop to shop. Even the beaches were quiet. We stopped at a local winery, Winery on the Bay, to do a tasting but they were only offering take-home kits. It was an alternative that was fun as Lou, my son, got to join in with a simple charcuterie board and soda.
Third Travel Destination: North Carolina
After just two weeks, we kicked up our heels and headed towards North Carolina. This trip was extremely quick. It felt like we were there long enough to meet a handful of people at the dog park, make plans for sight-seeing, and then leave. This wasn't our first time in the area here, either, so we managed to sneak to our favorite restaurant and beach the night before heading out. I was a little disappointed because I had just learned about Shackleford Banks and couldn't wait to see the wild horses. But one of our family mottos is "Life's an Adventure," and that means you go with the flow sometimes. Our travel bucket list has just gotten a little longer now.
Fourth Travel Destination: Illinois
In no time flat, we were hitting the pavement again and heading to the Midwest. This time, we would be staying in Illinois. Even though we were there for work, it was a breath of fresh air. The days were cooler and not as humid. The playgrounds were open. And, the grass was soft and fire ant-free. Our first afternoon at the park, Dixie and I plopped down on the grass and watched Lou play on the playground. Once he noticed that I was sitting on the grass, he quickly came running over to say, "Mom! Watch out for ants!" It tickled me and I had to remind him, through giggles, that we weren't in fire ant territory any longer and then he fell to the ground next to me.
Fifth Travel Destination: Kentucky
We stayed at Kentuckiana Kampground and found that not only were their playgrounds open, but they offered a very large playground area complete with a HUGE slide.
Sixth Travel Destination: Family
As if the cooler weather and playgrounds didn't spoil us enough, we were able to enjoy some family time with some of our family who lived nearby. Our afternoons usually consisted of spending time outside or with our family and even included some lake jumping and an old-school game of kickball.
And BOOM! After another two short weeks, we packed up and continued to move back to Texas.