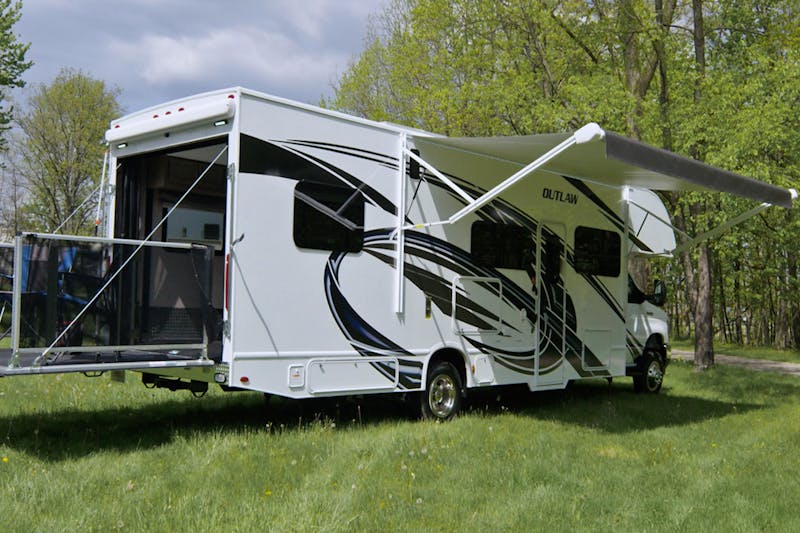 Toy Haulers Are More Than a Garage on Wheels
The toy hauler is an interesting and versatile RV. For those who are new to the RV world, this design combines the living space of a typical motorhome with a built-in garage so you can conveniently travel with dirt bikes, ATVs or motorcycles.
Toy haulers have been around for a while, and have been a popular option for those who like to take their toys on the road. In recent years, modern designs have introduced a bevy of features that make this RV an attractive option for more than just gearheads and motorsport enthusiasts.
The Patio
Toy haulers have a large door at the rear of the RV that folds down into a ramp to get your gear in and out of the garage. As the toy hauler evolved, someone realized that a ramp could also function quite well as patio space, and one of the most noteworthy features of the toy hauler was born.
It's hard to understate the significance of the toy hauler patio. As this feature has become a standard-issue on these kinds of RVs over the last 20 years or so, toy haulers have gobbled up market share and become quite popular among all kinds of RVers. In fact, the feature is so popular some manufacturers have tried incorporating the patio into garage-less RVs.
The toy hauler patio is especially popular for those who like to use their RVs for tailgating. The patio gives you a level spot to set up your folding chairs or a grill. It also makes a great space for entertaining guests. And the kitchen and bathroom are usually just a few steps away. Plus, you avoid sitting directly in the grass. It's clean, up off the ground, and a great place to enjoy your campsite view.
Additionally, as more features and aftermarket accessories have been developed for the toy hauler patio, there's a whole slew of options for how to utilize this space. It's now pretty common to see awnings at the rear of the RV to give the patio some shade. Some patios have pop-up handrails making them a suitable space for dogs or small kids to play in the fresh air. There are even tent-like accessories you can get to turn the patio into a sunroom or even a tent to sleep under the stars.
The Guest Room
When the garage isn't hauling bikes or ATVs, it can easily serve as a bedroom. Many toy hauler garages have beds that lower from the ceiling, adding ample sleeping space to the limited square footage. It's not uncommon to see TV hookups and dedicated entry doors in the garage.
All of this combines to make the toy hauler garage a great spare room and is especially popular with families who travel with children. Some RVers are buying toy haulers specifically to make the garage a nursery or bedroom for the kids.
Thor Motor Coach toy haulers have a wall that separates the garage from the rest of the RV. That gives your guests or kids a little more privacy than you would find in other types of RVs. It also helps keep the fumes from your toys out of the living space.
If you want an RV with plenty of sleeping space, don't overlook the toy hauler. Take the Outlaw 38MB for example. This motorhome is under 40 feet long, but it can sleep up to 8 thanks to the two queen beds and a sleeper sofa.
The Workshop or Hobby Space
So maybe you don't have any toys you want to travel with or have much need for an extra room. Maybe you work from the road, maybe you have a hobby that gets messy, or maybe you need a lot of storage.
It should be clear at this point that the garage on a toy hauler is a versatile space. Do a little poking around on the internet, and you'll find RVers using it as everything from a home office to dog grooming to the recording studio to the mobile hair salon. Such a space is generally hard to come by in other types of RVs, but a spare room is practically standard issue for most toy haulers.
Toy Haulers Made to Fit®
While, yes, the toy hauler is still the best option for RVing with ATVs or motorcycles, that's not the only good reason to choose this type of RV. If you're planning to hit the road but want more space onboard for whatever reason, check out Thor Motor Coach's full line of toy haulers. Thor Motor Coach motorhomes are made to fit you and your family.