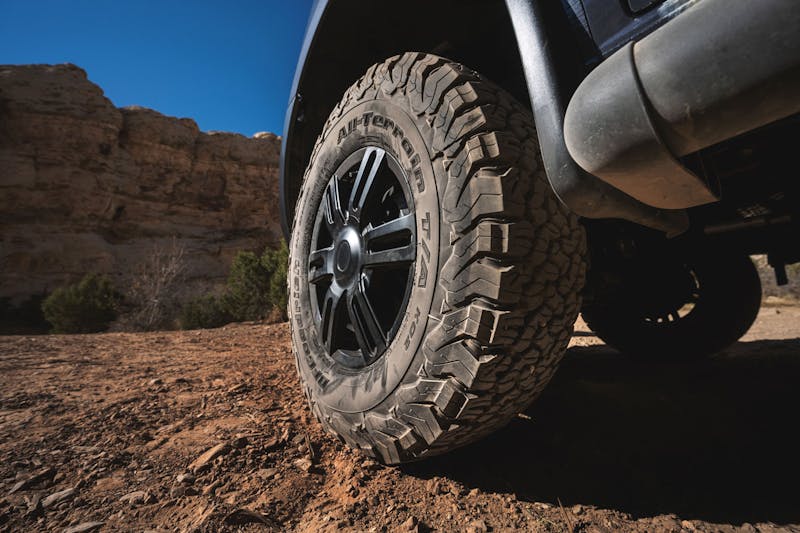 Tire Care Tips
To keep the rubber rolling, you need to protect and inspect your Thor Motor Coach's tires. For those getting a motorhome out of winter storage, this one's for you.
Inflate RV Tires Properly
Before a trip, and especially post-winter storage, it's crucial to check the tire pressure. Under-inflated tires will build up excessive heat. On the other hand, over-inflation can reduce traction, braking handling and cause uneven tire wear. Because your tires support your entire home-on-wheels, it's vital to inflate them properly. Properly inflated tires improves handling and fuel economy, increases the tire's life, and keeps your loved ones safe. Our video below goes in-depth on this process with the help of Dr. Tred.
Tire Pressure On Your Motorhome IMPORTANT HOW TO
Inspect RV Tires Regularly
Now, this tip requires you to really get down to your tires' level. You'll want to inspect every tire's sidewalls and tread. Make sure there are no bumps or punctures to the sidewalls. The tread's pattern should be consistent, not worn down. A general rule is to get new tires every three to six years; however, if you're traveling consistently, you must regularly inspect your tires to ensure they're in good condition. You can always check the tire's sidewall for the year your motorhome's tires were made, in case you forget.
Rotate RV Tires Routinely
You'll need to schedule an appointment with your local Service Center for this tire care tip. Routinely rotating your RV's tires will prolong their lifespan. The tire wear is even, rather than one tire consistently wearing down in the same spot. Rotating tires ultimately saves you money in the long run because you won't need to replace the tires as much. Plus, when professionals look at the tires, they can give tips or let you know that it's time for new ones. Then you can spend less time in the shop and more time on the road.
Protect RV Tires Always
Even if your tires are new, properly inflated, and routinely rotated, always remember to protect them at the destination. Our all-wheel-drive Class B+s can get you through any extreme weather conditions, but tire care doesn't stop there. In hot or cold temperatures - or even while in storage - tire covers can keep your new tires protected. Just don't forget to check the tire pressure before you leave and you'll be good to go.
Thor Motor Coaches Ready for the Drive

Palazzo Class A Diesel Pusher
You'll love commanding the roads with Palazzo's 22.5-inch radial tires with aluminum wheels. This diesel pusher comes with a 10.1-inch touchscreen dash radio with Bluetooth®, navigation and is SiriusXM® ready. The Air-Ride™ suspension and Sachs® shock absorbers work together for a smooth ride to any destination. Even though you get to your destination in comfort and style, always remember our tire care tips.
Delano Mercedes Sprinter RV
The valve stem extension on Delano's tires with stainless steel wheel liners is perfect for checking tire pressure. Because you follow our tire care tips, you'll have a plain-sailing ride. The Mercedes Benz safety package makes the ride even more stress-free; it comes with active braking, attention and active lane-keeping assist, wet wiper system and distance regulator Distronic plus. This Sprinter RV's captain's chairs are heated and adjustable for the ultimate road trip comfort.