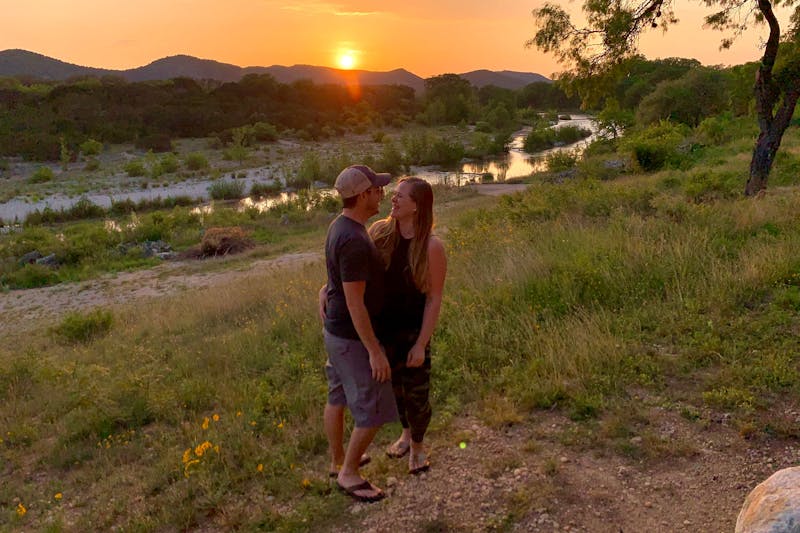 Tips for Documenting Your Summer Travels
It's easy to get overwhelmed thinking that you need a fantastic camera or fancy equipment to take some amazing pictures, but it's not needed. There will be times when all you have is your phone and that is a great start to capturing those special moments. Our phones have come such a long way from the old-school flip versions that they have become a valuable tool you can utilize. 
Both Travis and I have had a blast capturing some fantastic memories on our iPhones. They have differed in versions over the last four years of traveling, but they all have taken amazing photographs! Many phones also offer a program within the photo app to make quick adjustments and edits to allow you to get the best shot of your memory. 
Utilizing Inexpensive Cameras
As we've continued to travel, we've expanded our collection of ways to grab the moment. We've introduced a small GoPro, allowing us to easily take some photos and videos, especially when we want to be hands-free! Because of its small size and accessories, there are many different mounting options, giving you more versatility to capture the moment. 
We've also included our son Lou in the expansion and recently purchased his own waterproof camera. After finding an affordable camera with the specifications we were looking for, we noticed Lou enjoying attractions that would have normally bored him previously. Instead, it allows him to be engaged with his surroundings and take in the memories the way he sees them.  
Since it's digital, it's a lot easier to cherish those memories and make sure there aren't a lot of fingers in the picture or shots of headless people (you know, the way that we learned to use cameras). We've even found ourselves using his camera to grab a shot of some manatees on our recent trip to Florida. 
As you're expanding your collection, don't get caught up by some of the more expensive cameras.  Oftentimes, these have many different settings and options that can quickly become overwhelming and cumbersome, and you will find yourself reaching for the easier or smaller option. Although these cameras offer you more versatility, it's important to understand that they may not be welcomed in every venue (some are considered professional cameras and require you to purchase a license at certain venues), making them less practical.  
I once decided that I wanted to become one of the greatest photographers. Although I don't think National Geographic will be knocking on my door anytime soon, I have become a bit of a hobbyist. One of the things I've learned is that the best tool in your tool belt is to edit your photos.  
I had been under the impression that those mind-bending photographs could only come from an experienced photographer with one of those extremely expensive cameras. Although there is nothing that can replace experience, practice, and good equipment, sometimes tweaking your photo a bit will allow it to come alive. I'm still shocked when I see my photo subjects on my phone or camera look exactly the way I saw them in person. 
Remember, editing programs on your computer or phone can do a lot. I've also found that Adobe Lightroom is simple to use and allows you to feel like a master with your photographs. 
We love to utilize our social media accounts on Facebook and Instagram to share our travels with friends and family. They're marvelous avenues that allow us to reach everyone at the same time. Not only that, but they allow us to catch up with other people's adventures as they explore life. 
Did you know that you could also upload your photos to your television? I'm sure this is not a new technology. However, it is one that our family recently stumbled upon. With this new amenity, we've loved being able to revisit our favorite spots just by looking up at the TV. It's as simple as inserting a USB and selecting the Media option on your television. 
Photos and videos are easy ways to share your experiences, but you are not limited to just these options.  
The ever-dependable souvenirs are a great way to remember your trips. Sometimes we will purchase the cliche souvenirs, but because we live small, we try to have our keepsakes reflect our lifestyle. Purchasing things that we like to wear is great, like hats, t-shirts, or sweatshirts, because they offer a dual purpose. With Lou growing like a weed, it feels like I'm always buying him new clothes anyway. 
Do you remember the penny-smashing machines? The ones where you would put in two quarters and a penny then receive a smushed penny with a new logo or picture on it. Some places still have them! These machines have been a great addition to our travels. First, it's a scavenger hunt to find the machines then the keepsake is at the end of the hunt! Lou has already acquired quite the collection of these pennies, but thankfully they don't take up too much room. 
We also like to display some of our keepsakes, but living in a motorhome gives us a little less capacity to do so. Our refrigerator comes to our aid with this! Magnets are a small and inexpensive option for a souvenir. Each of us takes turns picking out a magnet we like best and now our fridge reminds us of the memories held within each magnet every time we walk past it. 
What better way to document your journey than actually documenting it? Lou received an adventure journal for his birthday a few years ago, and this has allowed him to form his own recollection of any exhilarating events. Inside his journal, he has drawn pictures, retold stories, and shared his take on different experiences. Plus, from the homeschool parent's perspective, it allows him a creative way to improve his spelling and penmanship. Travel journals aren't limited to just children, as I have one myself. 
Whatever way you like to collect your memories, we recommend getting out there and making them!