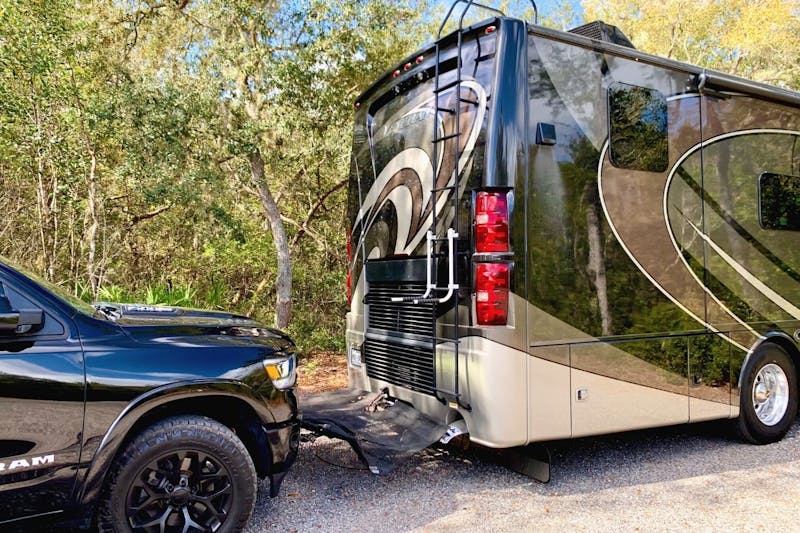 Tips for Camping Move Out Days and Checklist!
Best Practices for Camping Move Days
Do these words create fear and anxiety for you? Or do they lead you to a place of anticipation and excitement? I completely understand both sides of the fence. In fact, I jump the fence each move day as the hours tick by. I engage my "bulldoze mode" as the anxiety hits but I wanted to share some of the tricks that we have found helpful to make travel days more thrilling as we continue to bounce around the country.
Set Expectations when Packing
The easiest way to make your day go smoothly is to set up clear responsibilities for all parties involved. Clear communication will avoid some of the more frustrating things that can come when working with others. The day before travel, it's imperative to understand what the plan looks like for move day. Travis and I make sure that we are on the same page for important details like what time we want to roll out of the campground and how many hours we plan on driving. 
We have found that our family has a better rhythm on travel days if we split up the responsibilities. Travis takes care of anything that needs to be done on the outside of the rig and I take care of any of the chores for the inside of the rig. Lou does a great job in checking with us throughout the process to see if anyone needs help and he fills in where he is needed (vacuuming, taking care of the dog, helping pick up, etc.). This clear communication has allowed us to create a routine within the travel day itself.
Creating a checklist, mentally or physically, will ensure that you have tackled any of the steps on your list. Start off by writing down any of the big-ticket items and work your way downward. Don't be afraid to put in simple steps that you think you would never miss. During the hustle and bustle of getting ready, it can be easy to skip some of the simplest steps. I have found that completing my checklist in the same pattern also helps ensure that everything is being completed. Pilots and astronauts use checklists, so why shouldn't we?
Although there may be mornings that you feel like you are racing the clock, remember to breathe. When you are in a rush, it is easy to forget important items. A few extra minutes could save a lot of hassle and pain in the long run. It seems the more frazzled you are, the more the situation reflects that.
Check and Double Check Everything
Do you remember in school when you would be reminded to check your work? There is no better time to do this than when you load the rig. We have found that completing a walk around our rig has saved us from future headaches.
Depending on what time you need to hit the road, we have found that some move days are best done if you have prepped the night before. We are not an early morning family so when the itinerary calls for one, making sure that the majority of our lists are done the night before helps ease the situation.
Checklist Suggestions for Move Day
Packing Checklist To-Dos:
Check to make sure everything is locked. This includes the shower door, the pantry, and the refrigerator.  
Do not leave light, loose items on the counters or in the shower. One sharp turn or bumpy road and you will find them on the floor. 
Vacuum the floor and check around the slides. We include this on our rotation to ensure that we are taking the best care of our rig. We don't want to scratch the floors or cause damage to the slide due to something being caught underneath. 
Turn off any fans and close all the windows. 
Make sure that camp is broken down and packed away. 
Walk around the rig to make sure that everything has been put away. As we walk around, we check to make sure that all the baggage compartments are locked. 
Check tire pressure, oil, and coolant levels. Travis also performs a visual inspection of the engine compartment just to ensure everything is clear and we don't have a little furry stowaway. 
Check the light connection. Oftentimes, we tow our truck behind our rig. We want to make sure that the lights are working properly every time we connect the truck. 
Walkie-talkies (two-way radios): We will use these when we are parking the rig. This allows for a seamless conversation and can be used even in an area without cell phone reception.  
Tire pressure AND temperature monitoring system: We incorporated this as an added level of protection. Although we wouldn't say that it is required, it has been a huge asset. It allows us to catch problems early on and prevent any major damage. We have had two valve stem extenders leak and thanks to monitoring the pressure, we were able to pull over safely into a rest area before anything dramatic happened. Roadside repairs are not fun on a busy interstate. 
Utility blocks: These have been wonderful as we use them underneath the tires if we need to raise them or underneath the feet. These have made leveling the rig much easier in places and can support the weight of our rig. 
Knee pads: This one seems silly, but I've been able to keep my knees clean and out of dirt and rock when sliding our blocks underneath the rig. 
Roadmaster Tow Defender: We've added this protective screening a-top our tow bar to help our truck get fewer rock chips while we are in tow. 
Each move day has given us more confidence in our ability to handle any situation. We hope these tips will help you do the same.