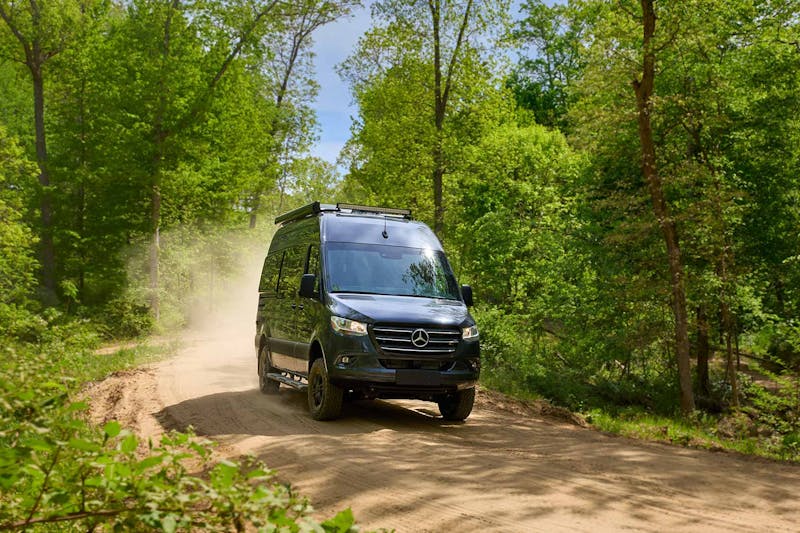 Thor Motor Coach's Tranquility® Camper Van Highlights Hershey Show Offerings
ELKHART, IND. (September 7, 2021) – Thor Motor Coach showcases a new mid-model year version of the Tranquility B Van in block D1 for the upcoming Hershey RV show starting Sept 15, 2021.
Tranquility emanates an adventurous lifestyle with off-road capabilities. The Mercedes-Benz® Sprinter® 2500 passenger van with a 4x4 platform and optional all-terrain tires improves road adhesion and handling to any destination. With 188 horsepower and 325 pound-feet of torque, the six-cylinder diesel engine provides more than enough power through all weather conditions, even while towing on the 3,500-pound hitch.

With its compact size and easy-to-drive features, Tranquility stands out from others in its class. Impressive safety features include a top-mounted LED light bar with a cover, keyless entry, a backup monitor, and adaptive cruise control. In addition, convenient hands-free control of Apple CarPlay® and Android Auto™ on the large 10.25-inch MBUX® multimedia screen is integrated with the tilt and telescoping steering wheel's control buttons.
Tranquility's two floor plans, 19P and 19L highlight the modern ruggedness of the 4x4 chassis. With an enclosed wet bath, ample kitchen, and forward seating, the 19L is built to impress. A Froli® sleep system is available in the 19L floor plan's rear sleeping area and features large pull-out side trays The 19P floor plan has rear bench-style seating with seat belts for three that electronically unfolds into a sleeping area. Both floor plans have Tecnoform® Euro-style cabinetry, available in either "Metallic Gray'' or "Radiant Silver," with corresponding cool-tone interior décor.

Rear and entryway screen doors and large opening side windows provide fresh air and plenty of natural light, making the transition from indoor to outdoor living seamless. An exterior table folds out directly underneath the Thule® powered patio awning. Portable or wall-mounted, a JBL® Flip speaker plays high-quality audio, once connected via Bluetooth® to a favorite device or smartphone.

The models highlighted in the Hershey RV Show are destined to get off the grid with a 190-watt solar panel to help maintain a charge on the Re(Li)able® lithium battery package. The system's 400-Ah lithium battery comes with a Balmar® 170-amp alternator, delivering plentiful charging capabilities even at idle. For places a motorhome cannot go, travelers have a standard Thule bike rack with room for two adult-size bicycles.
For more information on our 2022 motorhomes, visit https://www.thormotorcoach.com/motorhomes/.


About Thor Motor Coach
Thor Motor Coach is the only Made to Fit® motorhome brand in North America. Thor Motor Coach's diverse product lineup includes many of the world's most recognized Class A, Class B and Class C motorhome brands. As an industry leader in innovative design, Thor Motor Coach builds a variety of unique styles, sizes, and floor plans that feel custom-made – at a truly competitive price. For more information, visit ThorMotorCoach.com or call 800-860-5658. Thor Motor Coach and all related model names, slogans, logos, trade dress, and trademarks are owned or used under license by Thor Motor Coach, Inc. All other trademarks are owned by their respective owners.