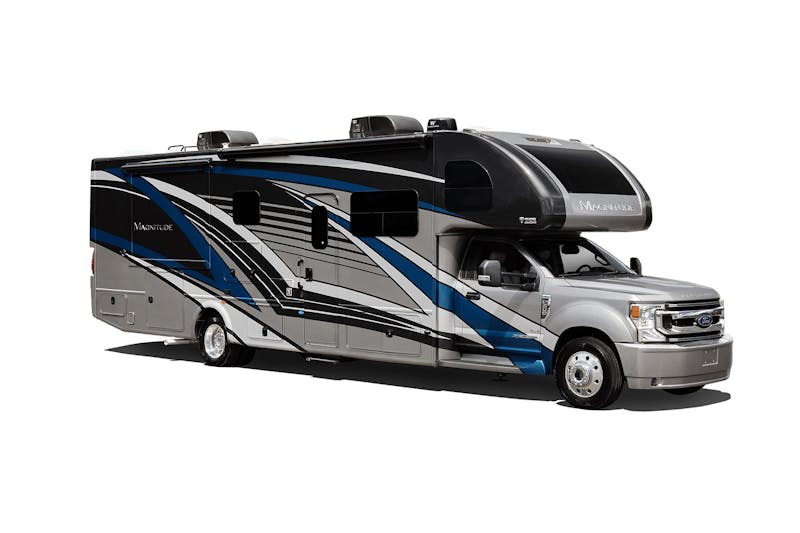 Thor Motor Coach's Super C RV Upgrades Focus on Family
ELKHART, IND. (Sept. 21, 2020) – Magnitude® and Omni™ Super C motorhomes by Thor Motor Coach® are debuting a new floor plan with family-friendly features.
Magnitude and Omni both welcome the RB34 floor plan, featuring bunk beds, washer and dryer prep, theater seating and the cab-over bunk sleeping area allowing families of all sizes to have a comfortable weekend getaway. The exterior kitchen with a refrigerator, sink and the 32-inch TV on a swivel bracket with Bluetooth® ensure an entertaining camping experience.
The XG32, RB34, and SV34 layouts are built on the Ford F550 4x4 chassis, which consists of selectable drive modes, including tow and haul, deep sand and snow, eco and normal. To improve performance, Magnitude and Omni come with the 6.7-liter Power Stroke™, which provides more horsepower and torque than previous models. 4x4 models incorporate collision assist and warning, automatic emergency braking and lane departure warning, to provide peace of mind for consumers traveling with loved ones.
Modern conveniences are found throughout the Super C motorhomes. SYNC® 3, an 8-inch touchscreen dash radio, has voice recognition for the system's hands-free control in the cockpit. Consumers' favorite devices can connect to the Winegard® ConnecT™ 2.0 wifi extender and hotspot. USB charging ports in the living room and bedroom allow devices to charge before the day's adventure.
For more information on our 2021 motorhomes, visit https://www.thormotorcoach.com/motorhomes/.

Looking to take a tour, but can't make it to your local dealer?
Check out our latest online videos: 
About Thor Motor Coach
Thor Motor Coach® is the only Made to Fit® motorhome brand in North America. Thor Motor Coach's diverse product lineup includes many of the world's most recognized Class A, Class B and Class C motorhome brands. As an industry leader in innovative design, Thor Motor Coach builds a variety of unique styles, sizes, and floor plans that feel custom-made – at a truly competitive price. For more information, visit ThorMotorCoach.com or call 800-860-5658. Thor Motor Coach and all related model names, slogans, logos, trade dress, and trademarks are owned or used under license by Thor Motor Coach, Inc. All other trademarks are owned by their respective owners.