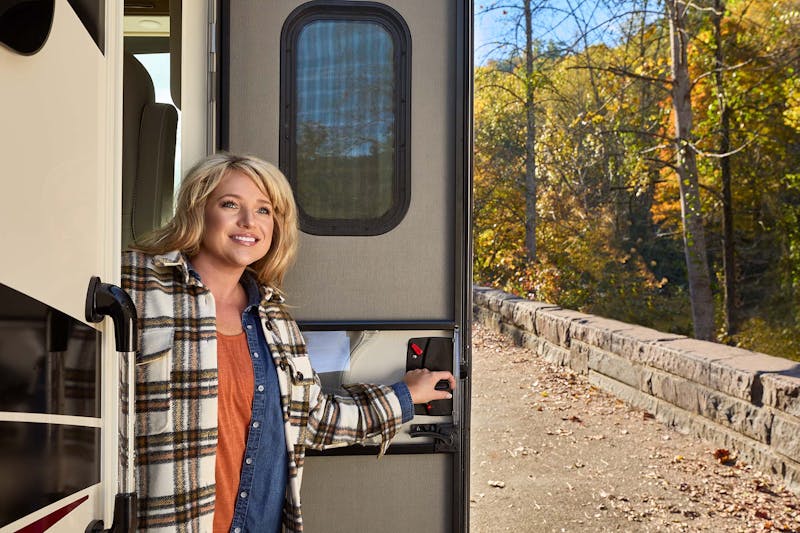 Thor Motor Coach's Hurricane, A.C.E. and Windsport Gain Upgrades and Floor Plans
ELKHART, IND. (Sept. 18, 2020) – Hurricane®, Windsport®, and A.C.E. ® Class A motorhomes by Thor Motor Coach® receive upgrades and new floor plans for the 2021 model year.
A new MaxPack upgrade package is now part of all Windsport and Hurricane models 31-feet and larger. The special package increases overall storage capacity, adds 22.5-inch tires and sports aluminum wheels. The industry's first steering wheel control is integrated into the Ford® F-53 steering wheel, allowing the driver to control the dash media center effortlessly while focusing on the road ahead. 
Hurricane and Windsport each have a new 31C floor plan with stackable washer and dryer prep, king-size bed, large dresser and a walk-in closet, which is aimed at consumers who wish for residential features while traveling full-time. New for the mid-model year refresh is the interior decor "Luxury Collection." Featuring the tasteful "Charcoal Diamond" color palette and the "Coastline Grey" cabinetry, the "Luxury Collection" offers a high-end look to please the eye and offer a relaxing atmosphere.
A.C.E.'s new floor plan, 29.5, has an exterior kitchen with a refrigerator and sink and an exterior 32-inch LED TV on a swivel bracket with a soundbar and radio, which creates the pinnacle of outdoor living experiences. The 32.3 bunkhouse floor plan now comes with tablet holders and a USB charging port for consumers' favorite devices. A.C.E. highlights pet-friendly travel with the pull-out Kibble Station™ food and water dish, Bird's Eye™ window and Pet-Link™ multi-purpose tie-down.
For more information on our 2021 motorhomes, visit https://www.thormotorcoach.com/motorhomes/.

Looking to take a tour, but can't make it to your local dealer?
Check out our online 360° tours: 
About Thor Motor Coach
Thor Motor Coach® is the only Made to Fit® motorhome brand in North America. Thor Motor Coach's diverse product lineup includes many of the world's most recognized Class A, Class B and Class C motorhome brands. As an industry leader in innovative design, Thor Motor Coach builds a variety of unique styles, sizes, and floor plans that feel custom-made – at a truly competitive price. For more information, visit ThorMotorCoach.com or call 800-860-5658. Thor Motor Coach and all related model names, slogans, logos, trade dress, and trademarks are owned or used under license by Thor Motor Coach, Inc. All other trademarks are owned by their respective owners.