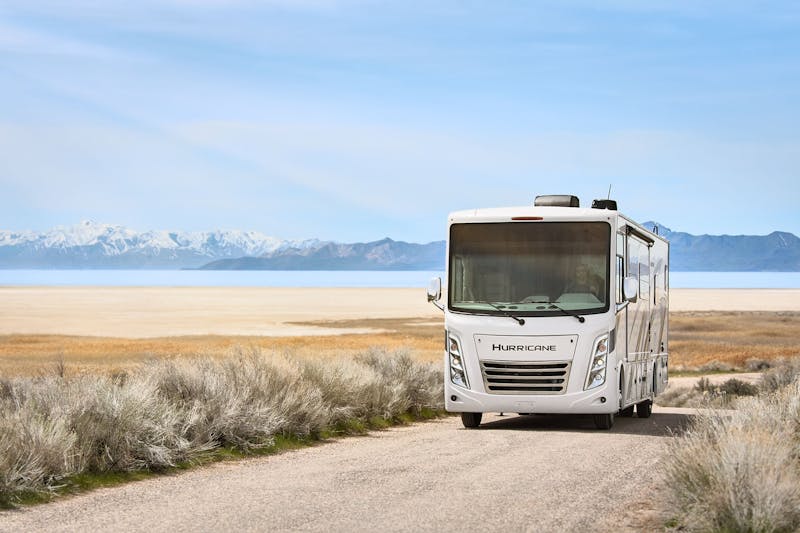 Thor Motor Coach Unveils More 2024 Class A RV Changes
Embark on extraordinary adventures as Thor Motor Coach announces the highly anticipated model year 2024 changes to their Class A motorhome lineup. From luxury to style and innovation, these updates are sure to ignite your sense of wanderlust. Join us as we dive into the latest updates to the Hurricane®, Windsport®, Palazzo®, Miramar®, and Riviera™ models.
Riviera™ – Unleash the Power of Luxury
Experience the pinnacle of luxury on the go in the 2024 Riviera™ motorhome. This great diesel pusher is equipped with blind spot detection, providing safety on road trips. Indulge in the best motorhome amenities with an electric power cord reel, a Project 2000 cockpit bunk for additional sleeping space, and a convenient stacking washer/dryer for added convenience. Every detail has been meticulously designed, including sleek soft-closing drawer guides for a modern touch.
Hurricane® and Windsport® – Where Adventure Meets Style
Take your journey to new heights with the 2024 Hurricane® and Windsport® Class A motorhomes. Equipped with a remarkable 100-watt solar panel and a Euro-style loft bunk, you can easily explore off-grid destinations. Choose from two captivating HD-MAX® graphics and partial paints to make a statement on the road. Inside, the Windsport® offers exciting new décor options exclusively designed to elevate your interior to a whole new level.
Palazzo® and Miramar® – Luxury Redefined
Luxury and convenience take center stage with the Palazzo® and Miramar® Class A motorhomes. The Palazzo® features the innovative Project 2000 cockpit bunk mechanism, whisper-quiet ducted return A/C system, SMART TVs in the living area, and stunning new furniture styling that exudes elegance. Meanwhile, the Miramar® boasts three dazzling new full-body paints, making a bold statement wherever you go. Safety is a top priority in both models, with blind spot detection providing peace of mind during your travels.
2024 Motorhomes – Elevating RV Travel
Unleash your wanderlust with the 2024 Riviera™, Hurricane®, Windsport®, Palazzo®, and Miramar® models. Whether you crave luxury, style, or innovative features, these updates have it all.
Discover more about these fantastic motorhomes by visiting thormotorcoach.com/motorhomes.
About Thor Motor Coach
Thor Motor Coach® is the only Made to Fit® motorhome brand in North America. Thor Motor Coach's diverse product lineup includes many of the world's most recognized Class A, Class B, and Class C motorhome brands. As an industry leader in innovative design, Thor Motor Coach builds various unique styles, sizes, and floor plans that feel custom-made – at a truly competitive price. For more information, visit ThorMotorCoach.com or call 800-860-5658. Thor Motor Coach and all related model names, slogans, logos, trade dress, and trademarks are owned or used under license by Thor Motor Coach, Inc. All other trademarks are owned by their respective owners.