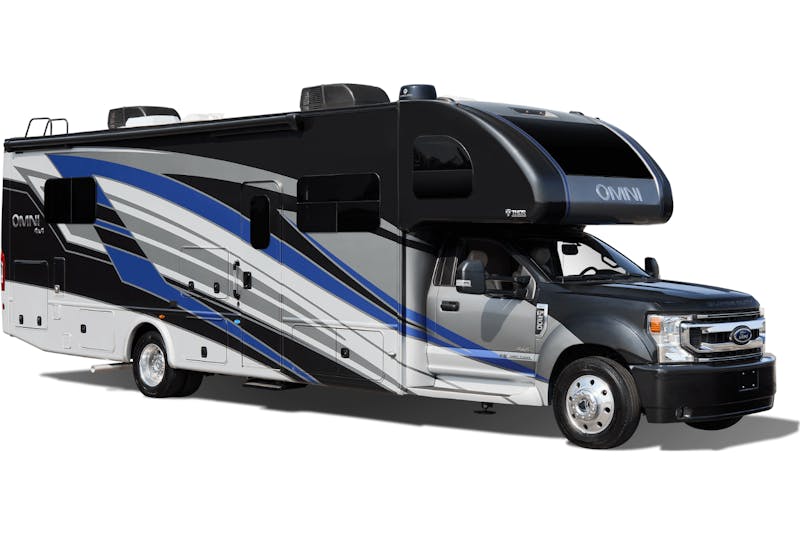 Thor Motor Coach Unveils Exciting 2024 Super C RV Upgrades
Adventure awaits as we proudly unveil the exciting changes coming to our much-anticipated model year 2024 lineup of Super C motorhomes. Experience convenience, power, and elegance like never before with the Magnitude®, Omni®, Inception®, and Pasadena™ models. From tech-savvy entertainment options to luxurious interior upgrades, these motorhomes are set to redefine your travel experience. Join us as we dive into the thrilling features of each model.
Magnitude® and Omni® – Convenience at Every Turn
Tech enthusiasts, rejoice! The Magnitude® and Omni® Super C motorhomes now come CAT6 video distribution ready, ensuring a seamless entertainment experience on the road. Elevate your RV bath experience with the elegant touch of marble pattern décor printed shower surrounds, turning your bathroom into a luxurious escape. For environmentally-conscious travelers, both models offer an optional solar panel plus package, allowing you to power up sustainably. Convenience truly meets luxury in these upgraded models.
Inception® and Pasadena™ – Power Meets Elegance
Prepare to be blown away by the sheer power and elegance of the Inception® and Pasadena™ Super C RVs. With a staggering 46,000-lb GCWR and an impressive 15,000-lb hitch rating, these motorhomes are ready to conquer any adventure with ease. Personalize your interior to reflect your unique style with a range of stunning cabinetry options, adding a touch of sophistication to your home on wheels. Create an ambiance of luxury with the gorgeous interior décor collection, making every journey feel like a five-star experience.
Stay fresh and clean during your journeys with the convenience of a stacking washer and dryer in the Inception® and Pasadena™ Super C RVs. Say goodbye to discomfort with the ceiling-ducted Whisper Air™ central cooling system, providing optimal climate control in any weather. Safety is a top priority for us, and we've taken it seriously by including dual child tethers and four seat belts at all booth dinettes, ensuring peace of mind for your entire family. When it's time to unwind, the SMART TVs in the living area will take your entertainment to a whole new level.
2024 Motorhomes – Let the Fun Begin
Our 2024 Super C motorhome lineup is set to redefine the way you travel. From CAT6 video distribution-ready entertainment to a range of stunning cabinetry options, these models are designed to cater to your every need. With the Inception® and Pasadena™ offering unmatched power and elegance, and the Magnitude® and Omni® providing convenience and luxury at every turn, your journey on the open road will be unforgettable.
For more information on our 2024 motorhomes, visit www.thormotorcoach.com/motorhomes.
About Thor Motor Coach
Thor Motor Coach® is the only Made to Fit® motorhome brand in North America. Thor Motor Coach's diverse product lineup includes many of the world's most recognized Class A, Class B, and Class C motorhome brands. As an industry leader in innovative design, Thor Motor Coach builds various unique styles, sizes, and floor plans that feel custom-made – at a truly competitive price. For more information, visit ThorMotorCoach.com or call 800-860-5658. Thor Motor Coach and all related model names, slogans, logos, trade dress, and trademarks are owned or used under license by Thor Motor Coach, Inc. All other trademarks are owned by their respective owners.