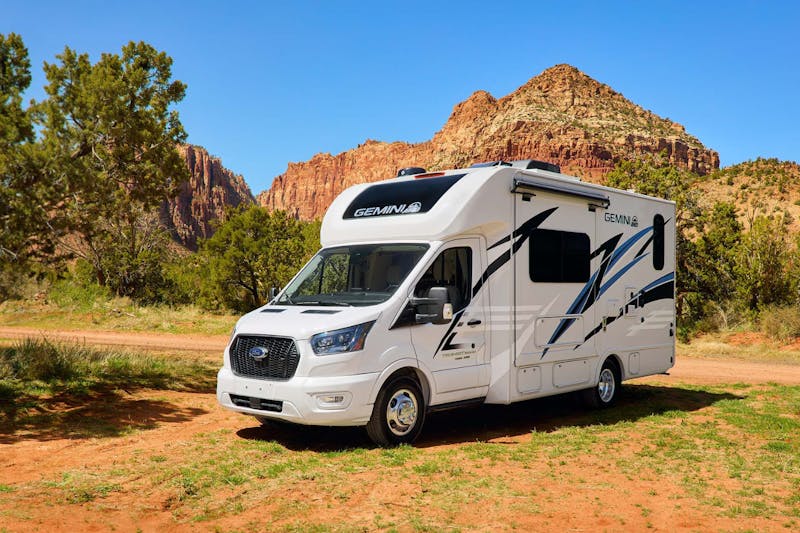 Thor Motor Coach Unveils Exciting 2024 Motorhome Changes
Calling all adventure seekers! Brace yourselves for fascinating updates in Thor Motor Coach's highly anticipated 2024 motorhome lineup. Embark on extraordinary adventures as we take a closer look at the exciting changes and additions awaiting you in the Delano®, Tiburon®, Compass®, Gemini®, Axis®, and Vegas® models. From sleek Class A RVs to luxurious Class C Sprinters, these exceptional motorhomes will redefine how you travel.
Introducing the 25.7 Floor Plan – The Latest Addition to Axis® and Vegas® Class A RV
Explore the incredible new 25.7 floor plan exclusively in the 2024 Axis® and Vegas® Class A RVs. This intriguing addition provides different sleeping options, allowing everyone on board to enjoy a restful night. But wait, there's more! The interior has undergone a stunning transformation, showcasing mesmerizing new countertops, plush carpets, and an elegant London Fog décor option, all perfectly complemented by the sleek Coastline Gray cabinetry. These models have also been equipped with standard holding tank heat pads and a powerful 100-watt solar panel, ready to take your journey to the next level. If you want to turn heads on the road, the Vegas® offers two captivating HD-MAX® graphics packages designed to make a bold statement.
Compass® and Gemini® – Redefining Class B+ Motorhomes
For those seeking exciting trips in a Class B+ motorhome, the newly designed Compass® and Gemini® models are here to make your dreams come true. Step inside and be awestruck by the refreshed interiors, with new countertops, plush carpets, and exceptional shower surrounds. The visual appeal of these models is further enhanced by their striking new HD-MAX® exterior graphics packages, so you can travel in style wherever your wanderlust takes you.
Delano® and Tiburon® – Let the Class C Sprinter Adventures Begin
If luxury and style are what you're after, look no further than the Delano® and Tiburon® Mercedes-Benz® Class C Sprinters. These motorhomes offer an unparalleled road trip experience. Customize your living space to suit your unique taste with new cabinetry options. The sleek design of these models includes increased safety thanks to the optional blind spot detection feature. Stay comfortable no matter the weather, as the Delano® and Tiburon® come equipped with an impressive 15,000 BTU air conditioner with a heat pump. Plus, with the 200-watt solar charging system, you can camp off-grid and recharge while enjoying the great outdoors.
2024 Motorhomes – Elevating Summer Fun
Thor Motor Coach has raised the bar for road trip enthusiasts seeking the perfect blend of style, comfort, and innovation with their 2024 motorhome lineup. Whether you're searching for upgraded sleeping arrangements, luxurious modern interiors, captivating graphics packages, or lavish features, this remarkable lineup has it all.
Pack your bags, gather your loved ones, and enjoy the camping trip of a lifetime this summer in a 2024 motorhome by Thor Motor Coach.
Discover all our 2024 motorhomes by visiting thormotorcoach.com/motorhomes.
About Thor Motor Coach
Thor Motor Coach® is the only Made to Fit® motorhome brand in North America. Thor Motor Coach's diverse product lineup includes many of the world's most recognized Class A, Class B, and Class C motorhome brands. As an industry leader in innovative design, Thor Motor Coach builds various unique styles, sizes, and floor plans that feel custom-made – at a truly competitive price. For more information, visit ThorMotorCoach.com or call 800-860-5658. Thor Motor Coach and all related model names, slogans, logos, trade dress, and trademarks are owned or used under license by Thor Motor Coach, Inc. All other trademarks are owned by their respective owners.