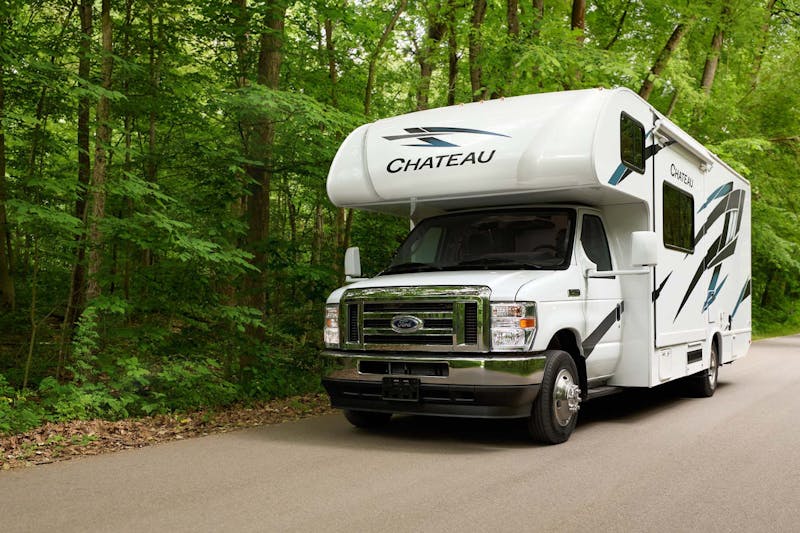 Thor Motor Coach Unveils Exciting 2024 Class C RV Upgrades
Excitement is in the air as we announce the much-anticipated model year 2024 changes to our Class C motorhome lineup. Explore the great outdoors without limits with the Chateau®, Four Winds®, Echelon™, and Quantum® models. From stunning exterior graphics to luxurious Mercedes-Benz® sprinter chassis options, these motorhomes are designed to redefine convenience and functionality. Join us as we dive into the thrilling features of each model.
Chateau® and Four Winds® – Making a Statement
Stand out from the crowd with the 2024 Chateau® and Four Winds® Class C RVs, boasting two stunning new exterior graphics that are sure to turn heads on the road. Experience the convenience of keyless entry, making your travel experience even smoother. These motorhomes, built on the reliable Ford® E-series and Chevy® chassis, are ready to take you on unforgettable journeys. For eco-conscious travelers, select floor plans now offer an optional 100-watt solar panel as a renewable energy solution. There's no need to worry about keeping your snacks and beverages cool; the state-of-the-art 12-volt refrigerator, equipped with an auto generator start, has got you covered.
Echelon™ and Quantum® – Redefining Convenience and Functionality
Prepare to be amazed by the Echelon™ and Quantum® models on the Ford® E-series and Chevy® chassis. These motorhomes now boast stunning new interior décor collections, creating a sense of luxury and comfort in every corner. The addition of keyless entry adds an extra layer of convenience to your travels. Unlike most competitors, a higher capacity 15,000-BTU air conditioner keeps the indoors cool, ensuring you stay comfortable no matter the weather. Plus, with the 12-volt refrigerators featuring an automatic generator start, you can bid farewell to food spoilage worries. For those seeking off-grid adventures, the optional 100-watt solar panel comes standard on the 28-foot and larger floor plans, providing you with peace of mind and freedom.
Elevating Travels with Luxury Sprinters
Cruise in style with the Mercedes-Benz® sprinter chassis models by Thor Motor Coach. The Chateau®, Four Winds®, Echelon™, and Quantum® Class C RVs in this lineup feature two striking new exterior graphics that exude elegance. Take personalization to the next level with an expanded range of cabinetry options, allowing travelers to create a home on wheels that perfectly reflects their unique taste. Discover the convenience of WiFi and 4G connection through the Winegard® ConnecT™ 2.0 that will keep everyone online. A standard 100W solar charging system helps maintain the batteries while extending the use time of the RV when off-grid. 
2024 Motorhomes – Explore the Outdoors Without Limits
Our 2024 Class C motorhome upgrades are set to take your travels to new heights. Whether you choose the Chateau®, Four Winds®, Echelon™, or Quantum®, you'll find yourself immersed in a world of convenience, luxury, and functionality.
For more information on our 2024 motorhomes, visit www.thormotorcoach.com/motorhomes.
About Thor Motor Coach
Thor Motor Coach® is the only Made to Fit® motorhome brand in North America. Thor Motor Coach's diverse product lineup includes many of the world's most recognized Class A, Class B, and Class C motorhome brands. As an industry leader in innovative design, Thor Motor Coach builds various unique styles, sizes, and floor plans that feel custom-made – at a truly competitive price. For more information, visit ThorMotorCoach.com or call 800-860-5658. Thor Motor Coach and all related model names, slogans, logos, trade dress, and trademarks are owned or used under license by Thor Motor Coach, Inc. All other trademarks are owned by their respective owners.