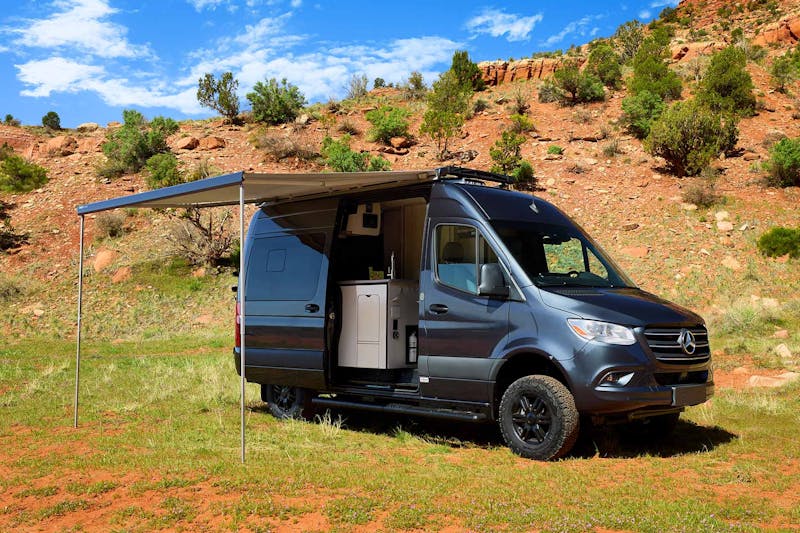 Thor Motor Coach Unveils Exciting 2024 Camper Van Upgrades
Embark on the ultimate adventure as we unveil the latest upgrades to their 2024 Class B motorhome lineup. From enhanced functionality to convenience on the go and luxury on wheels, these upgrades are designed to elevate your travel experience. Join us as we dive into the improvements made to the Rize®, Scope®, Dazzle™, Twist™, Sequence®, Tellaro®, Sanctuary®, and Tranquility® models.
Dazzle™ and Twist™ – Enhanced Functionality at Every Turn
After their successful launch this past fall, the 2024 Dazzle™ and Twist™ Class B motorhomes have undergone some exciting tweaks. The addition of Diamond Shield® paint protection helps preserve the RV's appearance, preventing rock chips and paint damage during road trips. Furthermore, the 2AB floor plan now offers increased storage space with a redesigned rear passenger-side cabinet, making it perfect for storing camping essentials. With improved exterior storage, you'll have ample space for a waste tank hose, while simplified water connections provide easy access to drains and winterizing valves. These upgrades ensure that functionality is at its finest in these models.
Rize® and Scope® – Convenience on the Go
Experience a new level of comfort and convenience in the Rize® and Scope® models. These compact camper vans now feature improved water pump access, making maintenance a breeze. The fresh vinyl floor color updates the interior design, adding a touch of modernity. Stay organized with the addition of a convenient sewer hose storage container. Plus, the availability of new cabinetry options allows you to reflect your unique style in your motorhome. Convenience truly meets style in these upgraded models.
Tellaro® and Sequence® – Redefining RV Travel
Travelers will appreciate the innovative Diamond Shield™ paint protection on the 2024 Tellaro® and Sequence® Class B RVs. These models also include an induction cooktop, allowing you to cook with ease. The 20L and 20K floor plans now feature new sewer hose storage under the coach, ensuring a tidy exterior. Enjoy the freedom of power anywhere with the standard 2.8kW generator and optional Re(Li)able lithium package. Inside, you'll find increased storage under the bed and a revamped layout for the electrical components in the 20J floor plan. The 20K floor plan also features a slated pull-out sofa/bed and the option to convert the rear storage into two large doors, removing the drawer. These models redefine what it means to travel in style and comfort.
Sanctuary® and Tranquility® – Luxury on Wheels
Indulge in a serene travel experience with the Sanctuary® and Tranquility® Mercedes-Benz® sprinter vans. These Class B motorhomes now feature the stunning Diamond Shield™ paint protection to keep your RV's exterior looking beautiful for longer. Enjoy the hitch step/dog tie and new sewer hose storage in the 19L floor plan for convenience. Efficiency is improved with the diesel-powered furnace and water heating system, which includes a built-in electric heating element to save on fuel. The removal of the LP system increases carrying capacity, while the Re(Li)able energy pack, featuring components from the Fathom™ e-power system, provides lithium batteries, inverters, and control modules for off-grid camping. Luxury truly meets mobility in these upgraded models.
2024 Camper Vans – Compact Fun for Everyone
Our 2024 Class B motorhome upgrades are set to redefine your travel experience. With enhanced functionality, convenience, and luxury, these models are designed to unleash the adventurer in you. Whether you choose the Dazzle™, Twist™, Rize®, Scope®, Tellaro®, Sequence®, Sanctuary®, or Tranquility®, you can expect an unforgettable journey ahead.
For more information on our 2024 motorhomes, visit www.thormotorcoach.com/motorhomes.
About Thor Motor Coach
Thor Motor Coach® is the only Made to Fit® motorhome brand in North America. Thor Motor Coach's diverse product lineup includes many of the world's most recognized Class A, Class B, and Class C motorhome brands. As an industry leader in innovative design, Thor Motor Coach builds various unique styles, sizes, and floor plans that feel custom-made – at a truly competitive price. For more information, visit ThorMotorCoach.com or call 800-860-5658. Thor Motor Coach and all related model names, slogans, logos, trade dress, and trademarks are owned or used under license by Thor Motor Coach, Inc. All other trademarks are owned by their respective owners.