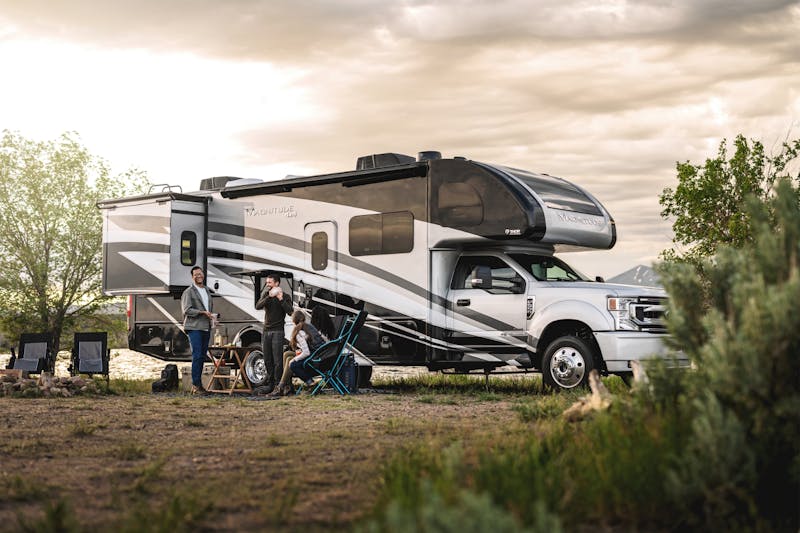 Thor Motor Coach Showcases New Products at the 2023 Hershey RV Show
Adventure-seekers and road warriors, mark your calendars! This week, Hershey, Pennsylvania, transforms into a motorhome paradise as we roll out a stunning fleet of over 70 units at America's Largest RV Show®.
The event kicks off on Wednesday, September 13, and ends on Sunday, September 17. Gates open to the public at 9 a.m.; secure your tickets now at www.largestrvshow.com.
Whether you're a motorhome veteran or a curious explorer, everyone is welcome at our exhibit in block A10. The impressive layout includes toy haulers, Class As, Class Bs, Class Cs, Super Cs, Class B+s, four-wheel drive, all-wheel drive, and diesel motorhomes. Swing by and be the first to tour these motorhomes in person!
New floor plans featured at the show include:
Palazzo GT™ 33.5 and 33.6 – Affordable Travel Awaits:
A budget-friendly diesel pusher that doesn't compromise quality; meet the new 2024 Palazzo GT™. With distinct floor plans, this Class A RV retains the comfort and convenience amenities that make motorhome travel appealing. Other features include a Winegard® wireless internet hot-spot, an exterior 40" LED TV, an electric induction cooktop, a ceiling-ducted Whisper Air™ central cooling system, and USB charging ports in the bed base.
Riviera™ 34SD – Luxury Within Reach:
Measuring just shy of 35 feet long and being the most cost-efficient option in the Riviera™ lineup, this 2024 Class A Diesel RV is the home on wheels you need for every family vacation. Rest easy on the innovative Tilt-A-View™ King bed, which adjusts to your desired angle in the 34SD floor plan. Keep your style game strong with expansive closet space, and conquer the road in fresh fashion thanks to the stacked washer-dryer.
Tranquility® 19R and 24C – Camper Van Luxury with a POP of Ruggedness:
Settle into the lap of luxury on wheels with the Tranquility Mercedes-Benz® Sprinter® Van. Not one, but two new floor plans make their debut – the 19R with a rear wet bath and the 24C, the longest in the Tranquility lineup, with seven seating positions so no one has to be left behind. Other features include a portable cooktop, a diesel furnace and water heating system, and a solar charge controller with a 200W solar panel.
Vegas® 25.7 – Jackpot of Wanderlust:
Ignite your travel dreams with the new Vegas® 25.7 floor plan. Just under 27 feet long, this Class A RV redefines compact luxury. It includes a full-size bed that's not just for rest but also conceals storage underneath. Open the rear door to access outdoor gear and gadgets effortlessly while cleverly integrated floor tie-downs keep everything secure. Plus, there's ample closet space to bring your favorite camping clothes.
Pasadena® 38DA – Versatility Meets Luxury:
Introducing the 38DA, the newest model in the 2024 Pasadena® lineup, now available with the highly anticipated "Stealth Package" option. The package includes blacked-out wheels, grille, and mirrors, which elevate the motorhome's appearance. Redefine your road trip experience with this Super C RV's adaptable living space and smart storage solutions, providing all the comforts of home. Enjoy cinematic evenings with a retractable 50" LED SMART TV, set the mood with an electric fireplace, and always be travel-ready with its powerful 15,000-pound trailer hitch and advanced energy management system.
Magnitude® LV35 – Elevate Every Mile:
Take your travels to new heights with the 2024 Magnitude®. Short of 37 feet, this diesel motorhome is your ticket to exploring scenic landscapes or embarking on a cross-country adventure. The LV35 floor plan is the future of glamping, featuring a stainless steel 16-cubic-foot residential refrigerator with an icemaker, a tankless water heater, and high-end safety features to ensure everyone is safe on your journey.