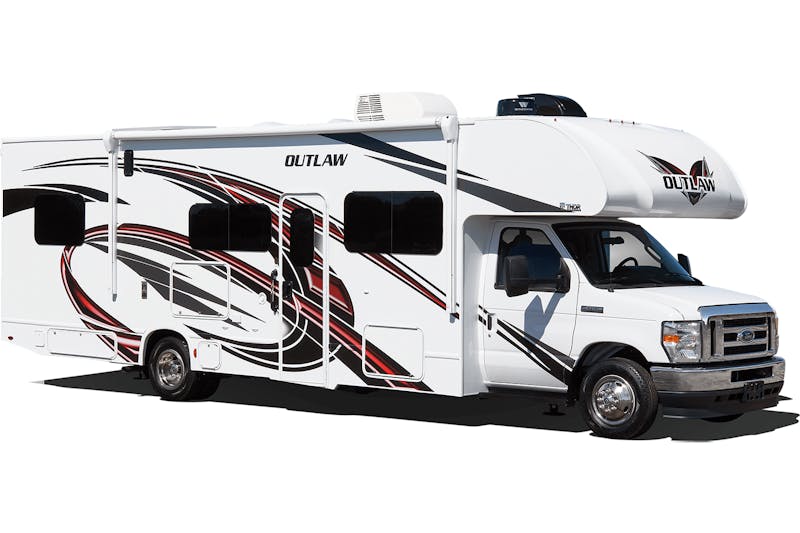 Thor Motor Coach Showcases New Floor Plans at the Annual Thor Dealer Open House
ELKHART, IND. (Sept. 27, 2022) – Thor Motor Coach showcases its expansive line-up of motorhomes at the annual Thor Dealer Open House this week, where multiple new floor plans will be displayed. More than 500 dealers are set to attend from September 26 through September 28.
Check out some of the new floor plans:
● Scope® 18G – Reach new heights and explore the world with the Scope. This Class B Motorhome features an electric awning, single-door 12-volt electric refrigerator, a pullout sleeping area, a rear shower with a cassette toilet, and Rapid Camp+® Multiplex Wiring Control System.
● Outlaw® 29T – This isn't your first rodeo. You need the Outlaw Class C Toy Hauler. Top features include a drop-down ramp door, a leatherette sofa with Queen size Murphy bed conversion, removable pedestal tables, an exterior 32-inch TV, and a double-door refrigerator.
● Delano® 24XL – Top safety features and a residential feel. Meet the Delano Mercedes-Benz® Sprinter®. Highlights include an electric stabilizing system, twin beds that convert to a full-unit width bed, a foot flush toilet, theater seating with footrests, and an optional diesel generator.
● Quantum® LT27 – Built with your loved ones in mind, this Class C RV is ready for any adventure. Quantum features include MEGA-Storage™ compartments, a cab-over bunk, a pantry, a King size bed, an outside shower, and a second auxiliary house battery.
● Miramar® 36.1 – Make luxurious travel a reality in this Class A Motorhome. Miramar includes basement pass-through storage, a King size bed with Tilt-A-View® inclining bed mechanism, an electric fireplace with remote control, and a stackable washer/dryer prep.
9/27/22 Tentative Stream Schedule:
● 9 AM – Quantum
● 11 AM – Axis
● 1 PM – Chateau
● 3 PM – Scope
● 5 PM – Omni
9/28/22 Tentative Stream Schedule:
● 9 AM – Miramar
● 11 AM – Outlaw
● 1 PM – Delano
● 3 PM – Inception
About Thor Motor Coach
Thor Motor Coach® is the only Made to Fit® motorhome brand in North America. Thor Motor Coach's diverse product lineup includes many of the world's most recognized Class A, Class B, and Class C motorhome brands. As an industry leader in innovative design, Thor Motor Coach builds various unique styles, sizes, and floor plans that feel custom-made – at a truly competitive price. For more information, visit ThorMotorCoach.com or call 800-860-5658. Thor Motor Coach and all related model names, slogans, logos, trade dress, and trademarks are owned or used under license by Thor Motor Coach, Inc. All other trademarks are owned by their respective owners.