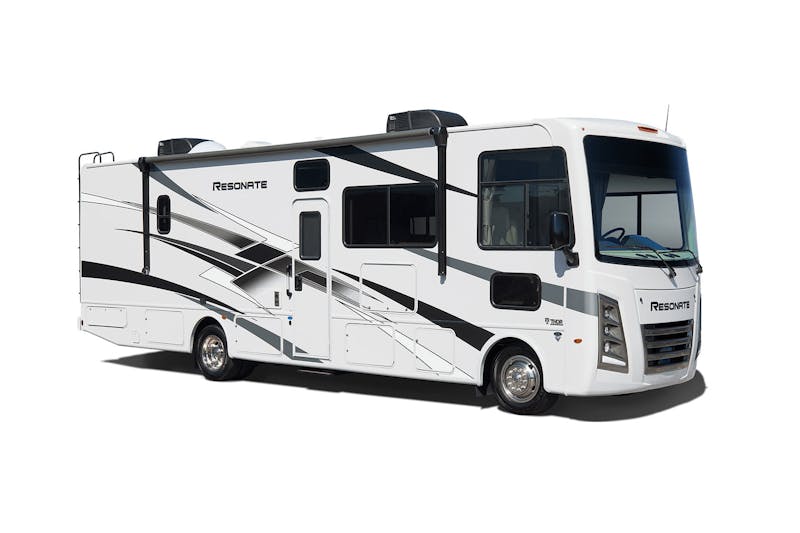 Thor Motor Coach Reveals Five New Motorhomes at Annual Open House
ELKHART, IND. (Sept. 26, 2022) – Thor Motor Coach reveals five new motorhomes at their annual Dealer Open House this week. More than 500 dealers are set to attend from September 26 through September 28.
Check out the new motorhomes:
● Indigo™ – Cozy vibes and luxury living galore. Available in two floorplans, this Class A Gas Motorhome features three stunning full-body paint options, a residential refrigerator, a project 2000 cockpit, and a drop-down bunk.
● Dazzle™ – Shine brighter than anyone else at the campground with this camper van. Available in two floorplans: 2AB and 2JB. Top features include a contemporary interior cabinet and fabric selections, Onan 2.8KW generator, and an ObeCo™ side screen door for the entryway.
● Resonate™ – Create memories with this Class A Gas Motorhome. Highlights include a Pet-Link™ multipurpose tie-down and an exterior 32-in TV on a swivel bracket with Bluetooth® built-in soundbar and radio. Available in four floorplans: 29D, 29G, 30C, and 32B.
● Twist™ – Turn heads every time you travel in this Class B RV. Available in two floorplans, this new product is the most affordable Promaster 3500 on the market. Top features include a two-burner gas cooktop with a glass cover and a solar charge controller with a 190W solar panel.
● Luminate™ – Brighten up your trip with this Class A Gas RV. Available in two floorplans: BB34 and CC34. Packed with a tankless water heater, 300W solar charging system, and marbled pattern ABS shower surround.
9/26/22 Stream Schedule (All times are EST):
● 9 AM – Twist
● 11 AM – Indigo
● 1 PM – Resonate
● 3 PM – Luminate
● 5 PM - Dazzle
About Thor Motor Coach
Thor Motor Coach® is the only Made to Fit® motorhome brand in North America. Thor Motor Coach's diverse product lineup includes many of the world's most recognized Class A, Class B, and Class C motorhome brands. As an industry leader in innovative design, Thor Motor Coach builds various unique styles, sizes, and floor plans that feel custom-made – at a truly competitive price. For more information, visit ThorMotorCoach.com or call 800-860-5658. Thor Motor Coach and all related model names, slogans, logos, trade dress, and trademarks are owned or used under license by Thor Motor Coach, Inc. All other trademarks are owned by their respective owners.