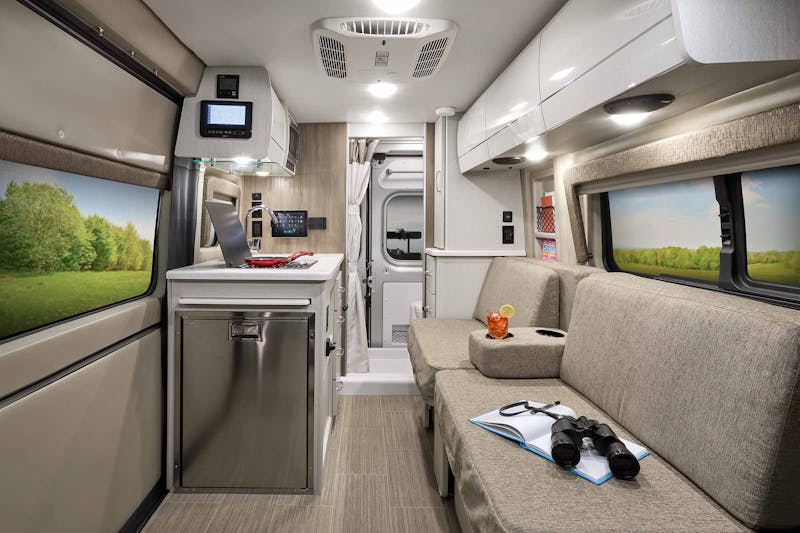 Thor Motor Coach on Display at the 2021 Hershey RV Show
HERSHEY, PENN. (September 13, 2021) – Thor Motor Coach displays more than 70 products at this week's America's Largest RV Show® in Hershey, Pennsylvania.
Gates open to the public at 9 a.m. on Wednesday, Sept. 15 through Sunday, Sept. 19. All are welcome to tour Thor Motor Coach's exhibit at block D1. The impressive layout includes Thor Motor Coach® toy haulers, Class As, Class Bs, Class Cs, Super Cs, Class B+s, four-wheel or all-wheel drive, and diesel motorhomes.

Floor plans featured at the show include:

● Rize® 18M – Rize 18M inspires tent campers to ditch the sleeping bag for a comfortable sleeping area in a safe and climate-controlled camper van. Top features include a fully enclosed wet bath, kitchen and an optional Thule® bike rack that fits two adult-sized bicycles.
● Tranquility® 19L –Tranquility 19L brings an off-road explorer's dream to life with a Mercedes-Benz® Sprinter 4x4 passenger van chassis. Highlights include a top-mounted LED light bar with a cover, optional all-terrain tires and the Re(Li)able® lithium battery package.
● Chateau® 27R – Chateau 27R, constructed on a Ford® E-Series chassis®, is a family-friendly motorhome under 30 feet. The king-sized bed, ample wardrobe storage space and dinette overlooking the campsite ensure all are happy and relaxed on the road.
● Magnitude® RS36 – Magnitude RS36's Ford F-600 4x4 chassis provides the ideal platform for families to get off the grid. Living amenities include bunk beds that convert into a closet when not in use, washer and dryer prep and leatherette theater seating with incliners and footrests.
● Hurricane® 31C – Hurricane 31C is reminiscent of a traditional home, with residential features including a walk-in closet with washer and dryer prep, king-sized bed and an additional vanity outside of the bathroom.
● Aria® 3901 – Aria 3901 creates a luxury living feel on the road. The upgraded ensuite features new mirrors, dual vanities, storage and spacious shower with a seat. Outfitted with the stylish "Studio Collection" interior, the living area comes with an electric fireplace, theater seating, a 55-inch TV and more.
Other models at the show include Delano®, Tiburon®, Outlaw® Class C and Class A, Chateau®, Tellaro®, Gemini AWD®, A.C.E.®, Vegas®, Axis®, Venetian®, Tuscany®, Palazzo®, Challenger® and Miramar®.
About Thor Motor Coach
Thor Motor Coach is the only Made to Fit® motorhome brand in North America. Thor Motor Coach's diverse product lineup includes many of the world's most recognized Class A, Class B and Class C motorhome brands. As an industry leader in innovative design, Thor Motor Coach builds a variety of unique styles, sizes, and floor plans that feel custom-made – at a truly competitive price. For more information, visit ThorMotorCoach.com or call 800-860-5658. Thor Motor Coach and all related model names, slogans, logos, trade dress, and trademarks are owned or used under license by Thor Motor Coach, Inc. All other trademarks are owned by their respective owners.