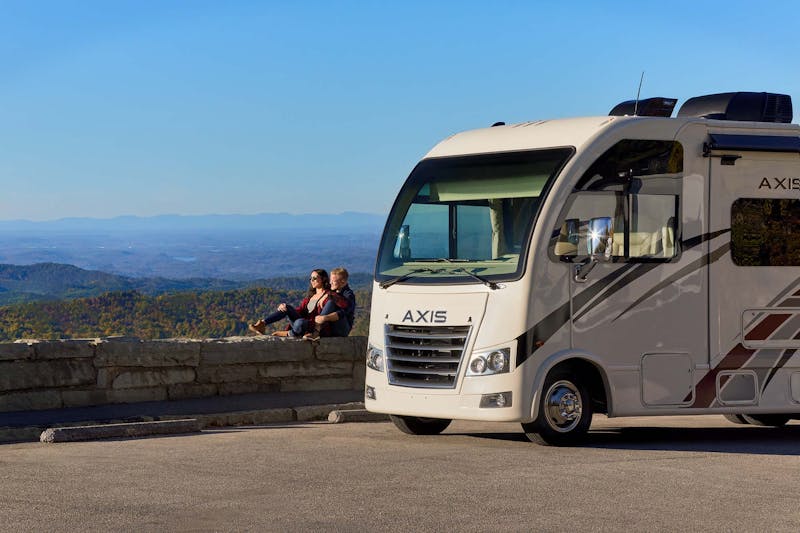 Thor Motor Coach® Improves RUV™ Motorhomes with Drivability Upgrades and Floor Plans
ELKHART, IND. (Sept. 16, 2020) – Drivability improves for Thor Motor Coach's Gemini AWD™ and Compass AWD™ with the all-wheel-drive platform. New floor plans add to the Vegas® and Axis® RUV™ product lines. 
Axis and Vegas welcome the 24.3 floor plan, which features a leatherette sofa that converts into a queen-size Murphy bed, dinette with cup holders and reclining and swivel captain's chairs that become part of the living space when parked. A large closet, kitchen pantry and lighted storage compartments make for plenty of room to bring along necessities and campground favorites.
The all-wheel-drive platform, which comes standard on the Compass AWD and Gemini AWD, allows for four-season weather capabilities on the road. SYNC® 3, an 8-inch touchscreen audio system, provides navigation and hands-free control of the Apple CarPlay® and Android Auto™. Safety features include hill start assist, side-wind stabilization, lane departure warning, pre-collision assist with emergency braking and AdvanceTrac® roll stability. These features work in partnership to promote a stress-free travel experience. 
The 23TE floorplan is the first Murphy bed arrangement for the Ford® Transit-based Thor Motor Coach® products. Big windows on the camp side of the coach provide plenty of natural light and a great view. The Murphy bed is queen-sized, which is rare in a compact layout. The TV across from the sofa/bed allows the front swivel seats to be part of the living space - perfect for enjoying a movie after a long day of hiking and adventure.
Available in all RUVs is the "Home Collection" interior decor package option. Home Collection features the cream-colored "Ivory Coast" residential cabinetry with matte black finish hardware. The "Estate Grey" décor creates a fresh and welcoming environment with the combination of complementary designed flooring, countertops, leatherette and warm cabinetry. 
For more information on our 2021 motorhomes, visit https://www.thormotorcoach.com/motorhomes/.

About Thor Motor Coach
Thor Motor Coach® is the only Made to Fit® motorhome brand in North America. Thor Motor Coach's diverse product lineup includes many of the world's most recognized Class A, Class B and Class C motorhome brands. As an industry leader in innovative design, Thor Motor Coach builds a variety of unique styles, sizes, and floor plans that feel custom-made – at a truly competitive price. For more information, visit ThorMotorCoach.com or call 800-860-5658. Thor Motor Coach and all related model names, slogans, logos, trade dress, and trademarks are owned or used under license by Thor Motor Coach, Inc. All other trademarks are owned by their respective owners.