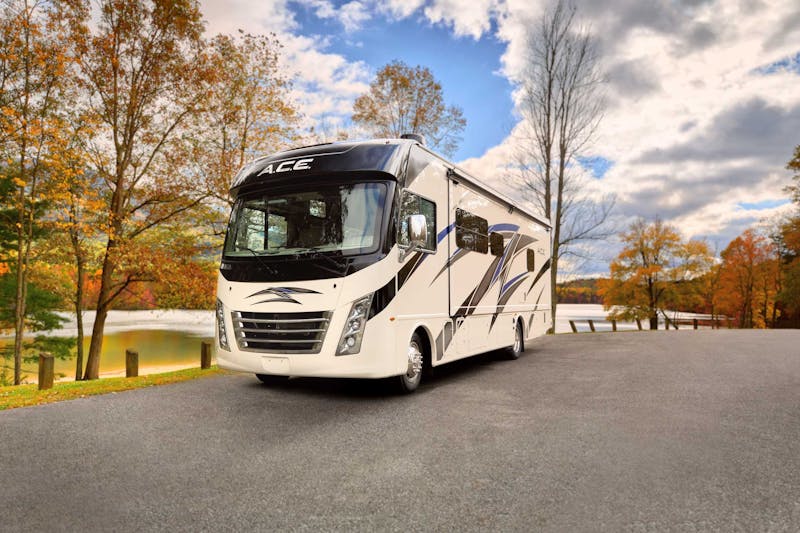 Thor Motor Coach Appeals to All Families with New Class A RV Upgrades
ELKHART, IND. (May 21, 2021) – Thor Motor Coach's A.C.E.®, Windsport®, Hurricane®, Miramar® and Challenger® Class A motorhome upgrades focus on families of all sizes, needs and budgets.

Pet-friendly features continue as the hallmark of the A.C.E. product line. Inside every floor plan, the scratch-resistant residential vinyl flooring, Bird's Eye™ window, Kibble Station™ and Motorhome Mudroom™ support active pet parents on the road. An exterior Pet-Link™ multi-purpose tie-down restrain pets from wandering the campsite while the family watches a game on the new exterior 32-inch TV with a built-in Bluetooth® soundbar.
All Hurricane and Windsport models now come standard with 22.5-inch aluminum wheels, an upgrade to the durability and overall appearance of the tires. Windsport received an exterior overhaul, with all new exterior color options, including eye-catching partial paints and sharp graphics on HD-MAX® exterior sidewalls. An optional interior décor, "Luxury Collection", available on Windsport and Hurricane, uses cool tones and black nickel-finish hardware to capture the company's attentiveness to high-end, modern interiors. 
A continued commitment to family-friendly travel is on full display in the Miramar product line. Miramar's two bunkhouse floor plans, 34.6and 37.1, have a sleeping capacity of up to 10 people. The new child tether added at the Dream Dinette® makes a safer environment for little ones schooling on the road. A contemporary interior color option, "Nightcap" creates the kind of welcoming and stress-free ambiance sought out by consumers turning to full-time RV living. 
Challenger's new full-body paint color options, "Firekeeper," "Marina Bay," and "Peppermill," are as striking as they sound, using vibrant colors in creative design against the dark base. Inside the coach, comforts make the road fade away with the feeling of a residential home. New furniture styling adds to the modern interior, from the satin-finish cabinetry with nickel-finish hardware to the electric fireplace with remote control, available in the 37FH floor plan. 
For more information on our 2022 motorhomes, visit https://www.thormotorcoach.com/motorhomes/.

Looking to take a tour, but can't make it to your local dealer?
Check out our latest contactless tours: 
ACE

HURRICANE

WINDSPORT

MIRAMAR

CHALLENGER
About Thor Motor Coach
Thor Motor Coach is the only Made to Fit® motorhome brand in North America. Thor Motor Coach's diverse product lineup includes many of the world's most recognized Class A, Class B and Class C motorhome brands. As an industry leader in innovative design, Thor Motor Coach builds a variety of unique styles, sizes, and floor plans that feel custom-made – at a truly competitive price. For more information, visit ThorMotorCoach.com or call 800-860-5658. Thor Motor Coach and all related model names, slogans, logos, trade dress, and trademarks are owned or used under license by Thor Motor Coach, Inc. All other trademarks are owned by their respective owners.