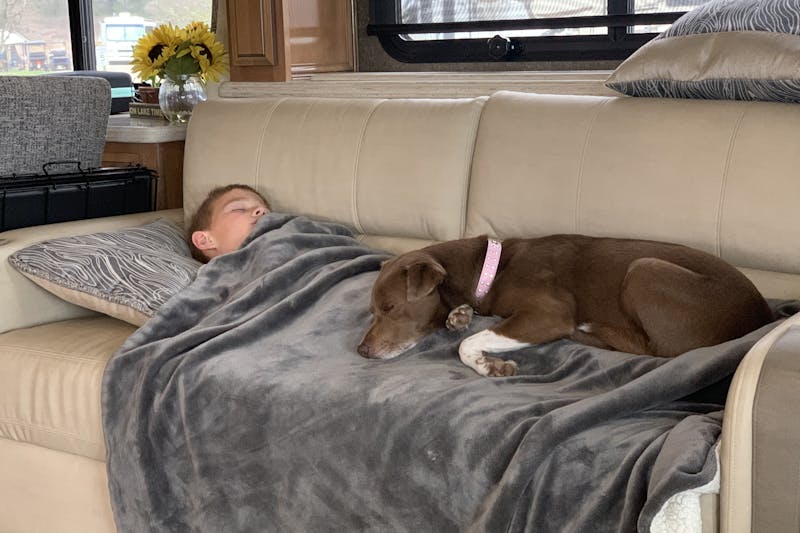 The Hagen Family Looks Back on their First Year as Full-Timers
by Stephanie Hagen.

We are celebrating our nomadiversary! It's been one year, over 8,400 miles, many states, and two rigs since we plunged into full-time RV living. Looking back over the last year, it seems to have been a whirlwind and gone by so fast. So, we thought it might be fun to answer some of the most asked questions about living in our rig.
Why did you choose to live this lifestyle?
The more families we meet on the road (and we are actually very surprised by the number!), the more we realize that every family has their own why or reasons. Travis travels for his job and can be gone for months on end. We decided that we wanted to keep all of us together and opted to travel with Travis. The stress of leaving our sticks and bricks home for months on end encouraged us to jump in with both feet! Now we are always ready to go wherever we need to be and on a moment's notice if necessary.

Where do you work in the RV?
That's quite the question… When we started looking at RVs we thought that we would be able to find one with a dedicated "office" space. What we found works best for us is to be able to rotate the office space depending on the day and weather. Some days you can find us working outside enjoying the sun or maybe at the dining table or the coffee table-desk we made. I think Travis's favorite spot is the passenger seat though.
How do you get your mail?
There are many different ways that you can get your mail on the road. When we traveled part-time, we would hold our mail until we got back or forward the mail to our parents' house. Now that we travel full-time, we have opted to use a mail forwarding service. They work much like a P.O. box and they will send the mail anywhere in the world for us!
Do you have a residency somewhere?
Yes, we do. Each full-time family picks a residency, based on their needs and the laws in each state. We originally lived in Texas and opted to keep our residency there based on our needs. Our mail service doubles as our domicile and because of how close it was to our original home; we didn't change even change our doctors.
How much does it cost to go full-time?
This is one of our most asked questions and one of the hardest to answer. The RV lifestyle allows a large number of choices that fit your needs, lifestyle, and budget. Because of this, it makes it extremely difficult for us to say a specific dollar amount or monthly budget. If you wanted to stay at an RV resort you could pay upwards to $200.00 per night or you could stay at a state park for $30.00 per night. And there's always the option to boondock for free on different BLM land (Bureau of Land Management). This is one of our favorite parts about living in our RV, you could make it work to suit your family's wants, needs, and budget.
What is it like to RV with your dog?
This in itself could be a whole blog (and we would be happy to expand on another blog!). But we consider Dixie part of the family and wouldn't do life without her at this point. She definitely keeps things interesting, but for the most part we have found parks to be extremely accommodating for our furry family members. We have even had a few parks generously give her treats as we check-in. Although she doesn't enjoy the drive so much, she has adapted well to our small living and loves that she gets more walks now than when we lived in the house.
Do you get sick of each other?
Sometimes. But in all seriousness, sometimes we need alone space. Since Travis leaves during the day for work, he seems to need a little less time, but we try to make sure to be attentive to this need. We've been able to section off the bedroom if someone needs a little private time or maybe sit outside. Travis and Lou are really good at spending some quality time playing Xbox if I want a little alone time too.
Do you cook in the RV? Even in the summer?
Yes, absolutely! We love everything our RV offers for cooking. We have an InstantPot that we use and we love the convection oven and induction cooktop. But we also love to grill and try to do that more when the weather allows it. Sometimes it will heat up the rig a little bit, but we've noticed that the convection oven doesn't cause the same type of heat as a propane oven would and the AC has been a champ at keeping up on even the warmest days.
Do you have a storage unit? How do you keep all your stuff in your rig?
We decided to not keep a storage unit. We wanted to be able to have everything we needed with us at all times. The Venetian has been a huge part of us being able to do this! Between the storage underneath the rig and the amazing storage options inside, we don't need to have a storage unit. When we sold our house, we decided not to keep our furniture pieces and either sold them or donated them. Organizing the rig is a constant need to make sure that we can get to our most used items and still access them, and it makes it much easier to find everything we need.
Which type of rig is the best?
Well our Venetian of course! But we decided to go with a class A for a lot of different reasons. This question is really based on your needs for your family. What we have learned is that it isn't just what type of rig but the layout that is the most important. You have to make sure that you and your family are comfortable inside the rig. Think about all the things that you love doing in your house and see how that applies to the rig you would be choosing. We made a list of things we needed, wanted, and didn't want and realized that we would not be getting everything on our checklist. We have found that many full-time families don't always stick with their first rig because after living in it and start to get a feel for what it's like, different things become important. For our family, we wanted to make sure we had space to entertain and that everyone had a spot on a couch or chair. We enjoy home-cooked meals and hosting families for dinner, so the kitchen layout was also really important. Then we had a few things we wanted, but didn't need, that we feel blessed to have in our rig, like a washer and dryer and a king-sized bed. We've learned that there are many options because everyone is unique and can have a home that matches them best.
What is the best thing about living in an RV?
The best thing about living in an RV is the ability to go anywhere and always feel at home. A year ago, Lou started laughing when I would say we're going home (back to our home base) because "we're always home!" He wasn't wrong. It doesn't matter if we're leaving for work or fun, we always have everything that we need. We no longer need to pack bags and jump from hotel to hotel as we used to when we visited family up north. Dixie gets to be a part of the travel. And for the fun trips, we have found that we have been able to save money as RV parks are normally cheaper than the hotels in the area and we don't have to board Dixie.
What is the worst thing about living in an RV?
According to Lou, nothing. But in reality, it's the fact that you do have to make compromises that you don't have to make in the house. There are a lot more areas that you have to share as a family and a lot less space to roam. Personally, I've found that during the rainy season in some areas has been worse than being able to have access to outdoor activities. If you're forced to stay inside for periods of time, it does feel a little restricting.
How long do you plan to do this?
Although some families start off with plans to live full-time for a year or so, we jumped fully in. At this time, we do not plan on ever stopping. We realize that much like everything else in life, we will take it day by day and year by year, but right now we love the flexibility and our home. We've made extremely unique friendships and have wonderful memories and aren't willing to slow down just yet.